The thermal modification process gives Lunawood a distinctive brown coloring and a natural weather resistance for all climatic conditions without harmful chemicals. However, the brown color will start to fade over time due to the effect of the weather conditions. As it does, the wood will begin to turn grey gradually. The color can vary from a platinum silver to a lighter rustic tone depending on the construction and the climate conditions it has been exposed to.

The thermal modification alone gives a freedom not to do a separate surface treatment  or a maintenance for the wood,  this rule applies when the installation is done correctly, according to the official installation instructions.  With these examples, we want to show how graying looks like in practice with its many different variations.
THERMOWOOD REQUIRES SUFFICIENT AIR CIRCULATION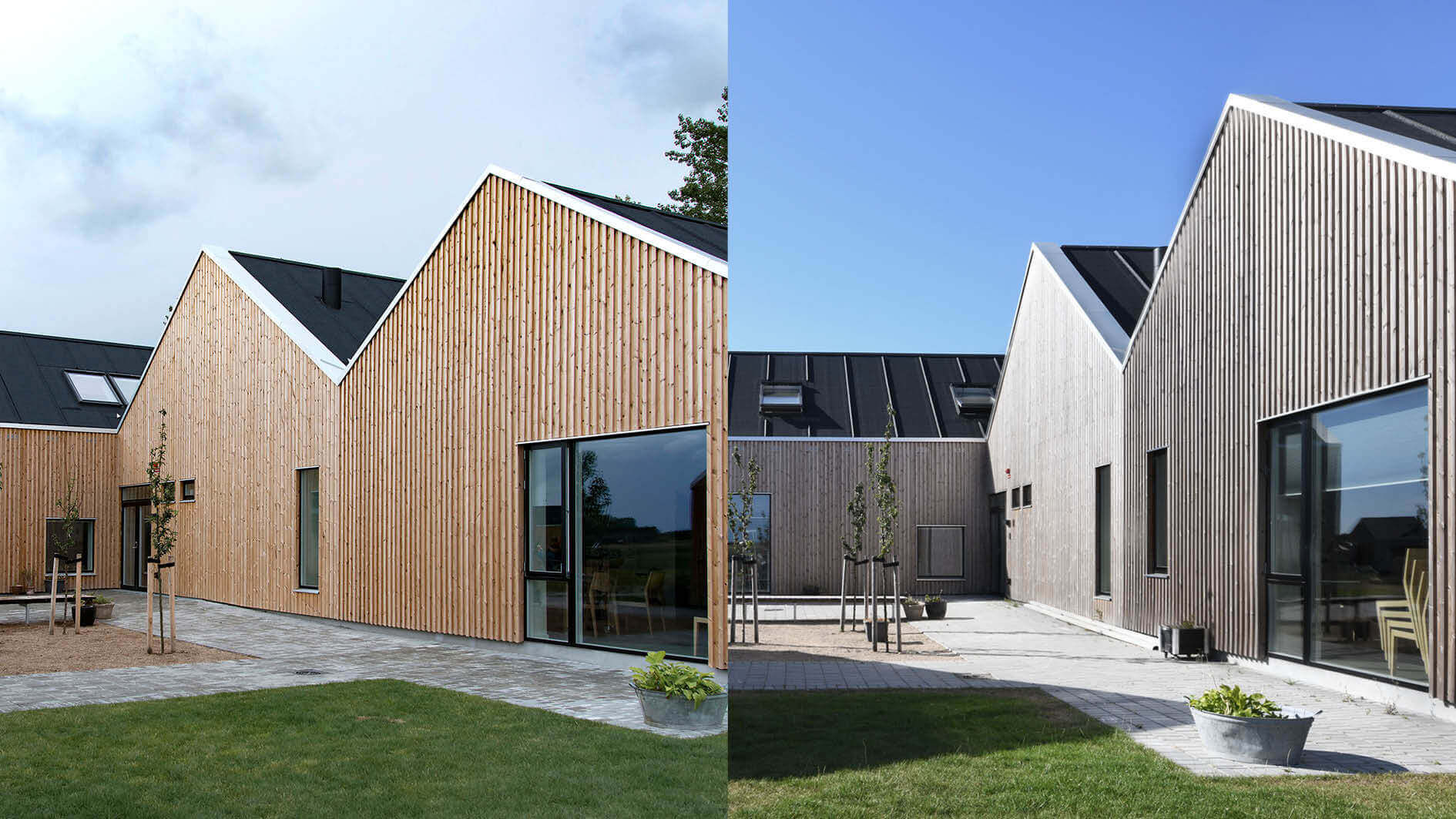 Nursery Savannen in Denmark by Sofie Peschardt/ Nordic – Office of Architecture. Photos: Imarken, Kirstine Mengel. Years 2019 and 2020.
At all stages of the construction process, the manufacturer's installation instructions should be followed to achieve a long-lasting and sustainable end-result. The functionality of Lunawood products is guaranteed by sufficient air circulation behind the facade and terrace boards. This is done with a ventilation gap and a sufficient distance from the ground.
THE FREEDOM OF SURFACE TREATMENTS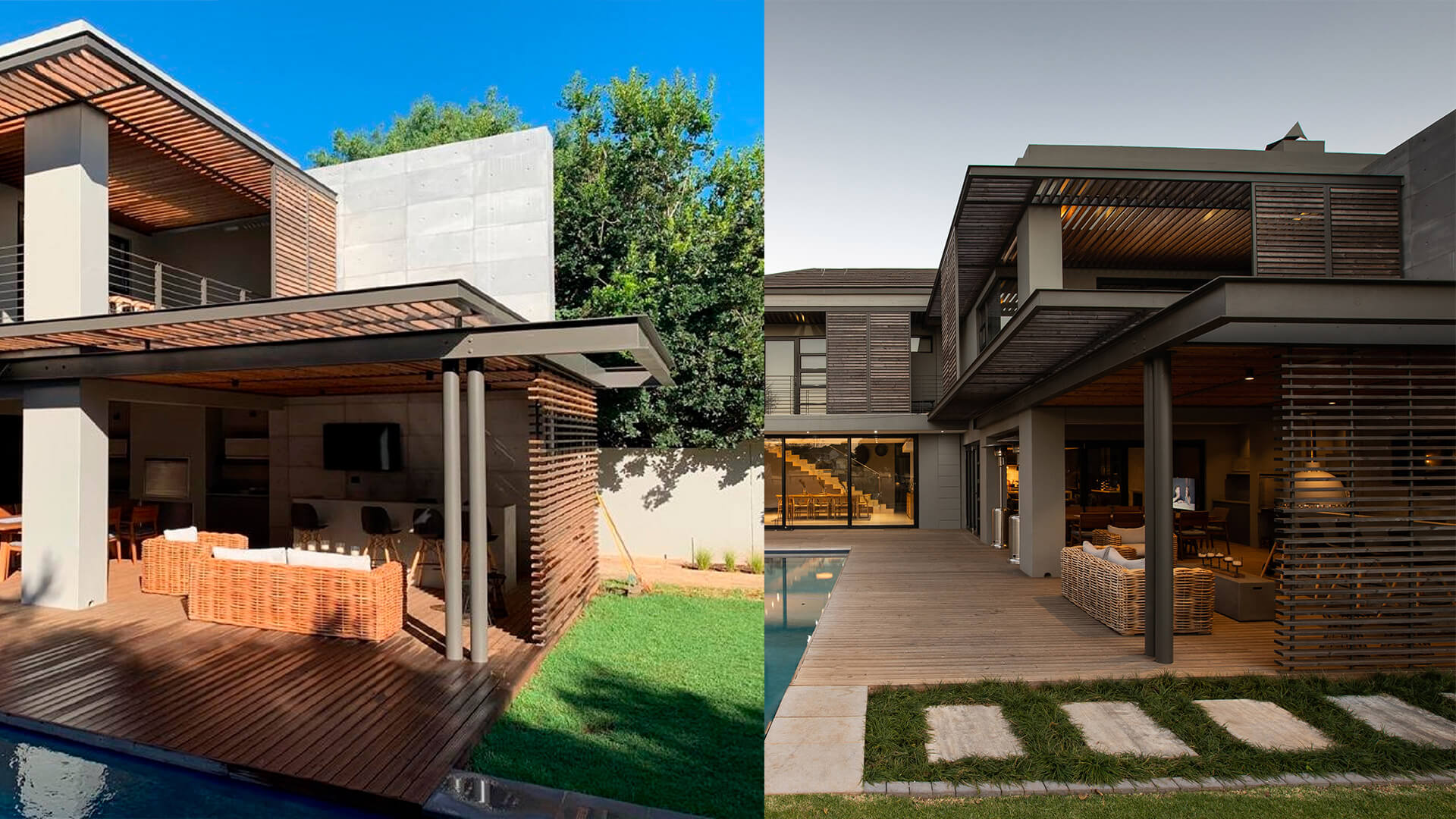 Private House in Midtream Estate, South Africa by Anthrop Architects. Photos: NPP, Natasha Dawjee Laurent of Paper Cut Photography. Years 2019 and 2021.
Thermal modification of the wood makes Lunawood durable, and correct installation enables that Lunawood can be left without any surface treatment. That feature makes it even a more sustainable choice: no regular maintenance with oils, tints and paints nor preparatory work. It saves resources in many ways. Lunawood will gracefully turn to gray if it is left without the UV-protected surface treatment.
On the other hand, regular maintenance of the Lunawood is needed to keep the original brown appearance and avoid small cracks and splits over time. Treating the boards with tinted or pigmented wood oil, wax, wood-protecting stain, varnish or paint – which contains a UV-filter – can retain the surface color. Read about the maintenance of Lunawood Facade.
NATURAL, YET VIVID GREYING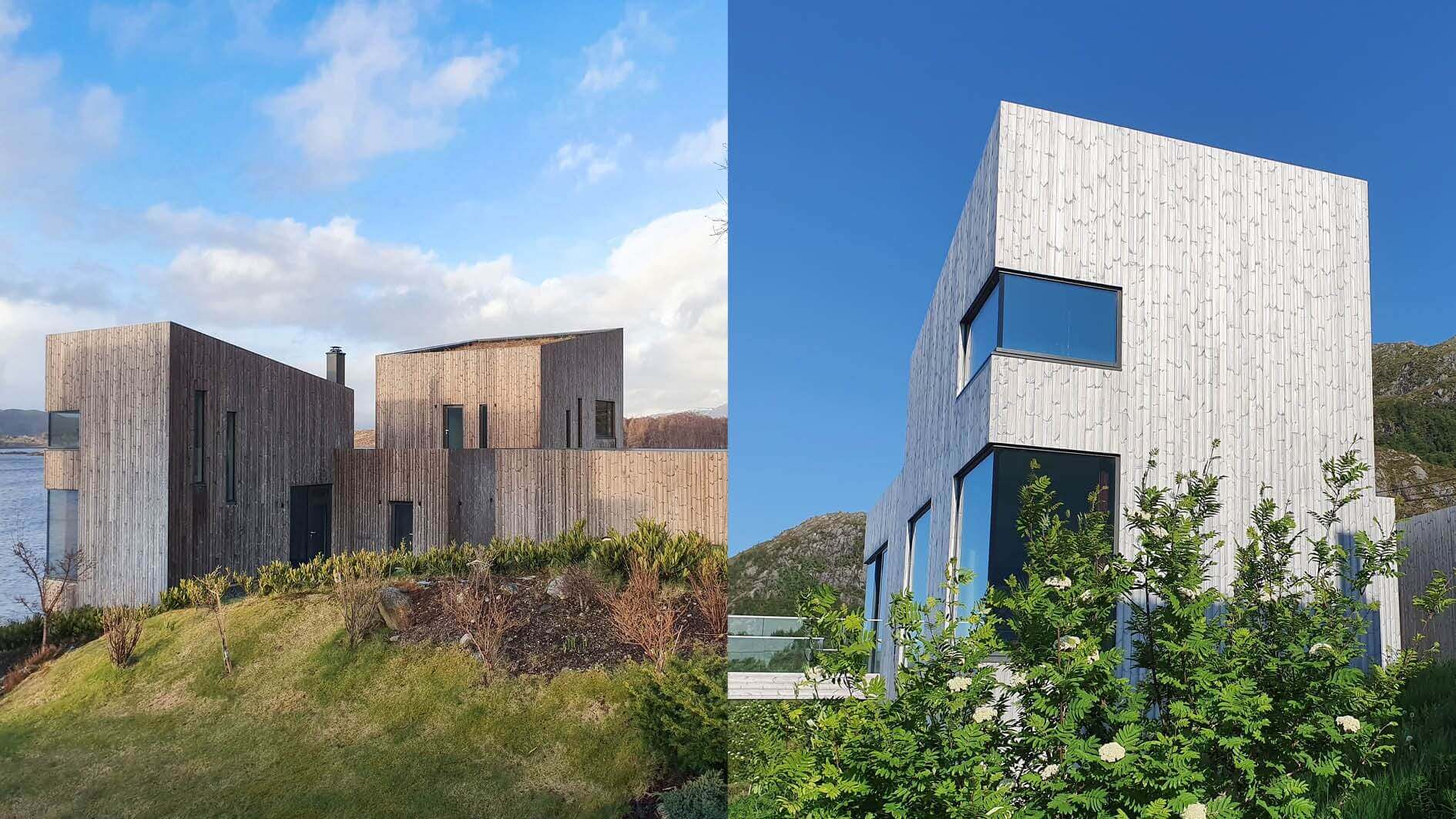 Modern Nordic House Munkevilla in Norway by Janine Müller. Year 2019 and 2020.
The beauty of the completely natural and chemical free Lunawood Thermowood products lies in their natural aging, graceful changing of color from brown through various lighter and darker shades to eventually silvery gray. To enable this natural greying, the surface should be left untreated to obtain UV-light and breath. No maintenance treatment is required if the aging process is pleasing to the eye. The natural greying of Lunawood Thermowood enables the building to blend smoothly to its surroundings. And as a natural shade it allows to use effect colours in other materials.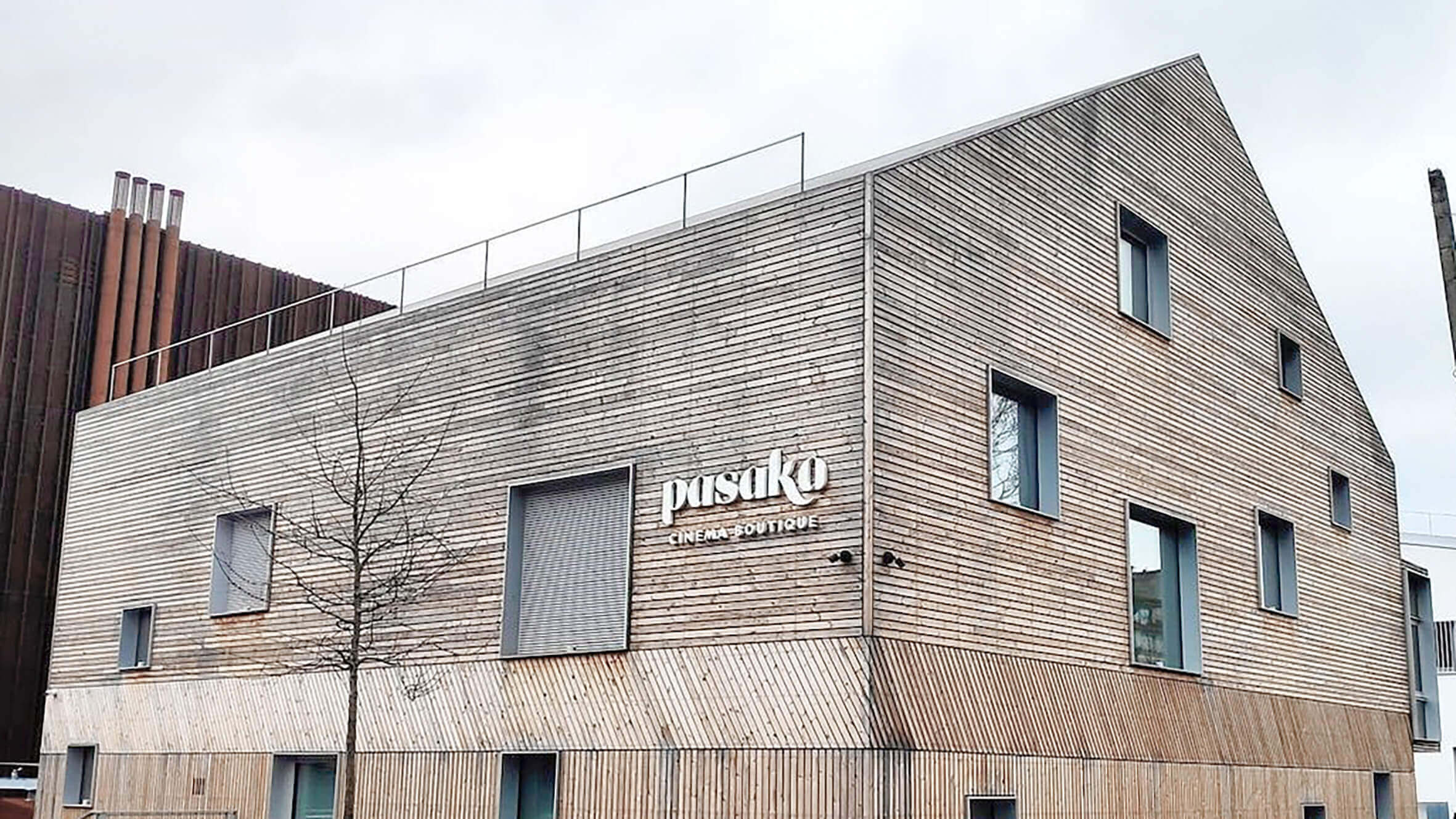 Film House Pasaka in Lithuania by Audrius Ambrasas Architects. Photo: Brolis. Year 2021. Building year 2020.
The greying happens due to physical and biological processes that take place within the top layer of the wood. It is caused by a combination of many factors. It starts under the influence of changing weather conditions and especially the sun's UV radiation. Sunlight scatter e.g. lignin and hemicellulose, as a result of which the surface of the wood fades. Dirt particles, surface vegetation and dead tree parts gray the wood. The combined effect of fading and graying produces a silver-gray hue. The shade of grey even varies from board to board, as it is a genuine natural product.
THE DURATION OF THE WEATHERING PROCESS
The duration of the weathering , i.e. graying, process varies. For instance it depends on the application; whether it is a facade or decking and how much it meets the UV-radiation. Shadows caused by surrounding trees and solar shades also affect how quickly graying occurs. The process goes step by step and can take years, but the end result is worth it.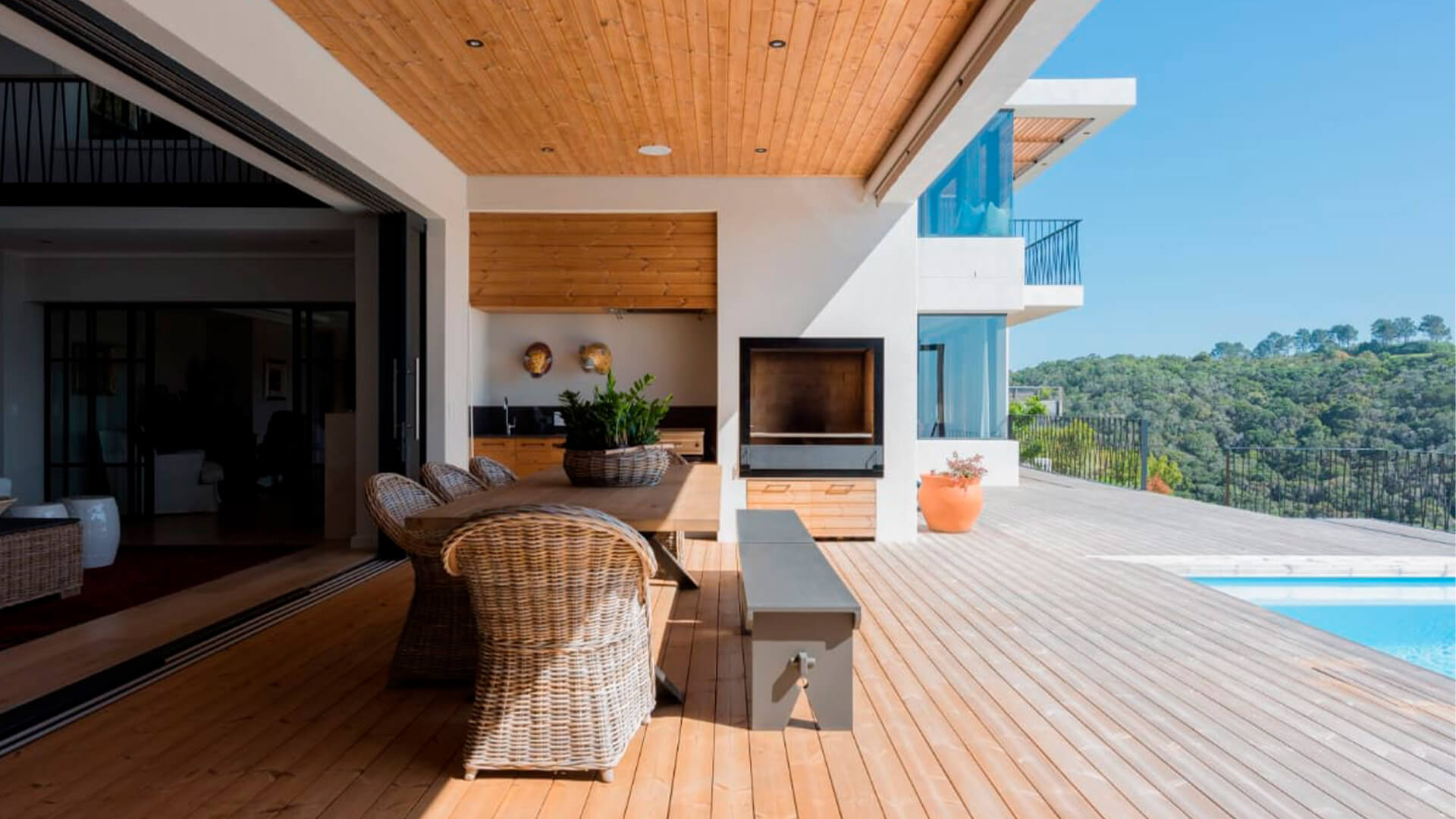 Private house in Pezula Golf resort, South Africa by Starkey Architects. Photo @ johannlourensphotography. Year 2020.
Do you want to hear more about natural weathering of Lunawood Thermowood?