The Czech Republic has many centuries of wine-growing history and traditions. One of the largest wine producers in the country is Lahofer. Their newest winery, recently renovated, exudes stunning and unique architectural design by one of the world's next superstars, the young architects of Chybik + Kristof Architects & Urban Designers.
Chybik + Kristof is an architecture and urban-design firm established in 2010 by Ondřej Chybík and Michal Krištof. The company has an international team of more than 50 professionals, in three offices, all of whom strive to create bridges between private and public space, transcending generational boundaries and cutting across all walks of life. Taking into account local history and specifics of the environments involved, the studio works on a wide array of projects, from urban developments to public and residential buildings. The design house has been awarded a number of prizes, including recognition in Architectural Record's 2019 Design Vanguard awards and they have also been selected as one of the 40 studios that has been awarded with 40 Under 40 Award from the European Centre for Architecture Art Design and Urban.

Lahofer Winery in Dobšice u Znojma, Czech Republic
GOOD ARCHITECTURE STRENGTHENS COMMUNITY
For Ondřej and Michal, interest in architecture was stimulated early in life, and they both studied the subject in Brno, in the southern Czech Republic. With a father who was teaching university students, Ondřej became enraptured by the 'Bohemian' life of architecture students early on, when visiting his father at work. 'I feel that architecture was part of my life before I decided to become an architect,' he reflects. Michal too was interested in working in a creative field since his youth, when he developed a passion for crafting model aeroplanes. 'I found that being an architect was the closest profession to my hobby,' he says.
'Our work is not an amazing sketch made by one genius but a complex relationship that results in a building,'
For these two young professionals, sources of inspiration can be found everywhere. 'We are grateful to be able to practise in an area where one can find inspiration in various architectural forms: from modernist jewels such as [Brno's] Villa Tugendhat or Baroque palaces to flamboyant Gothic cathedrals. We also observe our rapidly changing world,' the pair explain. Although the world is evolving rapidly, design trends do not form the foundations for high architectural quality. Understanding local context is the key. Michal and Ondřej comment: 'Nevertheless, naturally, we observe other practices, around the world, mainly the emerging ones in our region. It is interesting to see what they are working on and how they deal with modern challenges such as sustainability. We are pleased to see more and more practices taking local aspects, along with heritage, into account – which is close to our personal view of what good architecture is.'
Ultimately, the inspiration for any real-world project has to flow naturally from the local community and the surrounding environment. Michal and Ondřej see architecture as a process, a dialogue with their clients, with local authorities, and – most importantly – with the communities where the construction is done. 'Our work is not an amazing sketch made by one genius but a complex relationship that results in a building,' the young architects say.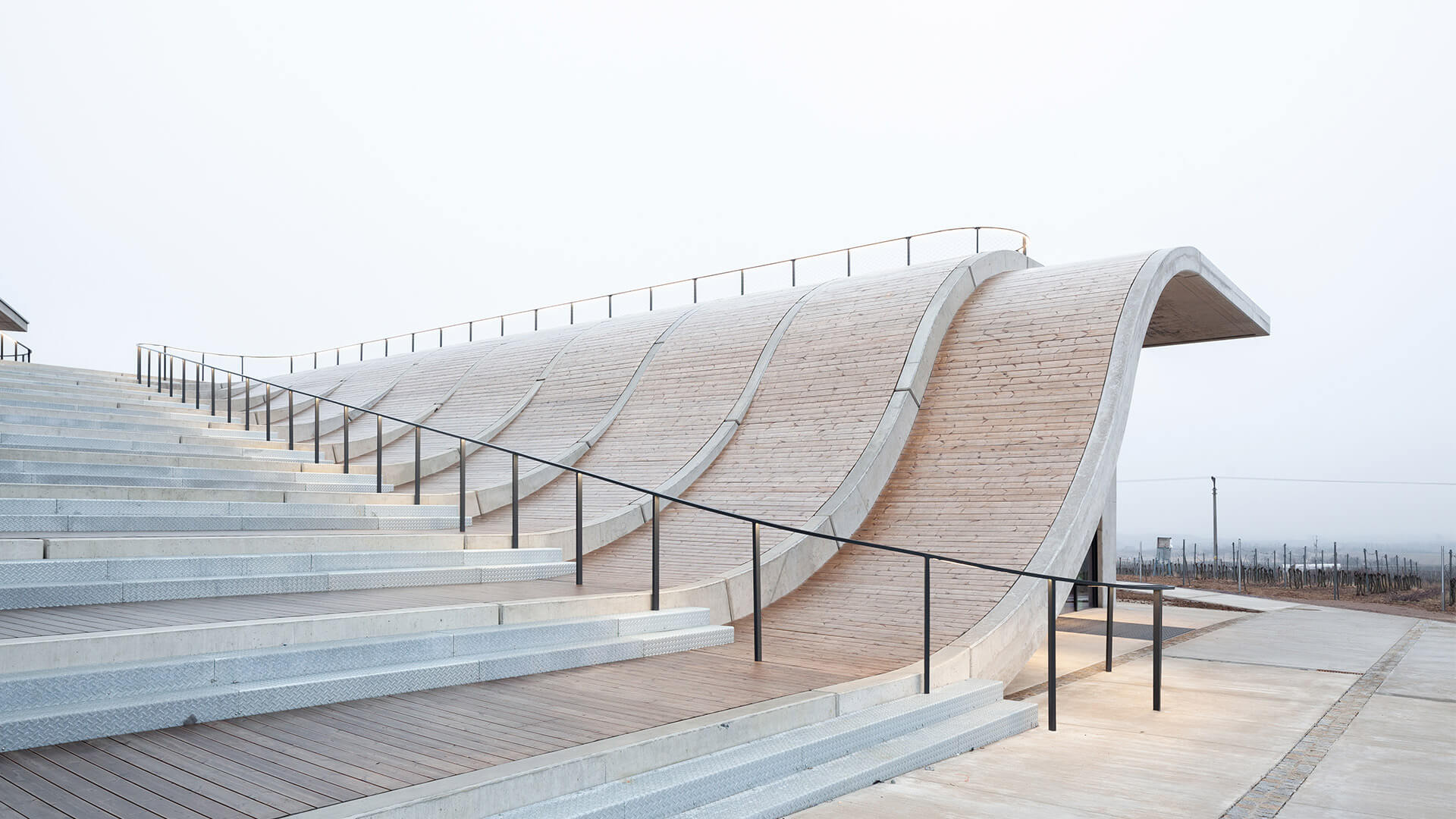 Lahofer Winery in Dobšice u Znojma, Czech Republic
LAHOFER WINERY COMBINES NATURE WITH ART
Lahofer Winery, founded in 2003 in the town of Znojmo, today boasts more than 430 hectares of vineyards and produce about 800,000 bottles of wine annually, which makes this one of the largest wine‑growers in the Czech Republic. Lahofer's multifaceted wine complex offers guests a visitor centre, a tasting hall, and an amphitheatre – tactically situated on the roof of the building. The building, situated in an existing vineyard, undulates between different construction heights. The winery uses architectural elements designed for sensitive integration into the surrounding Moravian landscape – the colonnade of arches follows the rows of vines, and the slope of the amphitheatre mirrors the surrounding slopes.
'Our joint vision with the client was for this building to become a place that invites locals and tourists alike to experience the beauty of the region, its incredible wines but also its architecture. The landscape of the location is mostly agricultural, with rows of vines that structure it very neatly. The building is incorporated into the landscape in such a way that the distance between the rows of vines determines the structural elements. At the same time, the roof reaches down to the ground and Invites visitors to enjoy the view of the valleys from above,' Michal and Ondřej explain.
The design process involved continuous dialogue with the client, the local community, and all others involved, extending all the way from the design's study phase to the result that the public can visit today.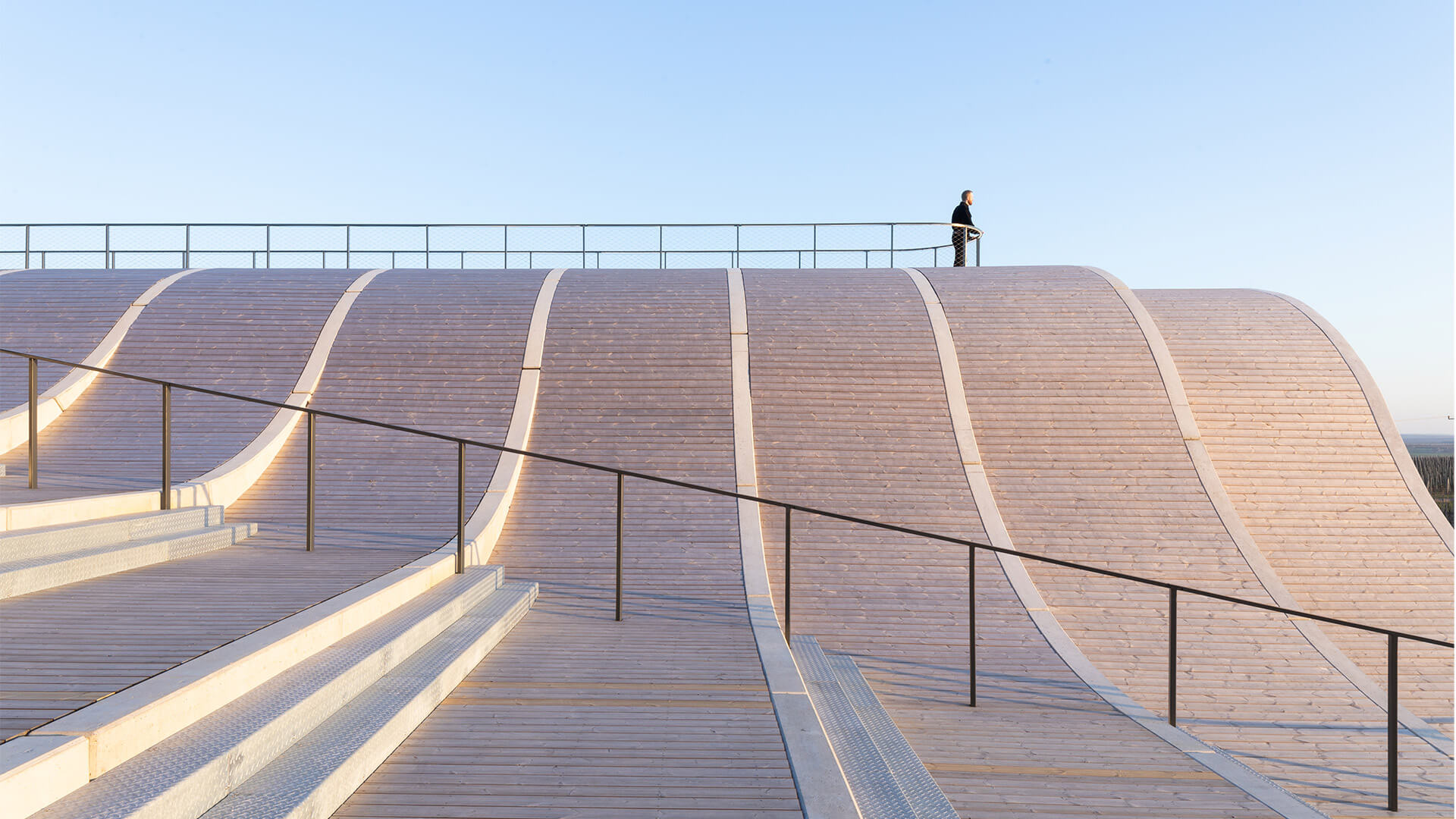 Lahofer Winery in Dobšice u Znojma, Czech Republic
LUNAWOOD THERMOWOOD ENHANCES SUSTAINABILITY
According to Michal and Ondřej, the quality of the products and materials that go into a design has a huge impact on the final project. This is why they pay close attention to the materials they select, while at the same time experimenting and playing with how various materials can be used. Wood is a vital material in their toolbox and frequently utilised, thanks to its versatility, aesthetics, and physical feel.
They say: 'The material we were seeking for the Lahofer Winery project had to have all the qualities required for resisting many challenging conditions. Lunawood Thermowood is known for its durability and – even more important in this project – withstanding the weather. The sustainability angle was taken into consideration too, particularly the toxin-free production of Lunawood Thermowood and its thermal conductivity properties.'
Michal and Ondřej continue: 'Sustainability, in general in our practice, is understood as a complex concept that involves social and economic variables as well as design principles. The Lahofer Winery site uses advanced water-management systems, and the building's orientation is well suited to natural lighting and heating through its triple-glazed façades but also provides shade during the hot months. More importantly, though, the social aspect of the building is what reflects sustainability best – it was constructed by local teams, using local materials, in hopes of creating a community around it.'
'Lunawood Thermowood is a great example of a material that can be used equally indoors and outdoors. In the recent return to considering sustainable materials in modern architecture, wood is regaining its role,' Michal and Ondřej conclude.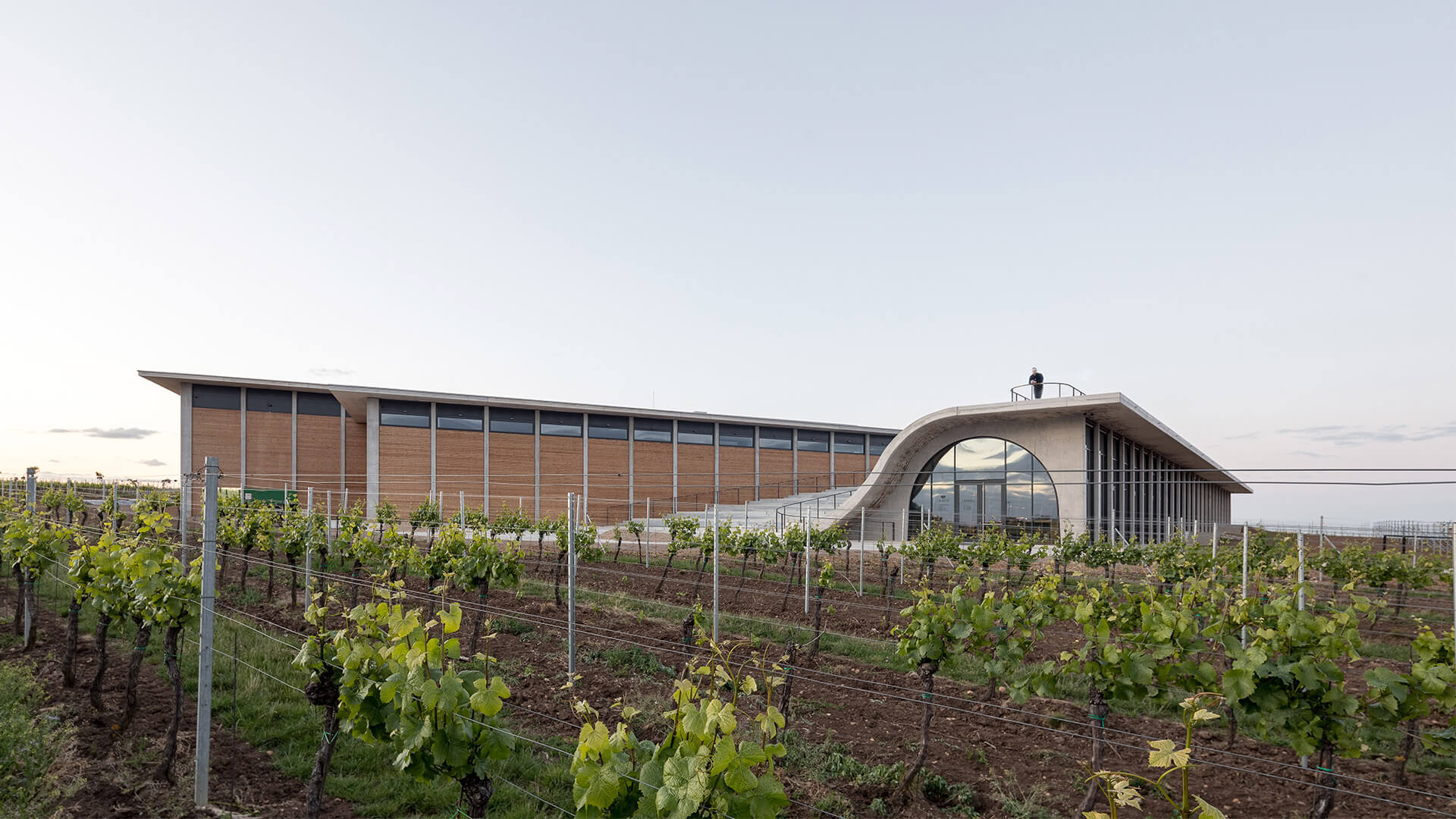 Lahofer Winery in Dobšice u Znojma, Czech Republic
Photos: Alexandra Timpau, Alex Shoots Buildings