Innovation and sustainability play an important role in Lunawood's strategy. Lunawood's raw material is sourced from well managed and certified Scandinavian forests and transformed into natural Thermowood products. Our value proposition is to offer people the connection between urban environments and nature.
Lunawood is owned by funds managed by CapMan Oyj, a leading Nordic investment company. In addition to the majority owner, several small shareholders invest in Lunawood.
Lunawood – Love for the forest.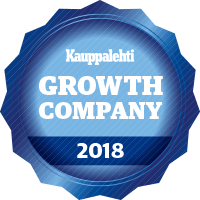 Growth-Company-Certificate
Lunawood has grown significantly over the last three years and has been given the Kauppalehti Growth 2018 certificate. The certificate is issued by Kauppalehti and it's given to companies whose turnover over the past three years has grown more than 10 consecutive units faster on average.