16.12.2015
Lunawood Took Part in the Team Finland Business Delegation Visit to Iran
Lunawood CEO Arto Halonen took part in a Team Finland business delegation visit to Iran in December. The visit was hosted by the Minister for Foreign Trade and Development Lenita Toivakka, and the focus was to introduce Finnish know how to local partners and to map out business opportunities for Finnish companies. The planned lifting of the economic ban on Iran in the beginning of 2016 has sparked a lot of international interest. The Finnish export association Finpro invited companies from various fields to take part in the delegation. Finnish companies from cleantech, bioeconomy, the building sector and the pharmaceutical industry attended this visit.
The experience was in many ways memorable to Arto Halonen. "Iran made a huge impact to me: the people, nature and the modern city of Teheran with its endless possibilities were an intriguing combination", says Halonen. If the economy opens this will most likely bring new investments to Iran. "The growing building sector (hotels etc.) would offer Lunawood interesting opportunities", says Halonen.
Thermally modified wood is quite widely known and used in Iran as the dimensional stability and other properties make it ideal for this climate. The Team Finland delegation visited some Lunawood references during their stay. "Thermowood is a valued luxury product in Iran. Our Finnish quality standard is a good selling point here", concludes Arto Halonen.
From the left: Arto Halonen (CEO, Lunawood), Harri Kämäräinen (Finnish ambassador to Iran), Lenita Toivakka (Finnish Minister for Foreign Trade and Development), Mahdi Moradkhan Tafreshi (CEO, Parsa Group)
More information: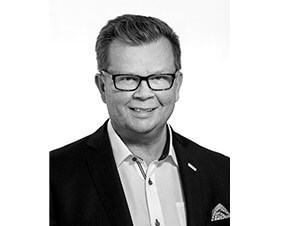 Arto Halonen
CEO
+358 40 823 2877
arto.halonen[at]lunawood.com