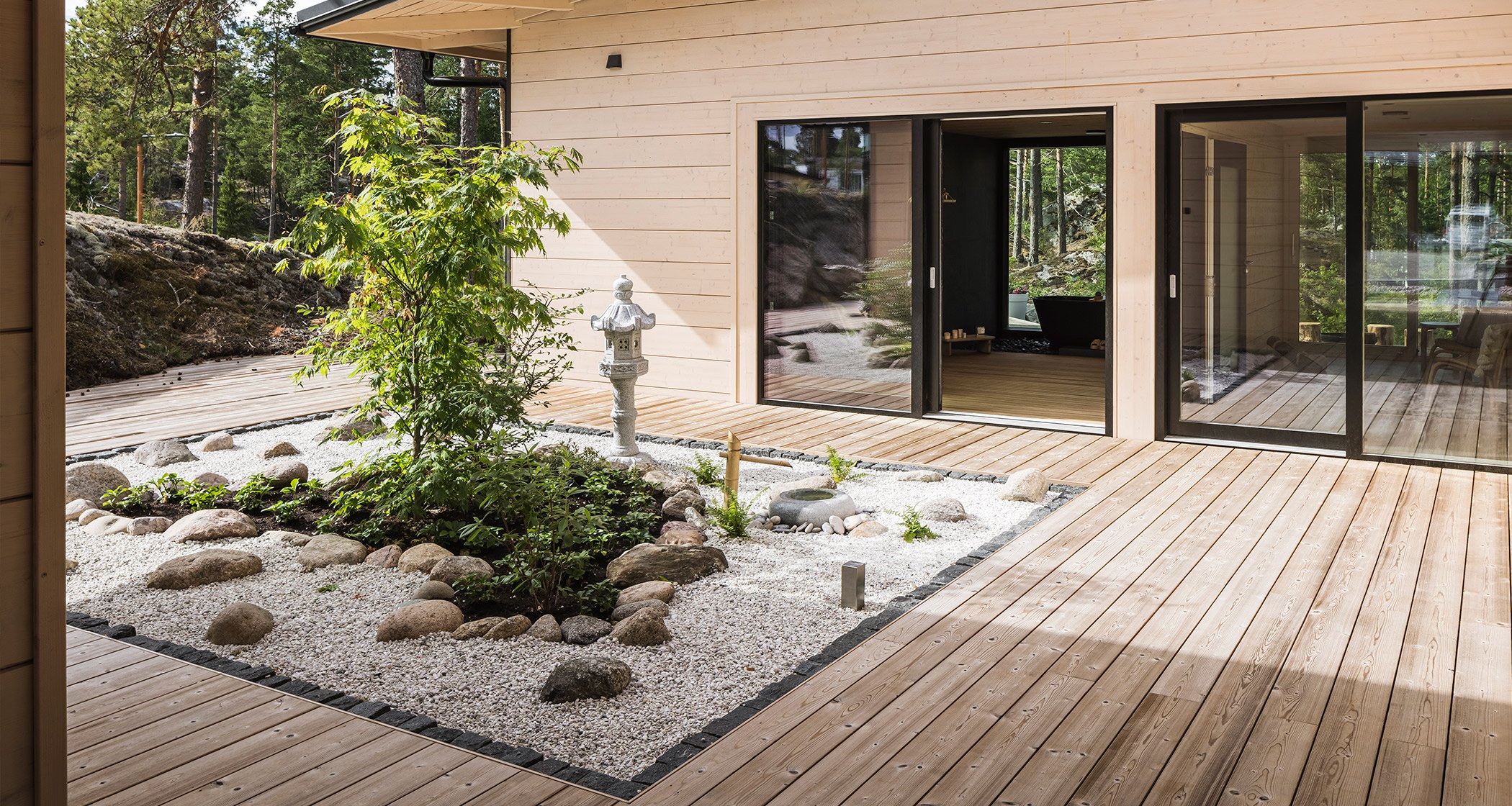 In landscaping, the selection of materials extends beyond design decisions and also communicates commitment to functionality and sustainability. The Lunawood Collection offers a wide range of premium Thermowood battens and decking products, broadening the scope of outdoor design possibilities and promoting a sustainable approach.
Understanding Lunawood's Thermowood Process
Thermally modified Lunawood products are recognized for their enhanced durability and resistance against decay. The patented Thermowood process, involving controlled heat in 212 degrees Celsius and steam, produces products capable of withstanding the harshest of environmental conditions, increasing stability and resilience without the use of chemicals. Additionally, the Thermowood process improves the wood's stability, preventing products from twisting and warping over time.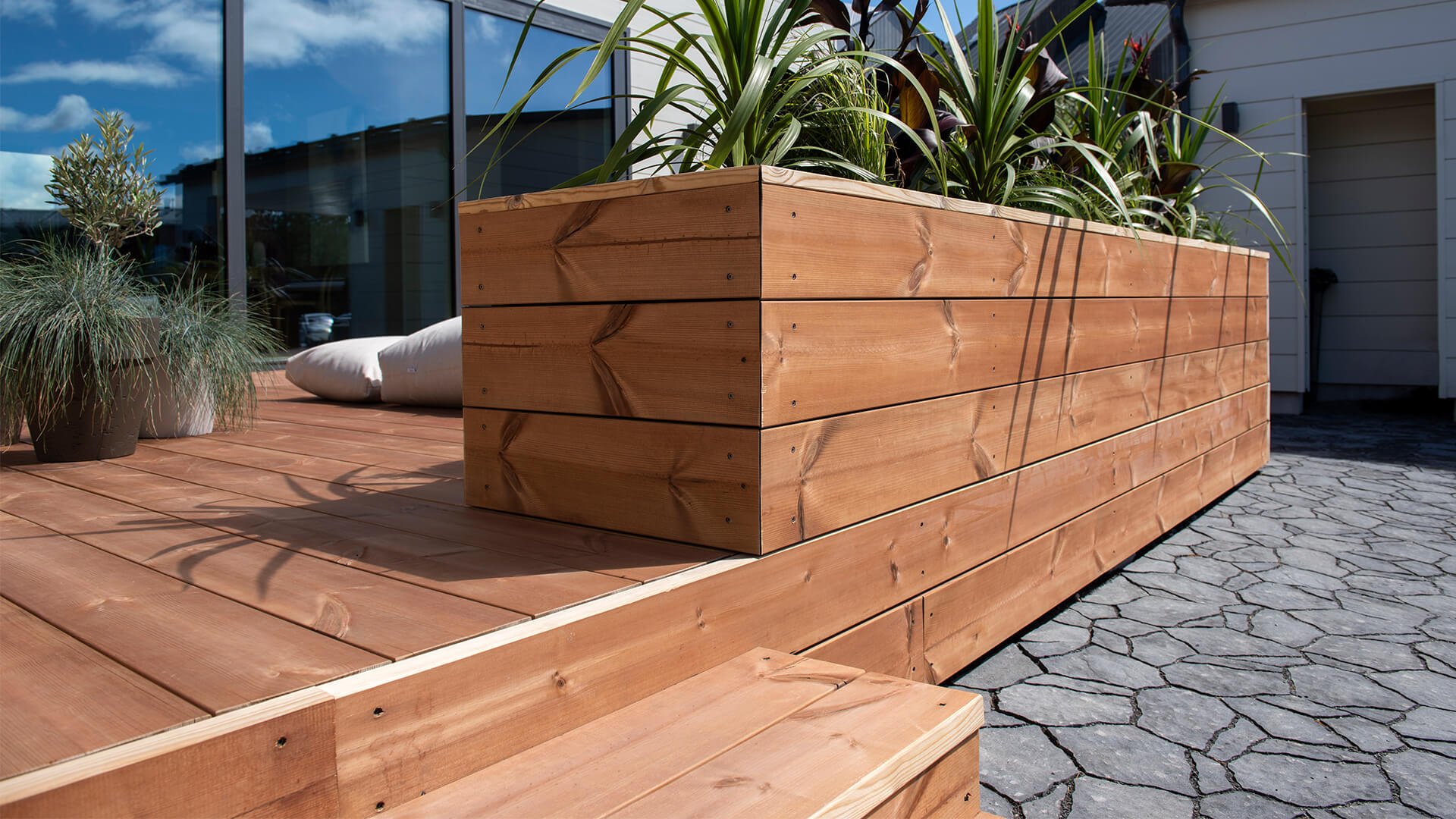 Creative yet Practical – Lunawood Thermowood Battens
Lunawood Thermowood battens are an incredibly versatile tool in any landscaper's repertoire. Their distinctive dimensional stability makes them adaptable for a wide range of applications in landscaping, including fencing, cladding, pergolas, and garden features. Utilized as cladding, Thermowood battens present an eco-friendly means to elevate aesthetic appeal while ensuring long-term durability. Their natural resistance to rot and ability to weather harsh conditions make them a reliable choice for both vertical and horizontal applications in landscapes. Additionally, their rich, warm tones and distinctive grain patterns contribute a natural elegance to any outdoor space. The use of Lunawood battens is made effortless by the product's lightweight nature, a characteristic derived from the wood's low moisture content.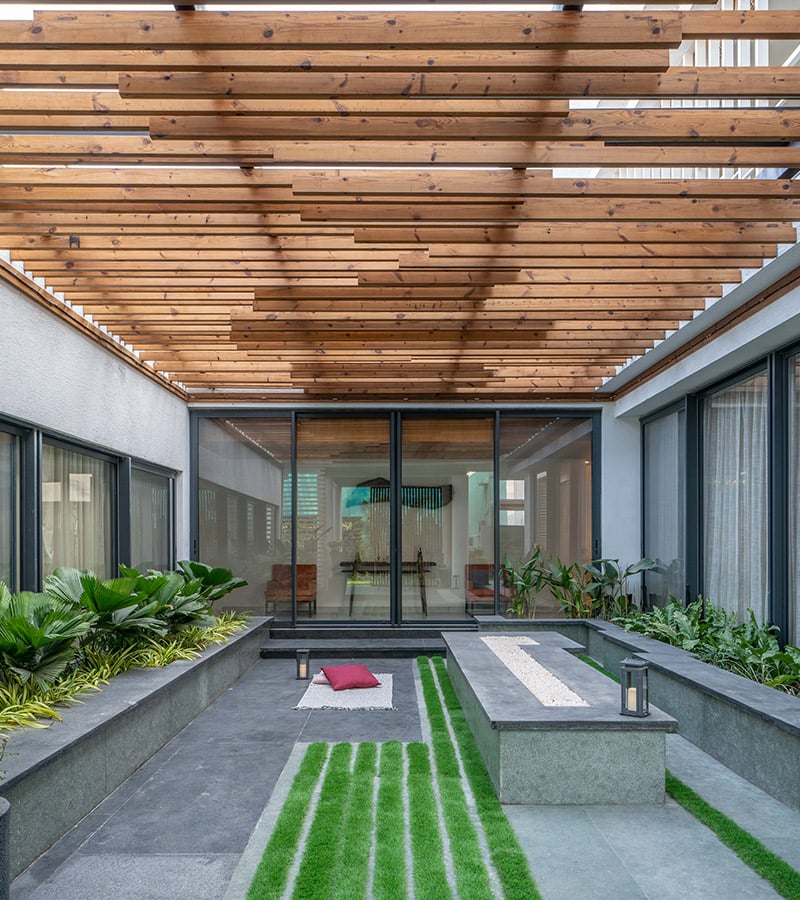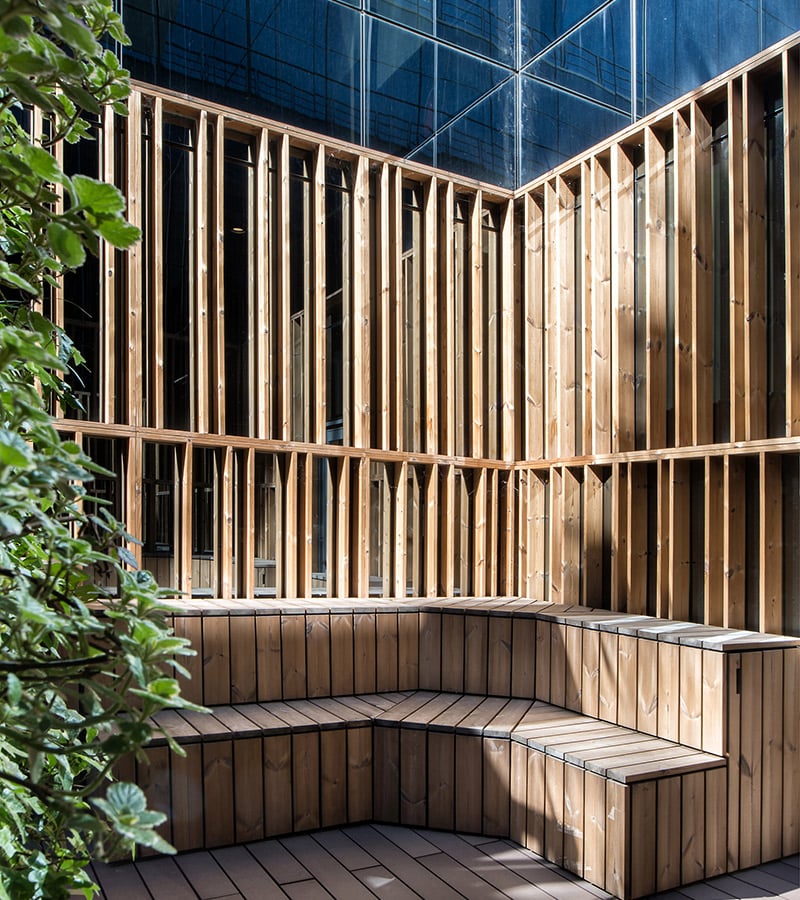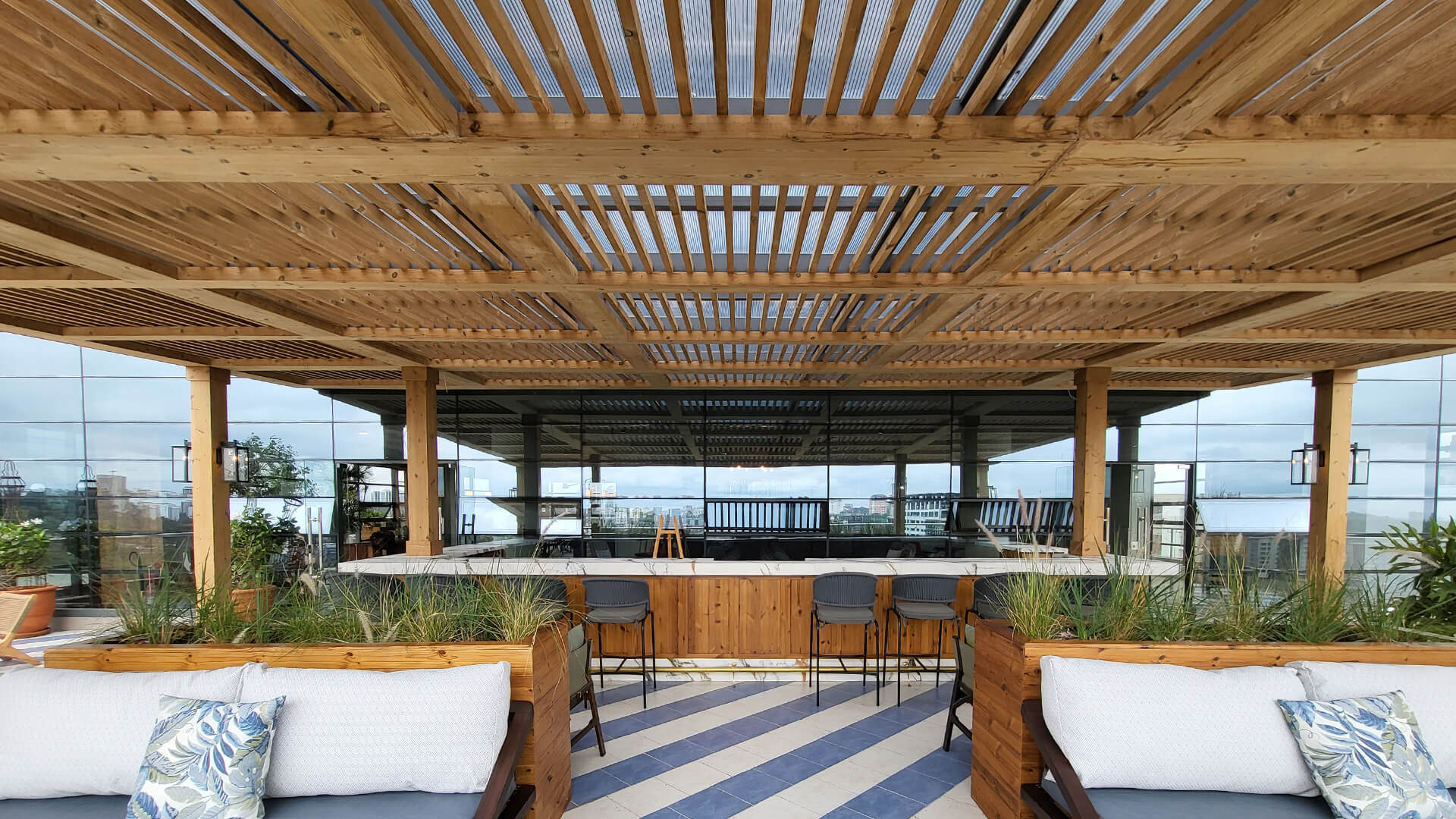 Exquisitely Natural – Lunawood Thermowood Decking
Crafted from premium Nordic Pine and Spruce, Lunawood's Thermowood decking is distinguished by its pleasingly smooth surface and chemical-free nature. Its genuine appearance, accentuated by natural wood grains and knots, beautifully enhances terraces and walkways. The Lunawood terrace retains its beauty in its original brown tone, when surface-treated and develops a natural charm when weathered to silver-grey.
Lunawood's thermally-modified Spruce decking provides a rustic, organic feel, while the smooth Pine decking caters to a wide range of tastes. Lunawood's innovative Profix hidden fixing system ensures an elegant appearance and hassle-free installation with 6 mm gap between the boards.
More than a visually appealing product, Lunawood Thermowood decking is durable and weather-resistant, requiring minimal maintenance. Whether it's for a residential garden, a public park, or a commercial property, Thermowood decking provides a sustainable, safe, and reliable solution designed to endure.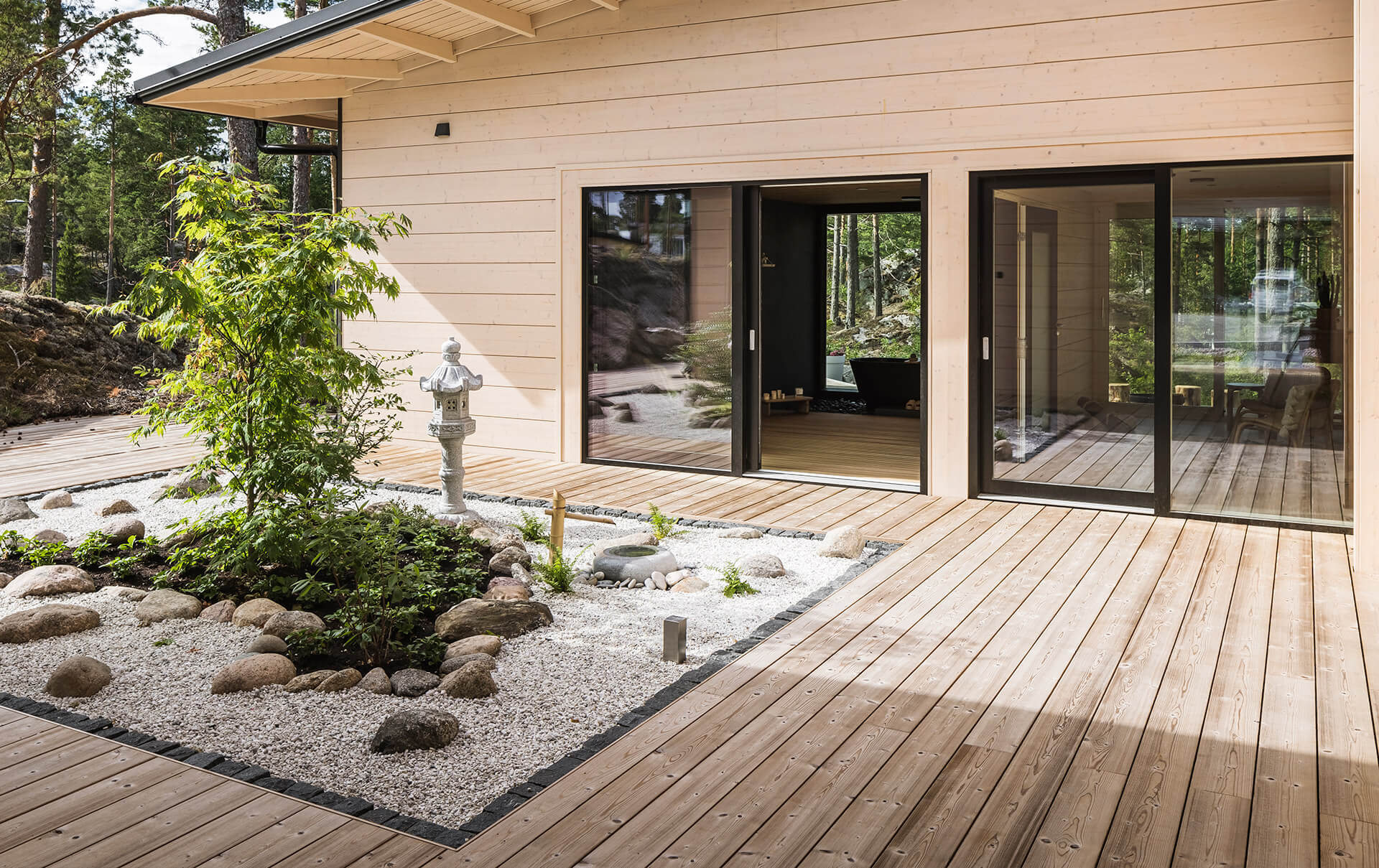 Building a Greener Outdoor Space with Lunawood Thermowood
Lunawood's Thermowood battens and decking products inspire creative design possibilities for professionals and private builders. Their enhanced durability, stability, and aesthetic appeal make them investments that will stand the test of time. Moreover, by choosing responsibly produced Lunawood products, you contribute to sustainable forestry practices. Sourced from renewable Finnish forests and processed solely with heat and steam, Lunawood is a truly environmentally friendly choice. When it comes to creating eye-catching outdoor structures that harmonize with nature while offering long-lasting performance, Lunawood is a top choice for modern outdoor spaces.