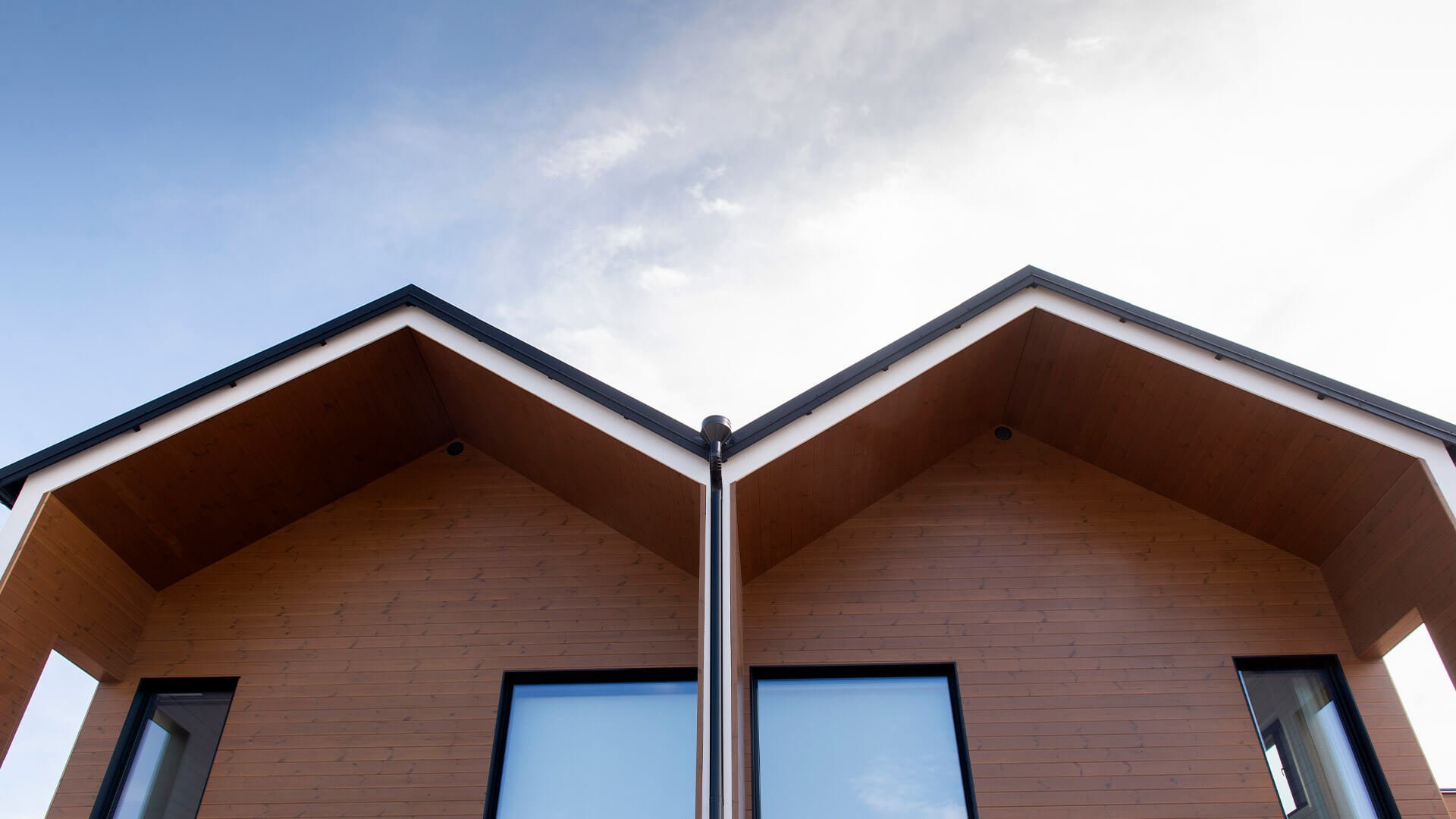 Architect
Tiina Sainila ja Mikko Kanninen, SAIKA Design
Location
Tuusula, Finland
"We had a few clear wishes for our future home: we wanted an efficient floor plan with no wasted squares, no unnecessary lobbies or halls. Our favourites were at least a steep double ridge roof, a white facade, wood effects, a black roof, and black window sills. Fresh, contemporary, and minimalist. We hoped for a south-west facing courtyard and a fair-sized terrace."
– Blog Duplio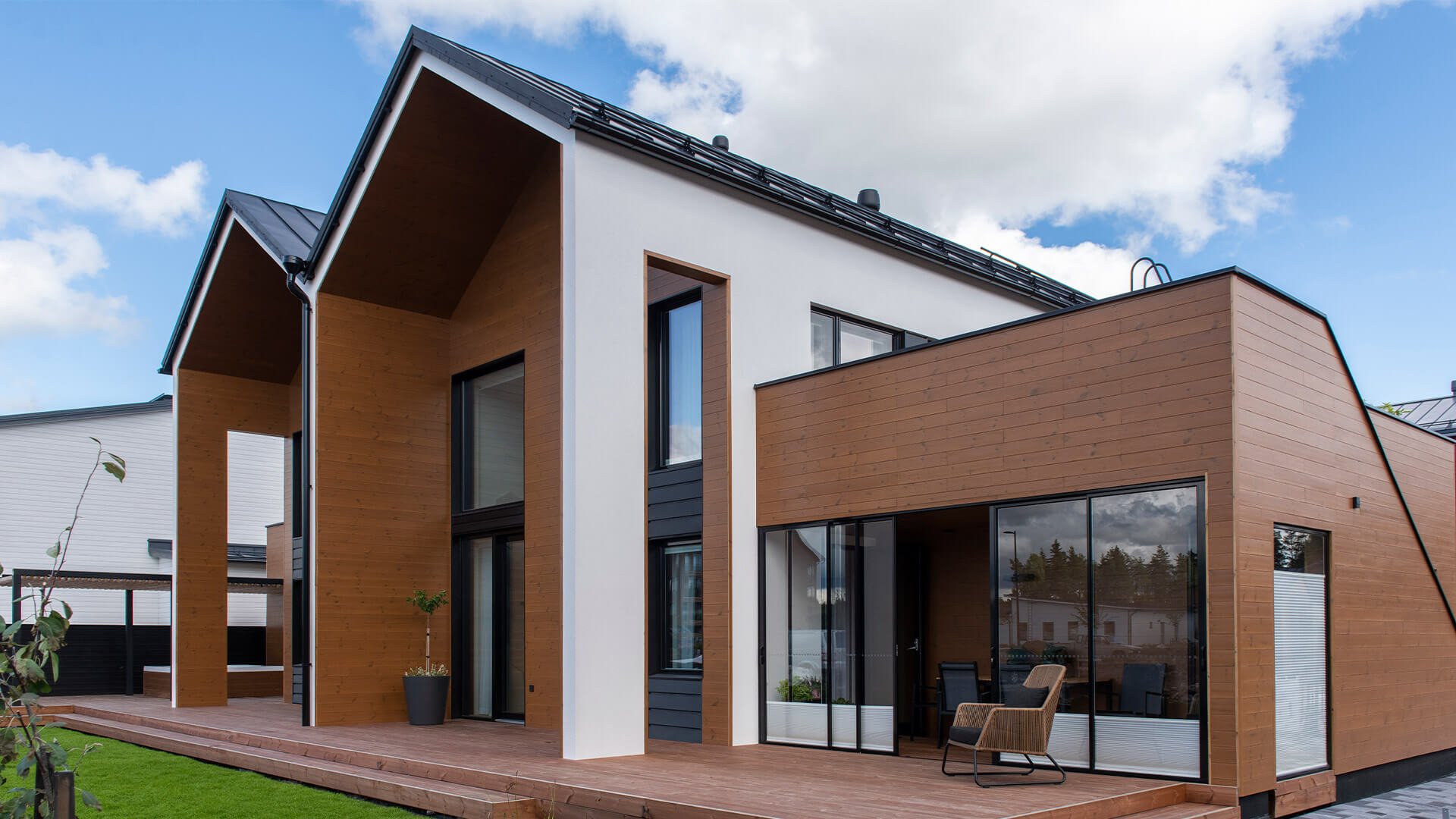 Lunawood Thermowood was selected for this three-generation semi-detached house due to its versatility. Lunawood Thermowood can be used both indoors and outdoors, creating a harmonious whole. Its most important features are durability and dimensional stability. In addition, Lunawood Thermowood is a silky soft and warm-toned interior material, which brings cosiness to the interior. In addition to a pleasant overall look, the heat treatment of the wood removes resin and harmful extractants such as formaldehyde. Thanks to this, Thermowood is a clean, safe, and hygienic material for indoor use, even for wood allergy sufferers. We believe that living in the middle of natural materials promotes people's well-being and health.
The façade has Luna Trim 20×142 Hidden Nailing profiles with a hidden nailing fastening and already the surface of the profiles was painted light brown at the factory. The stylish terrace is made of wide Luna SHP Profix 3 40×185 mm terrace boards, which were already factory oiled. Installation was made with no visible screws, with hidden clips. The privacy of the outdoor pool is protected with the fence of black, brushed Luna Pro Coated Pure 20×142 Hidden Nailing and the pergola built with Luna Post 120×120 -posts and Luna SHP 42×68 -battens.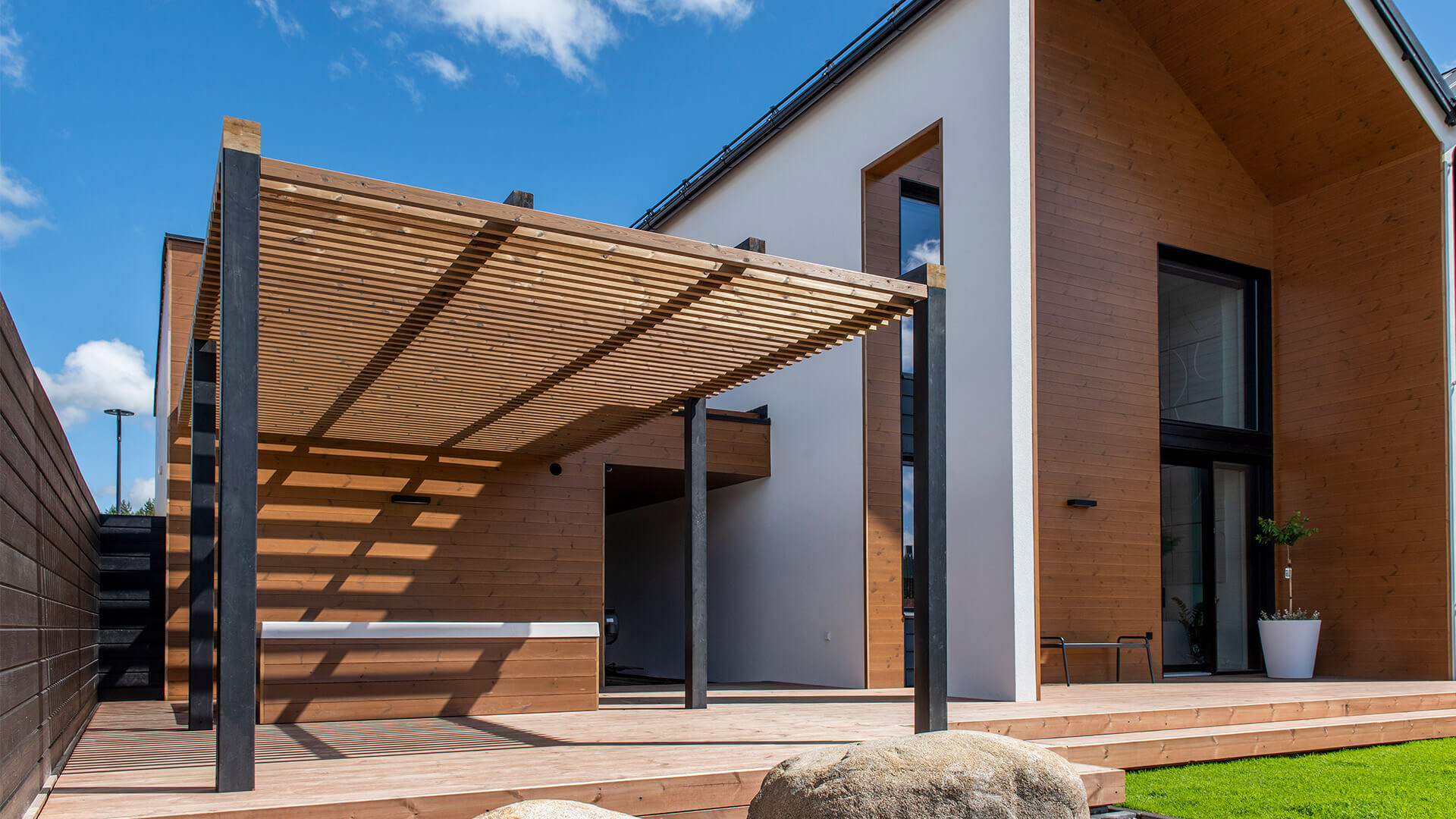 Lunawood Thermowood has been used indoors in effect walls, ceilings, and sauna rooms. The eye-catcher of the high foyer is the Luna Triple on the ceiling, which gives the impression of a battens, but is much easier and faster to install than individual bars. The effect wall of the bedroom and guest room is Jukola 3D 440-1 (plait). The sauna facilities have Luna Dual 26×142 as a wall panel and Luna SHP Sauna 26×92 as benches.
The house Duplio was exhibited at the Tuusula Housing Fair in August 2020 as property number 27A and 27B.