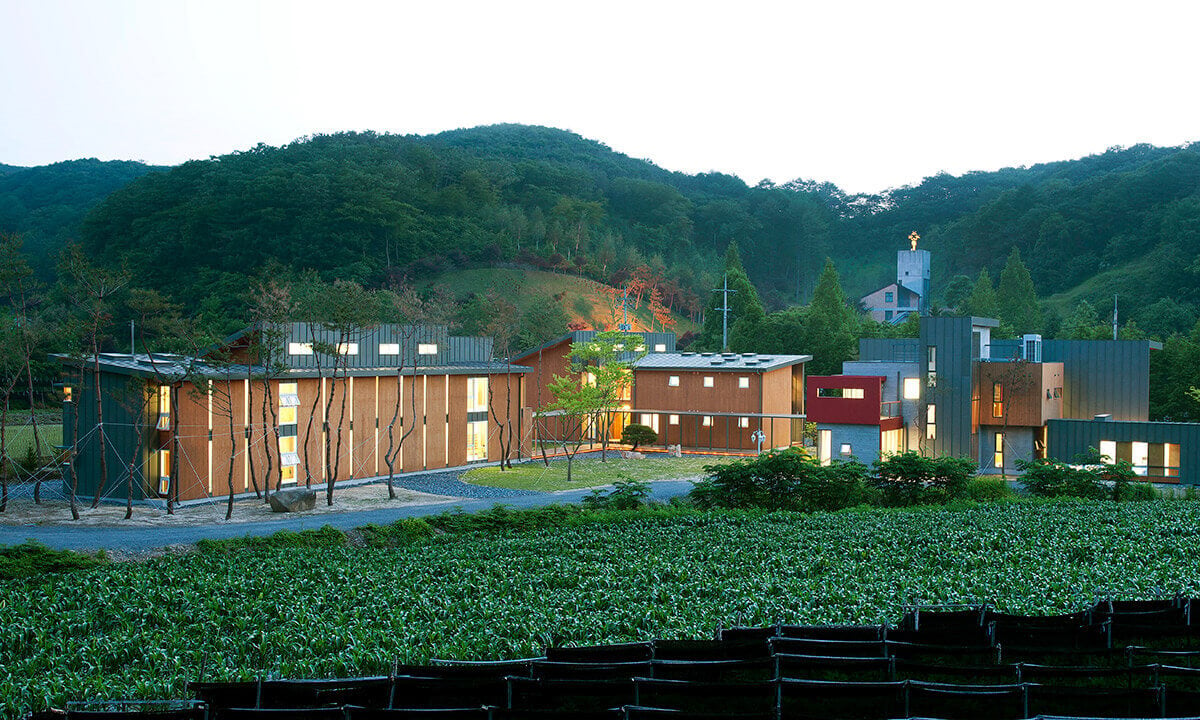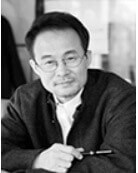 Sam Young Choi
Space Group
Japan Waseda University Dept. of Architecture, Guest Researcher
Gyeongsang National University School of Architecture, Adjunct professor
Incheon University School of Architecture, Adjunct Professor
Korean Institute of Architects, Governor 2010~2011
Guest artist at the Korean Institute of Architects
In recent years Lunawood has made its market entry in South Korea. As in many other countries with demanding climate conditions, Lunawood's Thermowood products have found their way onto the drawing boards of architects and designers.
One fan of Lunawood products is South Korean architect Sam Young Choi, who has been combining wood with other materials in a sustainable way. Sam was on his way with his art studies until he heard an inspiring story that made him change track.
Sam's decision to quit his art studies and shift to architecture was made after he got to know the story of Kim Joong Up. Kim was a student of the world-renowned 20th century architect Le Corbusier. "I changed my studies at university to architectural engineering. After graduation, I worked under the culture and influence of Kim Swoo Geun, the mastermind behind the Olympic Main Stadium and other modern buildings in South Korea," says Sam, explaining the steps he took to enter the world of architecture.
Sources of inspiration
Most of Sam's inspiration comes from his daily activities. "The knowledge that I lack from travel I supplement with reading. As an architect, I habitually contemplate architecture, whether I'm watching a film or reading a book. Also, in order to recall all of my passing thoughts, I have made it a habit to take notes." Sam is a compulsive note-taker. He carries an unlined notepad with him wherever he goes.
Building trends and practices in other countries are very much in Sam's loop. In particular, the traditional ways of building with wood, such as the "hanok" houses that use beams and posts in the framework, are favourites of Sam's. Still, he believes that every design is created for its purpose and he doesn't follow any strict guidelines in his projects. "There is no single golden rule to good structural design. When I look at quality building design, it doesn't give off," Sam explains.
"Because timber is scarce in South Korea, I rely on imported timber and materials, which requires me to continually learn about new building design. However, I have taken the traditional hanok building design and translated it into modern construction to create a fusion of modern and traditional architecture," says Sam, explaining his use of wood. This is also why Sam ended up using Lunawood's panels in his designs.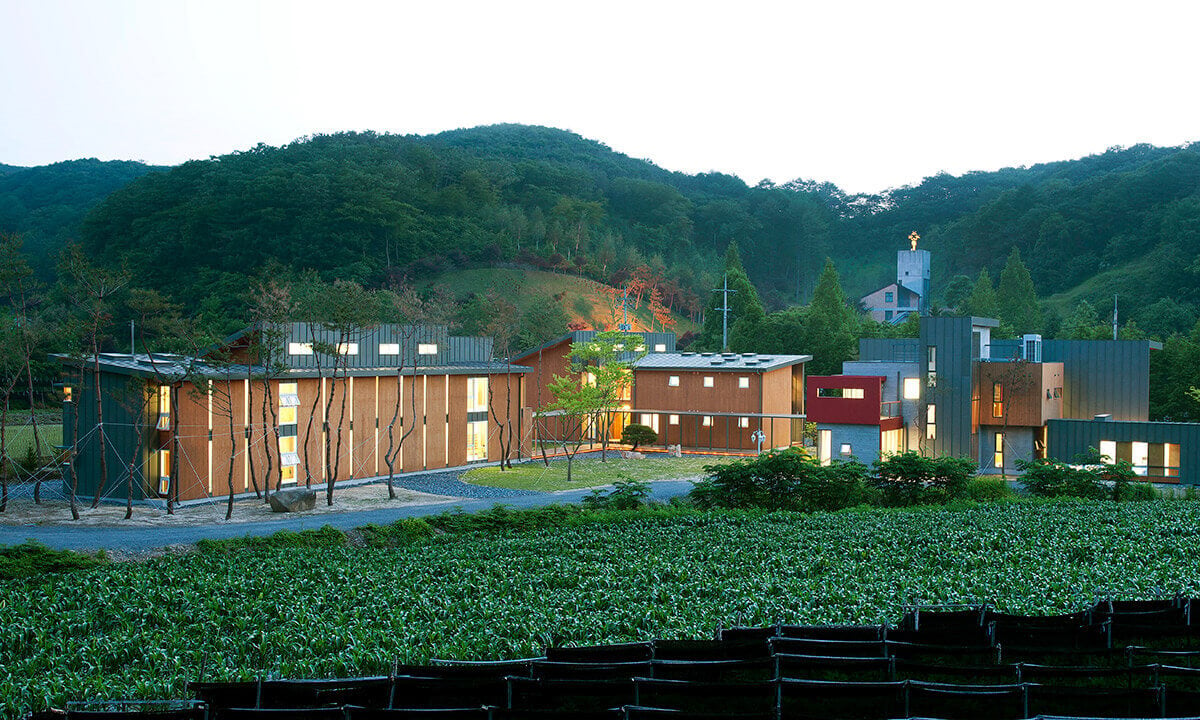 Awards through sustainability
The use of wood as a building material is increasing in several countries. The amount of wooden designs is increasing throughout Asia, including South Korea. "Increasing the use of timber in building design not only improves individual health, but it is also eco-friendly. Given the sloping landscapes of South Korea, the use of wooden construction allows building design that preserves the natural surroundings," Sam says, explaining the benefits of wooden building materials. "With the proper building design, wooden construction allows for durable construction that can easily be disassembled, reassembled and transported. In addition, the materials can be transferred for alternative usage."
Sam has won several awards for his work. Most of them have been for large-scale public structures and apartment buildings. When asked about his most memorable work, he refers to the "so-so-hun", an individual home that showcases his individual taste. "Instead of leveling the sloping landscape, which is very common in South Korea, I used impregnated timber posts to create an artificial foundation to gently elevate the home." In essence, he was able to preserve the surrounding forest and create something that resembled a bird's nest within the forest.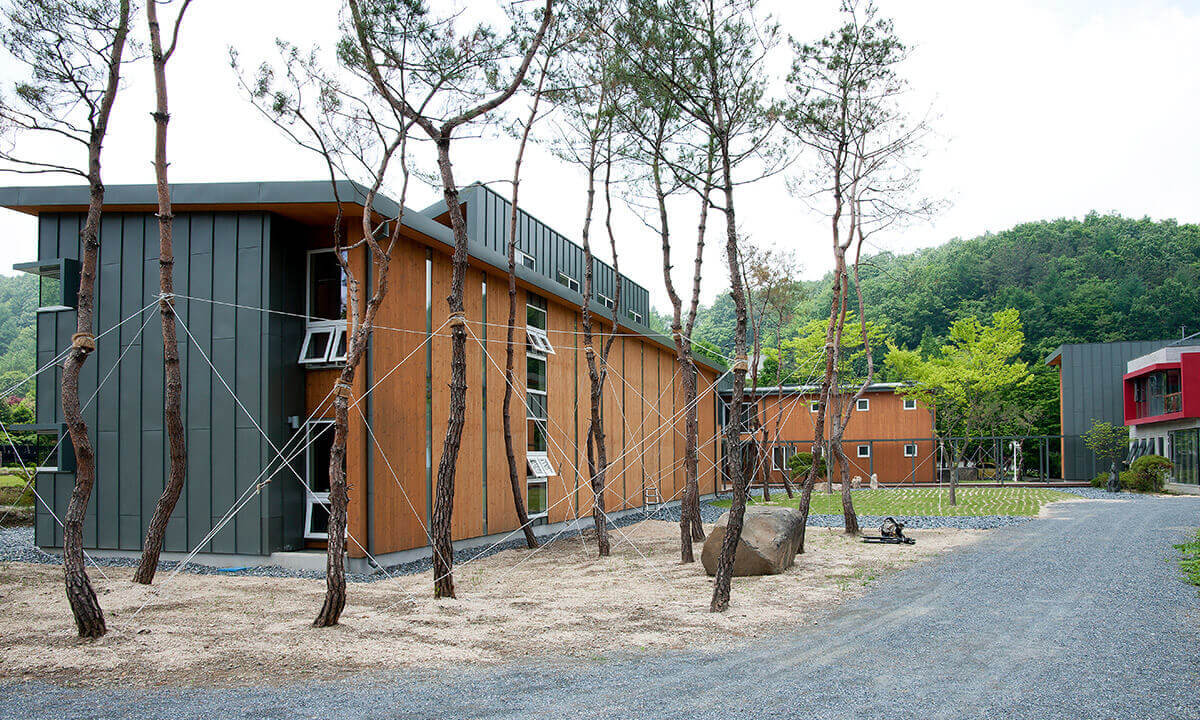 Choice of materials
As with many building projects, finances are set above other standards in Sam's designs. "Of course high quality, affordable materials are not easy to come by. However, given the financial constraints of a designer's budget, it is critical to choose economical materials. Also, the materials must blend well with the individual characteristics of the surrounding area," says Sam, explaining his standards when choosing the materials for each project.
It is clear that Sam favours wood in his designs, but it's not always possible to to use it. "I choose materials according to the size and function of the home, and at times I use a combination of different materials. The ability to use materials efficiently and effectively is a testament to an architect's talent. Not only is it important to understand the materials and use them properly, it is equally important not to overuse quality materials."
Future with Lunawood
Sam has used Lunawood's Thermowood products in several designs. He speaks highly of its structural integrity and quality, which boasts resistance to deformation and mould. "The colour, texture and scent, along with the ability to withstand changes in humidity, make these products an excellent choice as both indoor and outdoor finishing materials," says Sam.
The South Korean wooden homes market is smaller than in other countries, but it's currently flourishing. "There are few alternatives for external finishes. Lunawood is not yet very well known in South Korea. However, if Lunawood is showcased and shown to be an exemplary material, its future in South Korea will be bright," Sam predicts.
According to Sam, Finnish redwood trees are well known in South Korea. In his opinion, the introduction of products from different tree species would add depth and insight, particularly for South Koreans, who love wooden building materials and the beautiful northern European country of Finland.
More information about Sam's work can be found at: www.kawadesign.net (contents are mostly in Korean).