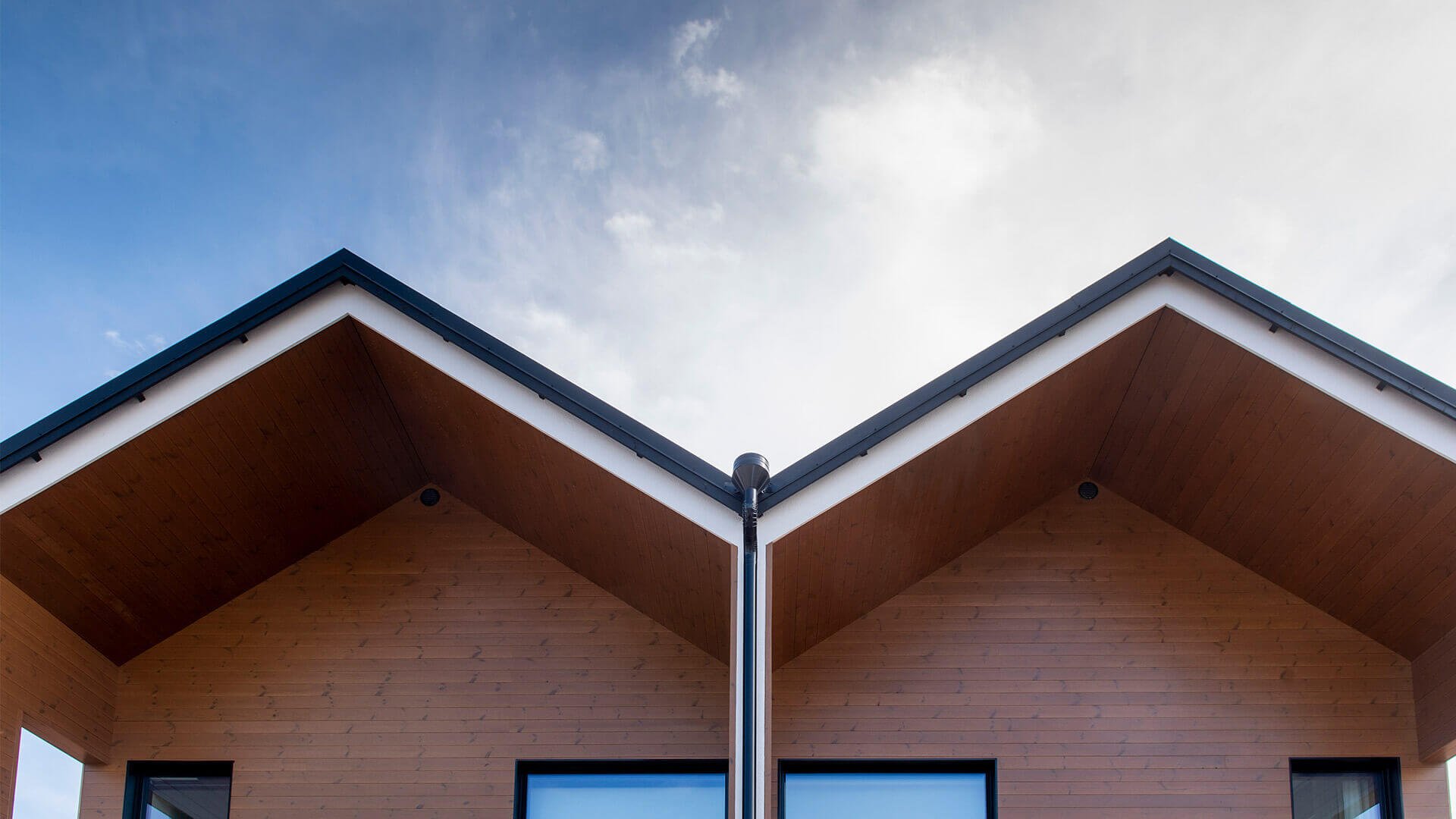 SAIKA design Oy, Oulu Finland
Tiina Sainila ja Mikko Kanninen
Founded in 2011
Specialized in designing residential buildings and day care centers
Wood is a popular material in Finnish detached and semi-detached houses but using Thermowood for exterior cladding is still a rather new phenomenon here. Riding the crest of a trend, Duplio is a magnificent three-generation semi-detached house project in Tuusula. Lunawood's Thermowood was used for the exterior cladding of the stone house for contrast and softness. Like many other Finnish detached and semi-detached house projects, Duplio was designed by SAIKA design Oy.
Founded in 2011, SAIKA design Oy is an architects' office run by architects Tiina Sainila and Mikko Kanninen. SAIKA specialises in designing residential buildings and day care centres. According to SAIKA's philosophy, it is important to develop a functional, timelessly beautiful solution that is tailored to the customer's wishes and suits the location. This philosophy has resulted in numerous successful projects around Finland, such as the Duplio house, built for the Housing Fair 2020 in Tuusula.
IMPRESSIVE AND PRACTICAL
Even as a child, Tiina wanted to become an architect. 'I designed houses and built them out of Lego bricks. My father is a construction supervisor, so that's how I became at least somewhat familiar with the industry at an early age,' Tiina explains. Mikko, for his part, was fascinated by the idea of working at the interface between art and science.
According to SAIKA design's philosophy, the design of a house should always be based on the needs of the users, with consideration to the surrounding buildings and nature. Aesthetic values and functional dimensions are also very important. In their work, the two architects are greatly inspired by nature, art and people.
'To some extent, we also keep an eye on global architectural trends. Popular style trends as such do not interest us much, but new materials and fine details are always intriguing,' Tiina and Mikko explain.
LONG SERVICE LIFE, TECHNICALLY AND AESTHETICALLY
SAIKA has designed both wooden houses and stone buildings. However, as a company focusing on smaller-scale Finnish building projects, houses with a wooden structure and wooden exterior cladding constitute the majority of their projects.
'We always include the responsibility and sustainability aspect in our designs. Usually it is the customer who decides on the main construction material. However, we always want to include ecological aspects in our discussions with customers,' Tiina and Mikko say. The long service life of the materials is important for them, also from the aesthetic perspective. Tiina and Mikko are not in favour of copies or products that imitate other materials. Materials should look the way they are.
"The long service life of the materials is important for us, also from the aesthetic perspective. "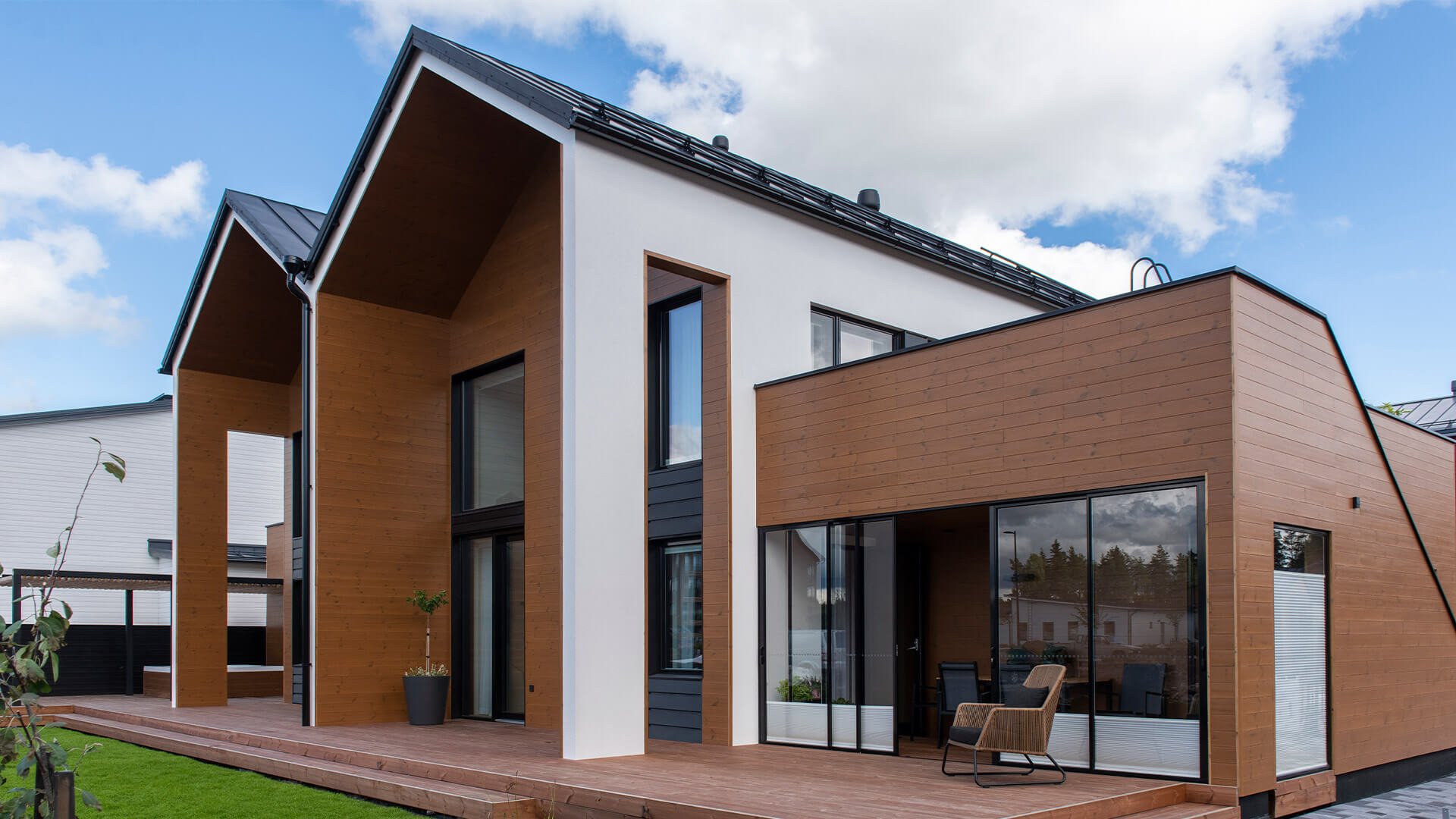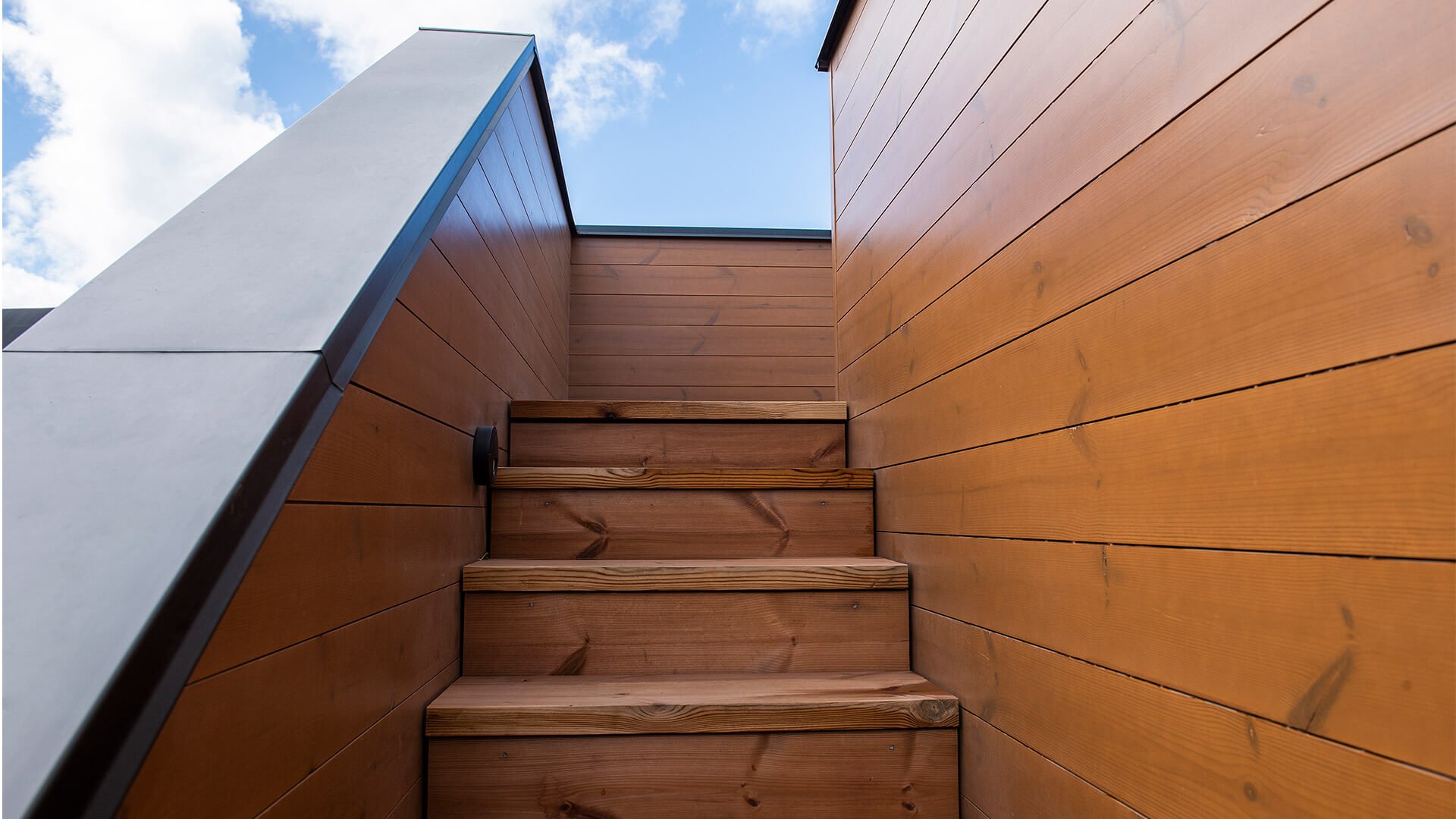 DUPLIO IS FULL OF IDEAS AND INSPIRATION – LUNAWOOD DETAILS CREATE A COSY ATMOSPHERE
Duplio is a magnificent three-generation semi-detached house in the middle of a busy urban community. The name 'Duplio' refers to the shape of the building with a double ridge roof and attached roof terraces built on top of the car shelters. This solution considerably increases the outdoor space on the small plot. The leading idea for the floor plan was to design open luminous zones throughout the house. The high and airy entrance hall continues past a light staircase and through a passage, opening into a high-ceilinged dining area. 'The design process of Duplio was very interactive, and the clients had many ideas for the details. Their ideas were very much in line with our views, so it was really easy to reach a mutual understanding,' Tiina and Mikko explain.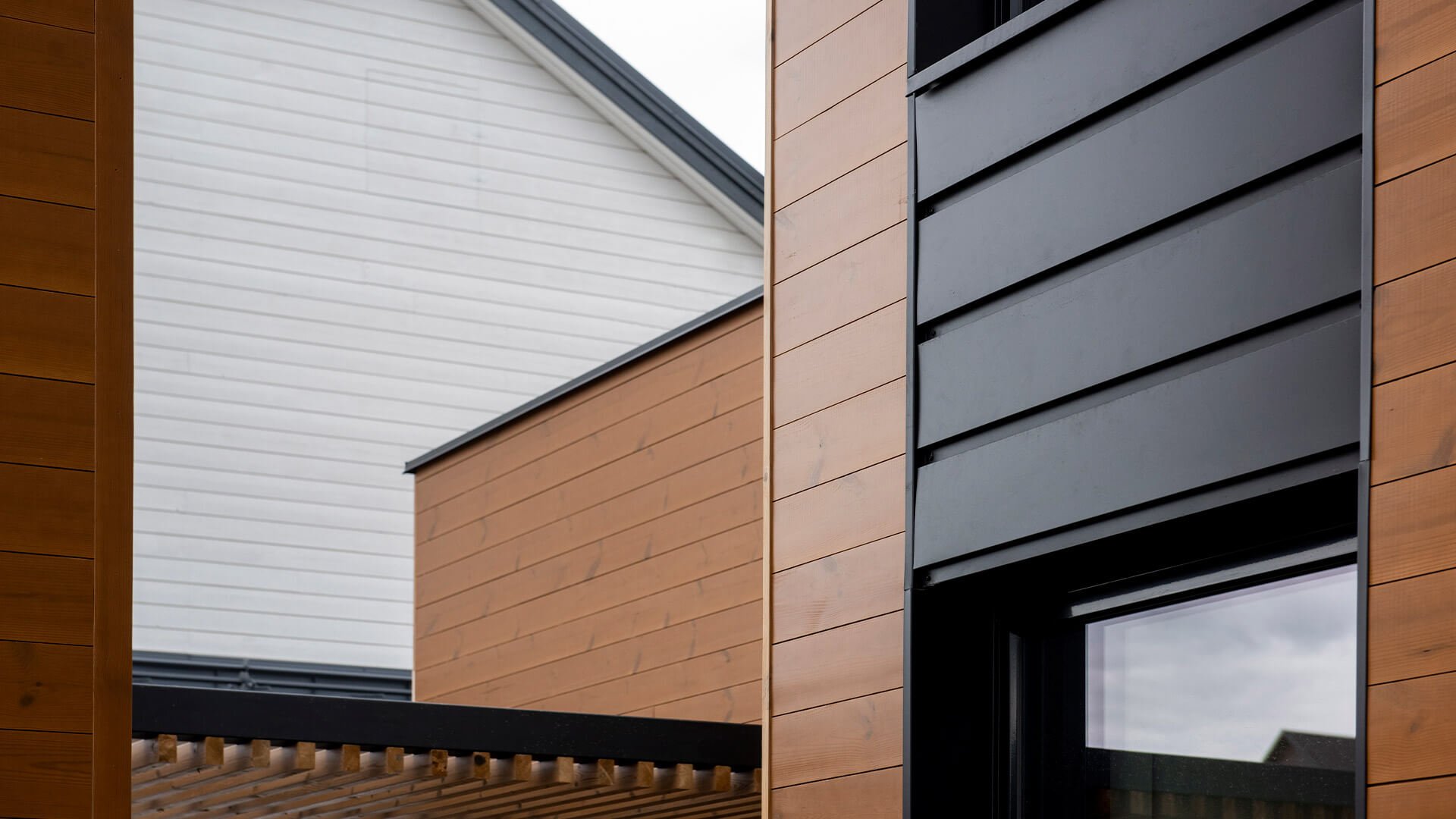 "'We had certain ideas on what we wanted for our new home, such as an efficient floor plan with no wasted space or needless halls. Our priorities included a steep double ridge roof, a white façade, wood effects, a black roof and black window frames. Fresh, modern and minimalistic. We wanted a south-west facing yard and a fair-sized terrace,' say Kati-Annika and Sami, the occupants of the other half of Duplio.
Duplio is a stone house built using Lunawood Thermowood for exterior and interior cladding. It was the architects' idea to use Lunawood's Thermowood as exterior cladding material for Duplio: 'We proposed it to the clients. In our opinion, the tone of the Thermowood matched nicely the white plastering as well as the black window frames and effects of the stone house. Like the other materials of the house, Thermowood is durable and has a long service life. The tone and feel of Thermowood also added warmth to the appearance of the house.'
"Like the other materials of the house, Thermowood is durable and has a long service life. The tone and feel of Thermowood also added warmth to the appearance of the house."
According to Tiina and Mikko, the future of Thermowood is bright: 'We believe that these products will play an important role in the future, because thermally treated wood is a durable, natural and ecological choice.'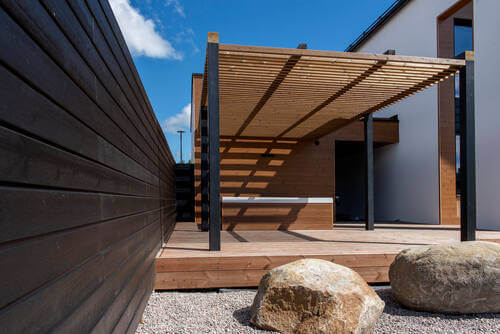 Without surface treatment, the effect of UV light makes Thermowood turn grey. However, the wooden parts of Duplio's façade were to be kept as close to the original shade of brown as possible. For this reason, the façade was fitted with Luna Panel System 20×142 profiles with hidden nailing fastening, pre-painted light brown at the factory. The elegant terrace was made of factory-oiled wide Luna Deck System Profix 3 40×185 mm terrace boards, installed with hidden clips. The pergola was built using Luna SHP 42×68 battens and Luna Post 120×120 posts. The protective fence is made of brushed black Luna Pro Coated UTV 20×142 Hidden Nailing.
Lunawood Thermowood is also great for interior use, creating a harmonious balance between the interior and exterior spaces. In Duplio, Lunawood Thermowood was used indoors on effect walls and ceilings as well as in the sauna. The Luna Triple Shadow is an eye-catcher on the ceiling of the high entrance hall. It looks like a row of battens but is much easier and quicker to install than individual strips. The effect wall in the bedroom and studio room is made of Jukola 3D 440-1 (plait). The sauna has Luna Dual Shadow 26×142 for wall panels and Luna SHP Sauna 26×92 for sauna benches.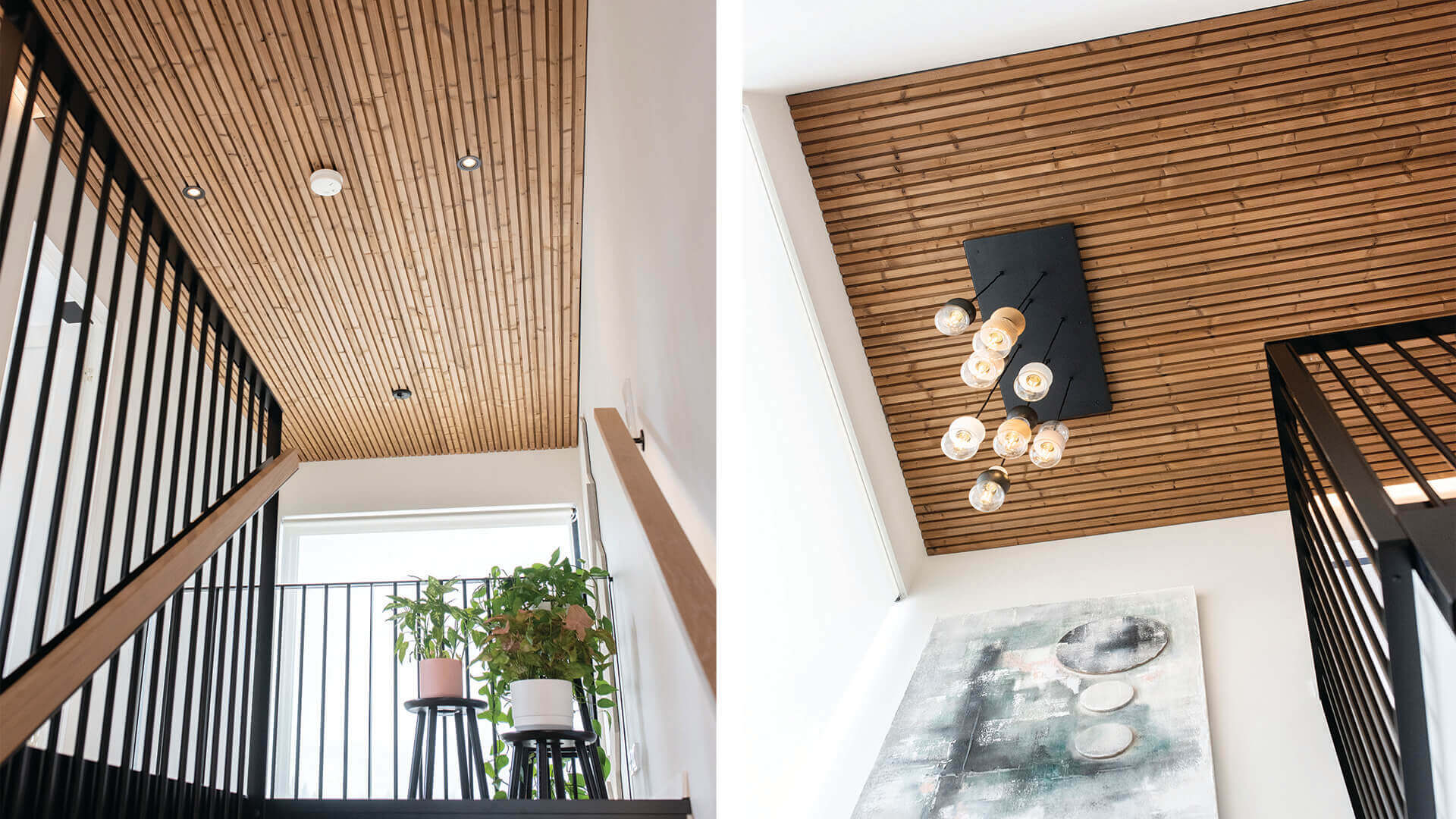 The ceiling of the foyer: Luna Triple Shadow 32×140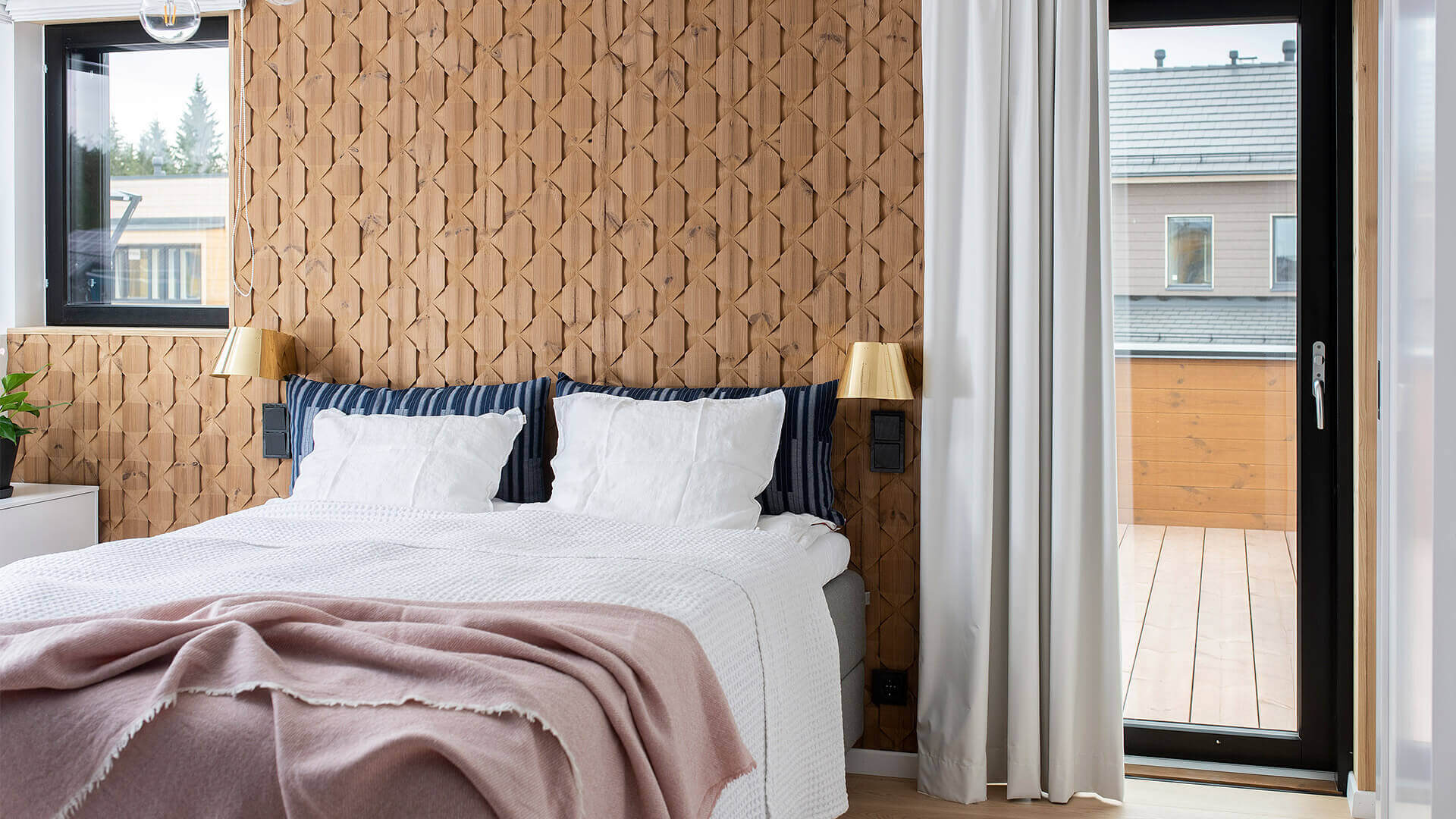 The effect-wall in the bedroom: Jukola 3D 440-1 (Plait)