Eco-wooden house Cabin Havsstrand is Housing Fair's House of the Year – Featuring Lunawood Thermowood products
The Housing Fair's House of the Year has been announced in Loviisa, Finland. The winner, voted from high-quality finalists, was Cabin Havsstrand by Honkatalot Oy, located on the shores of Lohjanlahti. Chairman of RKL's union board, Jukka Lintunen, and vice-chairman Jere Väisänen praised Havsstrand as a well-executed entity that meets the owner's needs and the themes of the fair. "Ecological values are evident in Havsstrand, and the technical solutions are smart," Lintunen commends. The construction of the plastic-free house has utilized durable and environmentally friendly materials, and its energy efficiency is top-notch. Responsibility is also evident in the choice of surface materials for the house.
The ceiling and sauna of Cabin Havsstrand have been finished with Lunawood Thermowood products. The natural feel of the wood continues prominently in the facade of the house, with green wood cladding enhanced by Lunawood's Thermowood battens. The terrace features Lunawood's Thermowood Composite decking, made from 90% recycled materials. Cabin Havsstrand was designed by architect Jani Lahti from Plusarkkitehdit, in close collaboration with the owner couple Tiina-Josefiina and Julius Merenranta.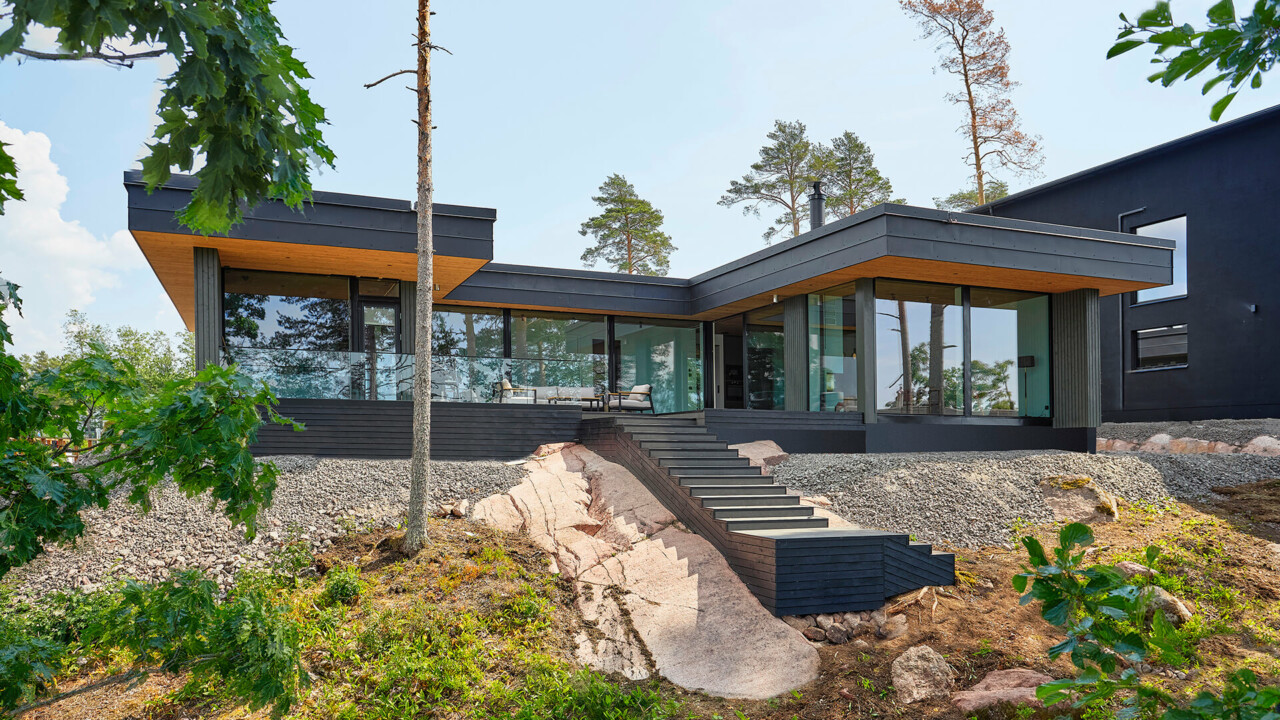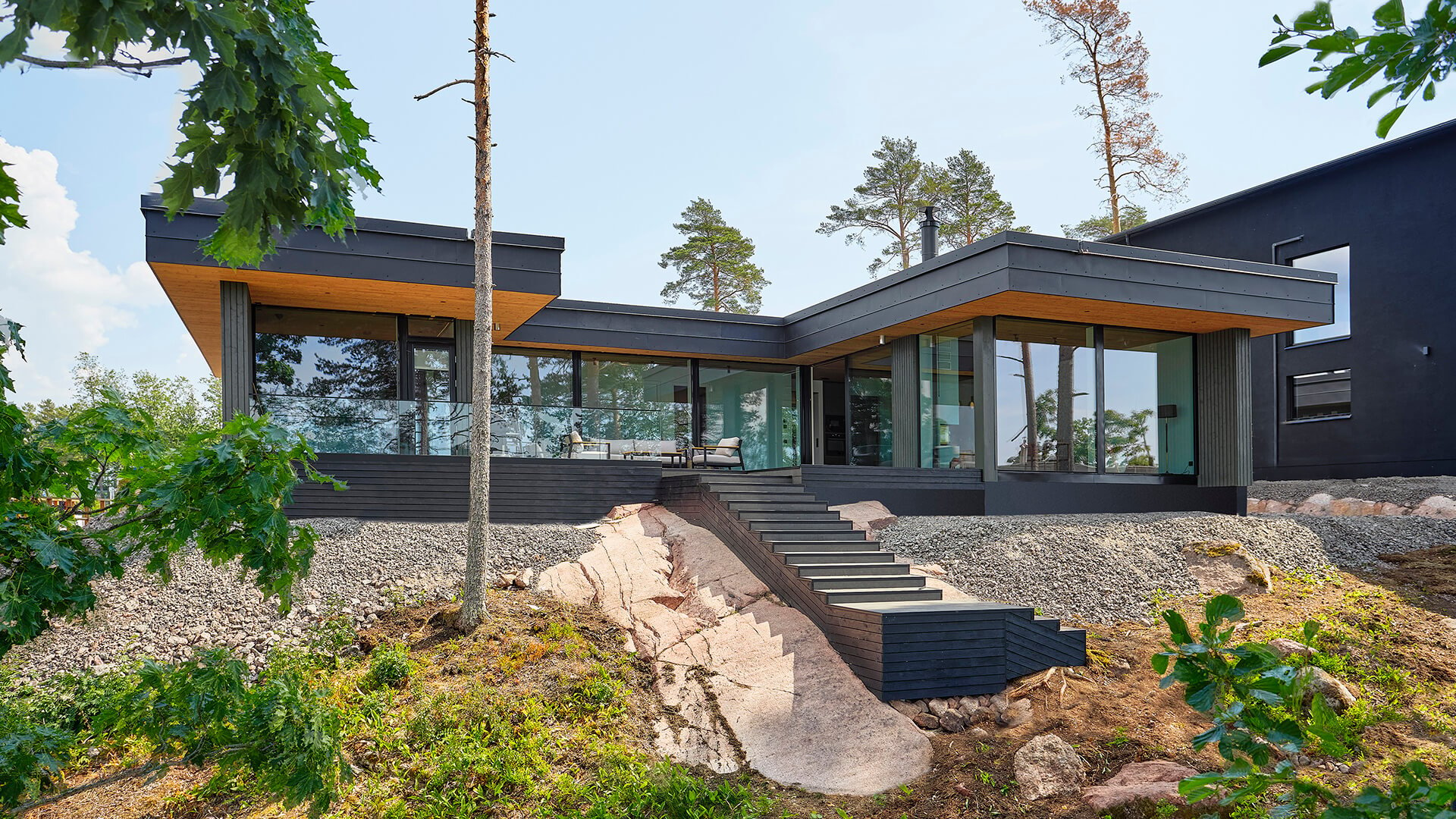 Villa Sten takes the top spot in the Housing Fair's most immersive sauna poll
Sauna from Finland -association selects the most immersive saunas of the Housing Fair annually. This year, the award went to the sauna facilities of Villa Havet, Villa Kruunu, and Villa Sten. Villa Sten's sauna received special praise for its unique idea and implementation. The sauna is located on the second floor of the house, and its special feature is a large window that opens to a magnificent view of the sea and the terrace. The jury particularly praises the layout of the bathing facilities and sauna. In the family home, it's easy to incorporate sauna into daily life. The sauna walls, benches and ceiling made of Lunawood Thermowood are beautiful and minimalist. Cooling off is possible on the covered terrace, which is also finished with Lunawood's decking.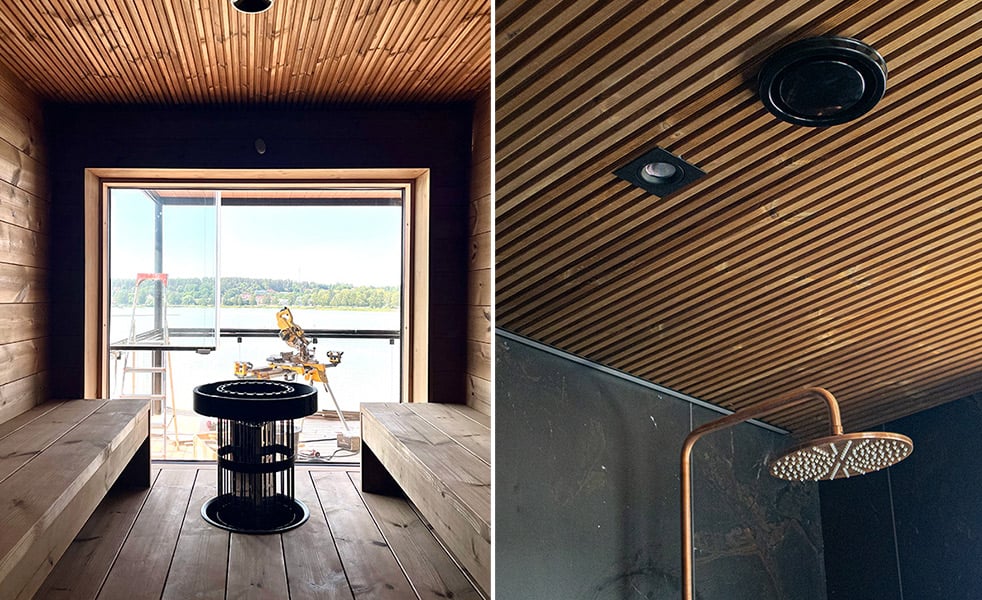 Ceiling: Luna Trio 26×92
Sauna walls and benches: Luna SHP 40×185