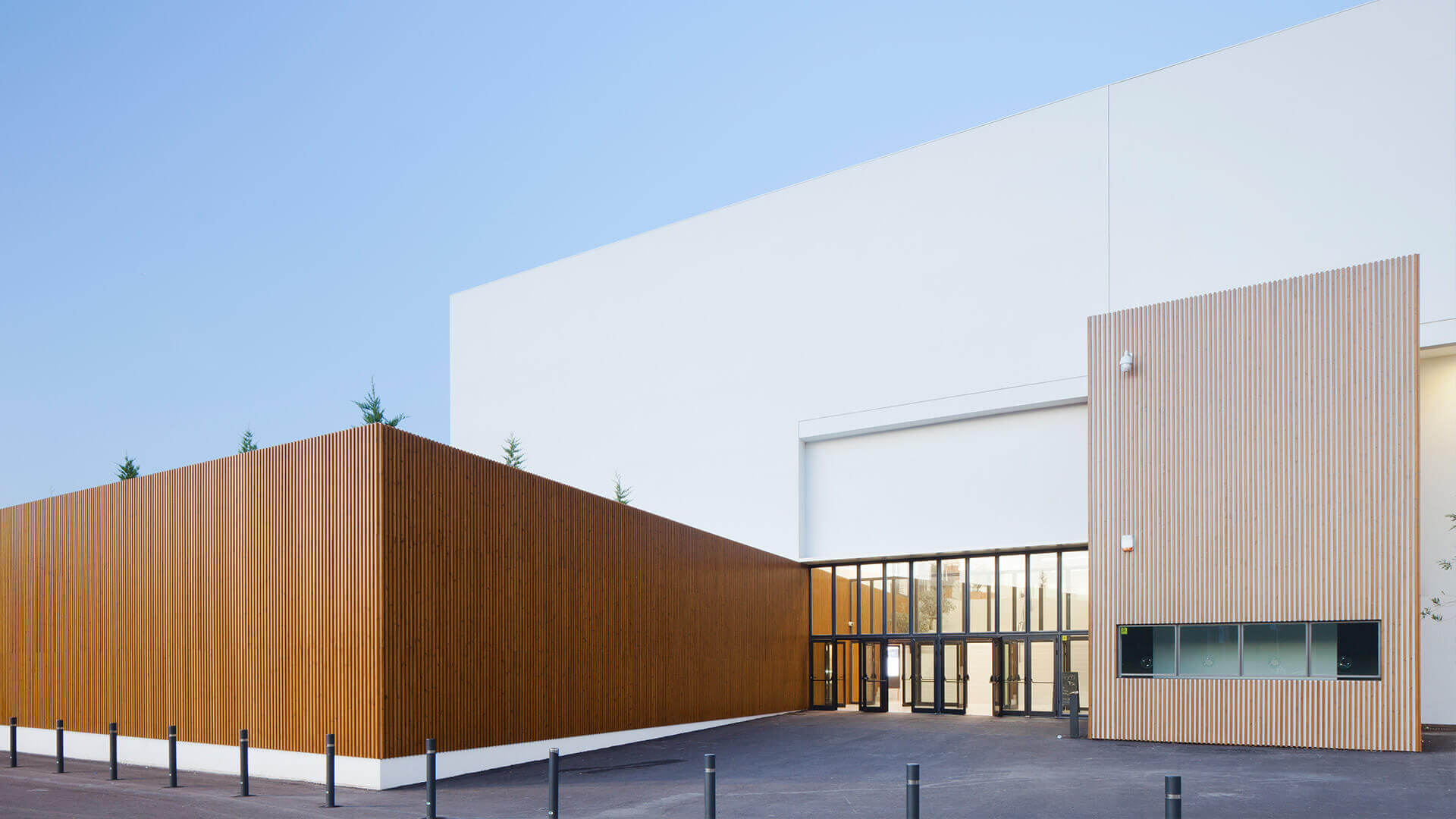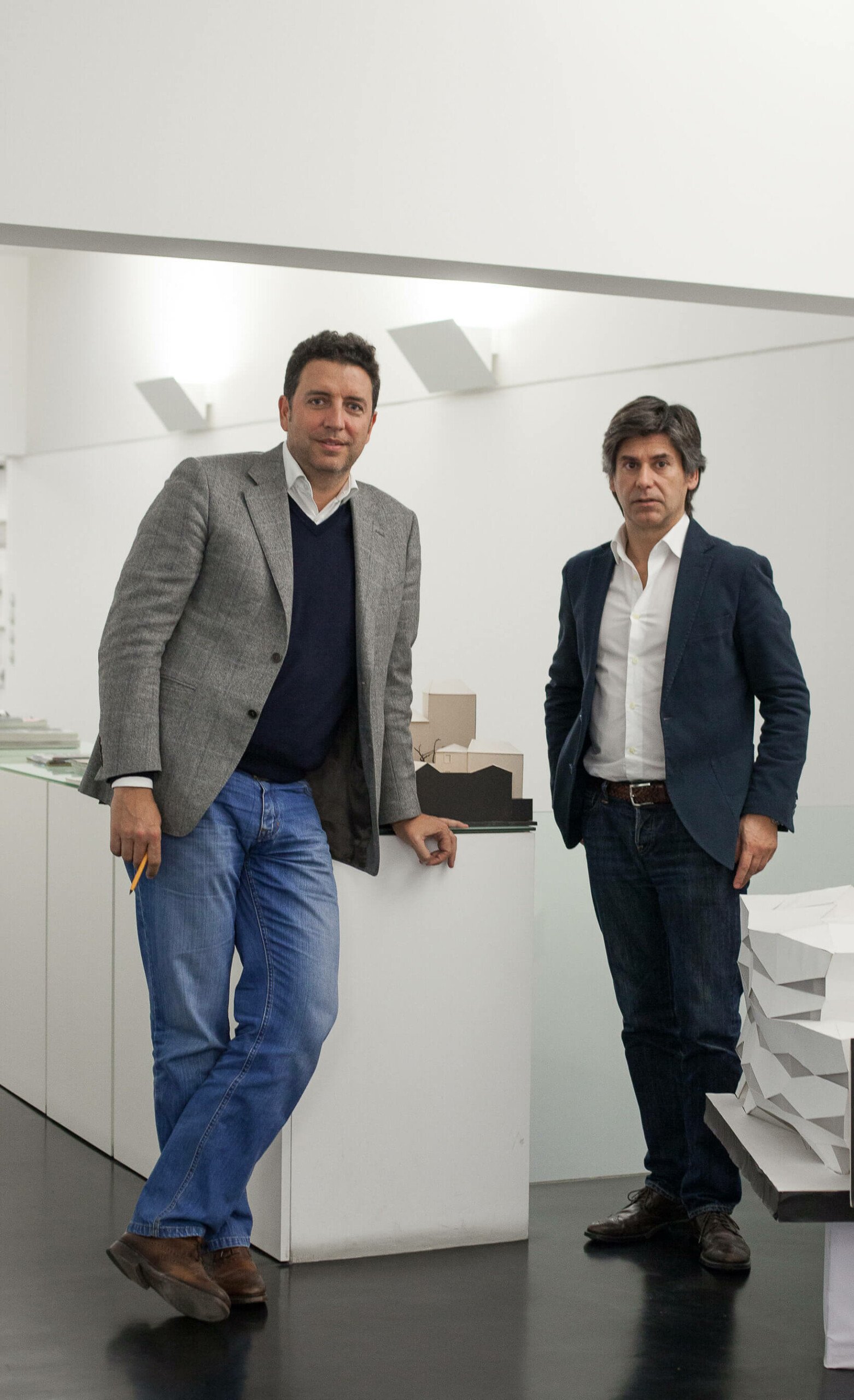 Pedro Guimarães and José António Barbosa at Barbosa & Guimarães Arquitectos
– A multi-award winning Portuguese Architecture Office
– Founded 1994
Forum Braga is a modern meeting and event venue in northern Portugal. Designed by the award-winning Barbosa & Guimarães Arquitectos, it has been extensively renovated.  A special feature of Forum Braga is long vertical Lunawood batten-lines. Lunawood has given them the confidence to use wood  in their architecture as  Lunawood is stable, it does not break down and its aging is valuable.
Pedro Guimarães and his partner José António Barbosa from Barbosa & Guimarães Arquitectos have had their architecture office for more than 25 years. They know each other since our college days.
The first projects emerged, when they made a contest. On this path they have done continued and large number of their works have also received awards and recognitions. Forum Braga is alike project that arose from a contest, a contest of ideas.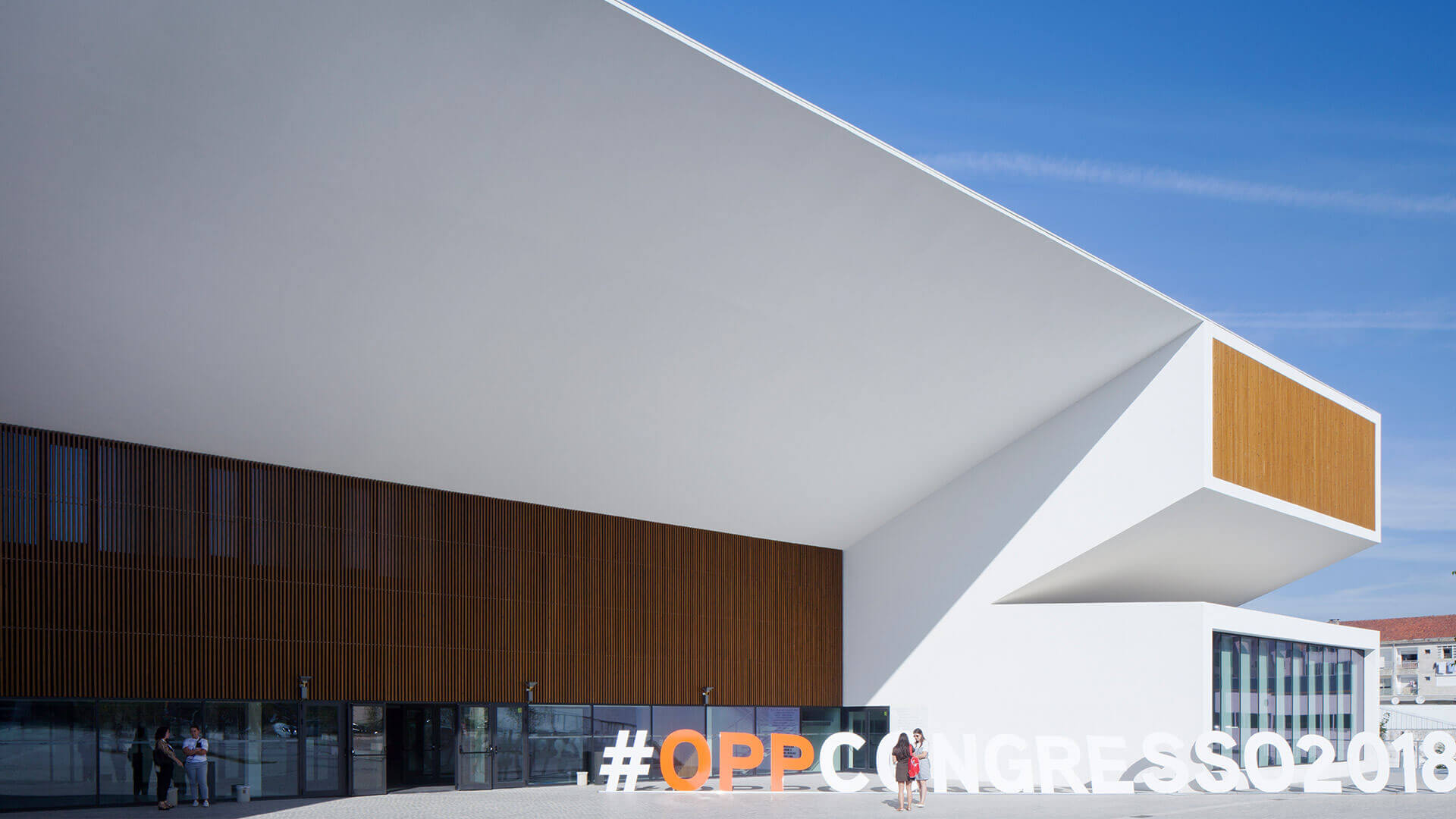 THE MOST CHALLENGING PROJECT EVER
According to Pedro Guimarães Forum Braga has been perhaps one of the most challenging and complex projects that Barbosa & Guimarães Arquitectos has done so far because of three challenges: First, it was a rehabilitation and regeneration of a pre-existing building. Second, they had very limited budget for the renovation, and third the execution of the project between the fairs.
The goal was to transform it into a true exhibition centre, congress, and multipurpose centre, that really works. They tried to preserve the existing building and get back everything possible and usable, but at the same time they did a cleaning of the design to make Forum Braga more spacious and functional.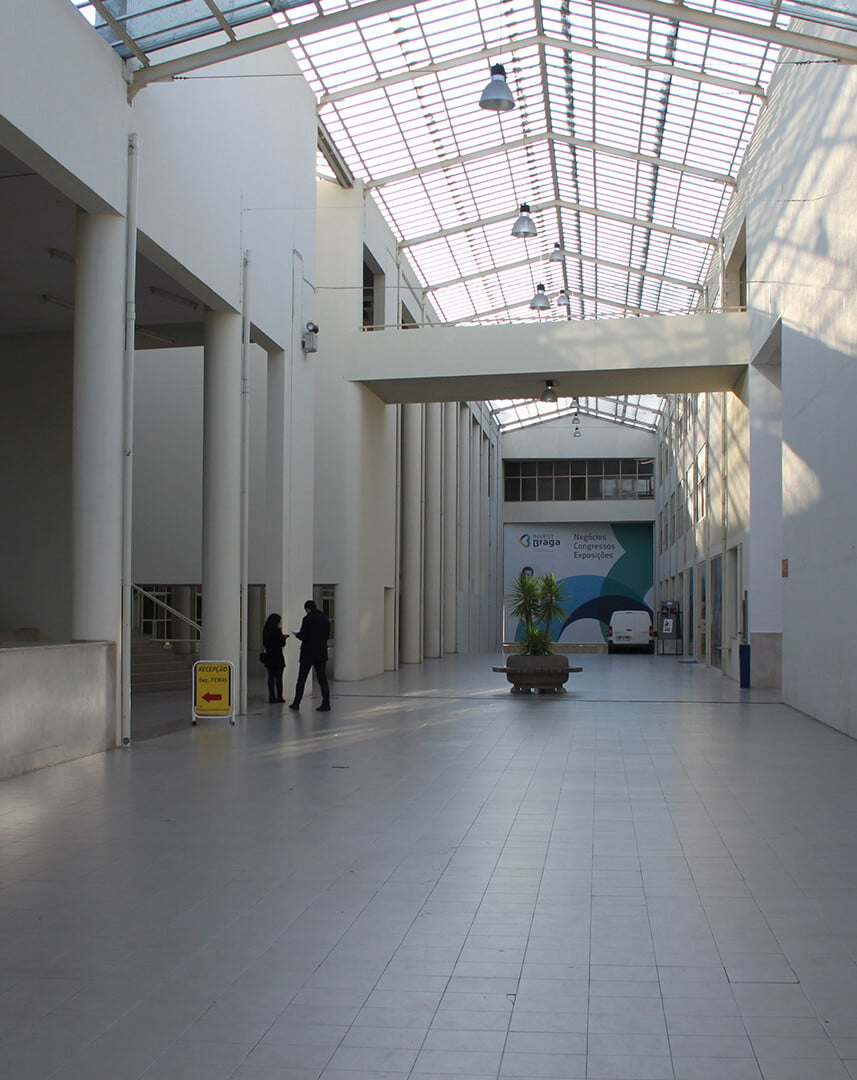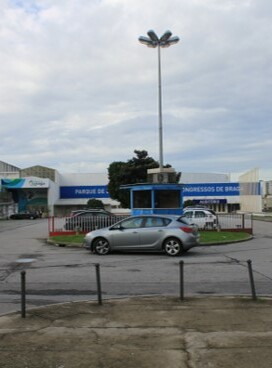 THE DESIGNING PHILOSOPHY – MATERIAL SELECTION
The most important in work for Mr Guimarães is the recognition that people have when they use it, when they say that they enjoy using the space.
"I never vary the materials and they are the materials that have always been used in architecture. I use wood, which maybe was the first, the first material of all when it appeared when they made the first huts, they gathered the sticks and made a hut", says Mr Guimarães. He uses also stone/blocks, glass and metal. Now, the truth is that these materials, since these prehistoric times, have suffered many evolutions, many transformations and today they appear to us in completely different forms.
For architects the question of aesthetics and durability, functionality, and maintenance. The concern is how will this material be in 10 years? Does it need maintenance, if it doesn't, if it will age well.
"I find Lunawood perfectly natural, perfectly sustainable. It gives us a guarantee and above all gives a guarantee to customers that the wood has a stability and that it doesn't degrade, it has an aging that is dignified. In this particular case, and the predominance that you see in Forum Braga are the so-called batten. We created a veil with the wooden battens, and this veil hides doors and building service systems, like ventilation. Lunawood doesn't twist, it doesn't warp. Wood has that versatility that in can either stay with its natural colour or with the varnish, but also be painted and lacquered and be placed in other environments", cheers Mr Guimarães.
"I find Lunawood perfectly natural, perfectly sustainable. "
Watch on the Behind the Design video about Forum Braga below. On the video Mr Guimarães tells the story about the  design process and about the vision behind the regeneration.
Behind the Design - Forum Braga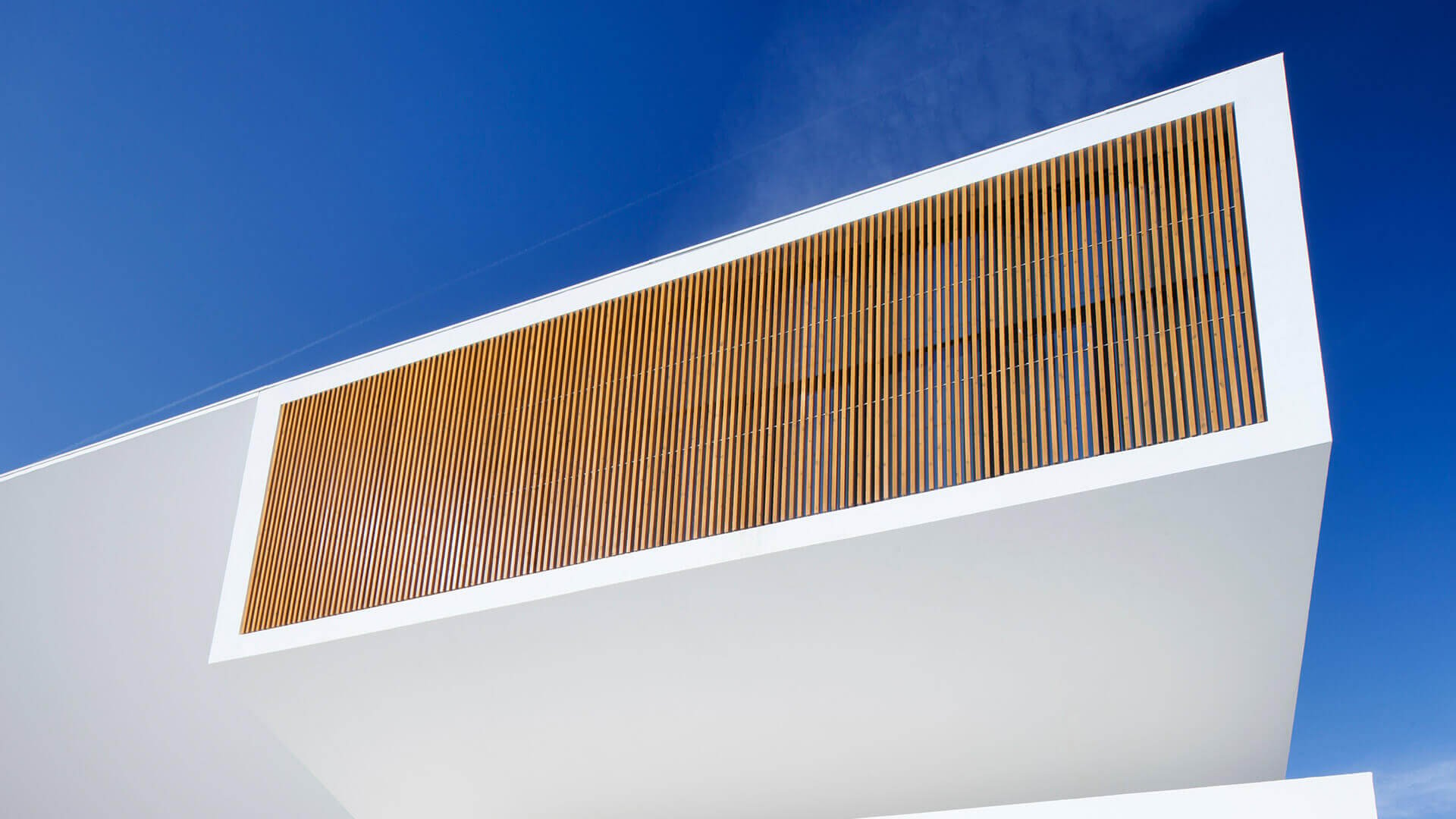 Play