This year, we celebrate a full decade of Thermowood and its "baby brother" Thermowood Plastic Composite. Both products follow the principles of sustainable development, something of which we are very proud. Circular economy has particularly close connections to our 10-year-old invention Thermowood Plastic Composite. The choice of raw materials places this composite in a class by itself for environmental soundness.
The company itself celebrates its 20th anniversary this year. Lunawood has long been regarded as an international pioneer of responsible and innovative wood products. In 2010, Lunawood established a subsidiary to promote sustainable development and circular economy through its product Thermowood Plastic Composite. The inspiration for the product development and for establishing a subsidiary was sparked by a vision of being able to utilize and commercialize by-products from Thermowood manufacturing processes in a sustainable manner. Planing of Thermowood produces cuttings that can be used as raw material both for pellets and in products that keep CO2 bound for a longer time. That's where the idea came from.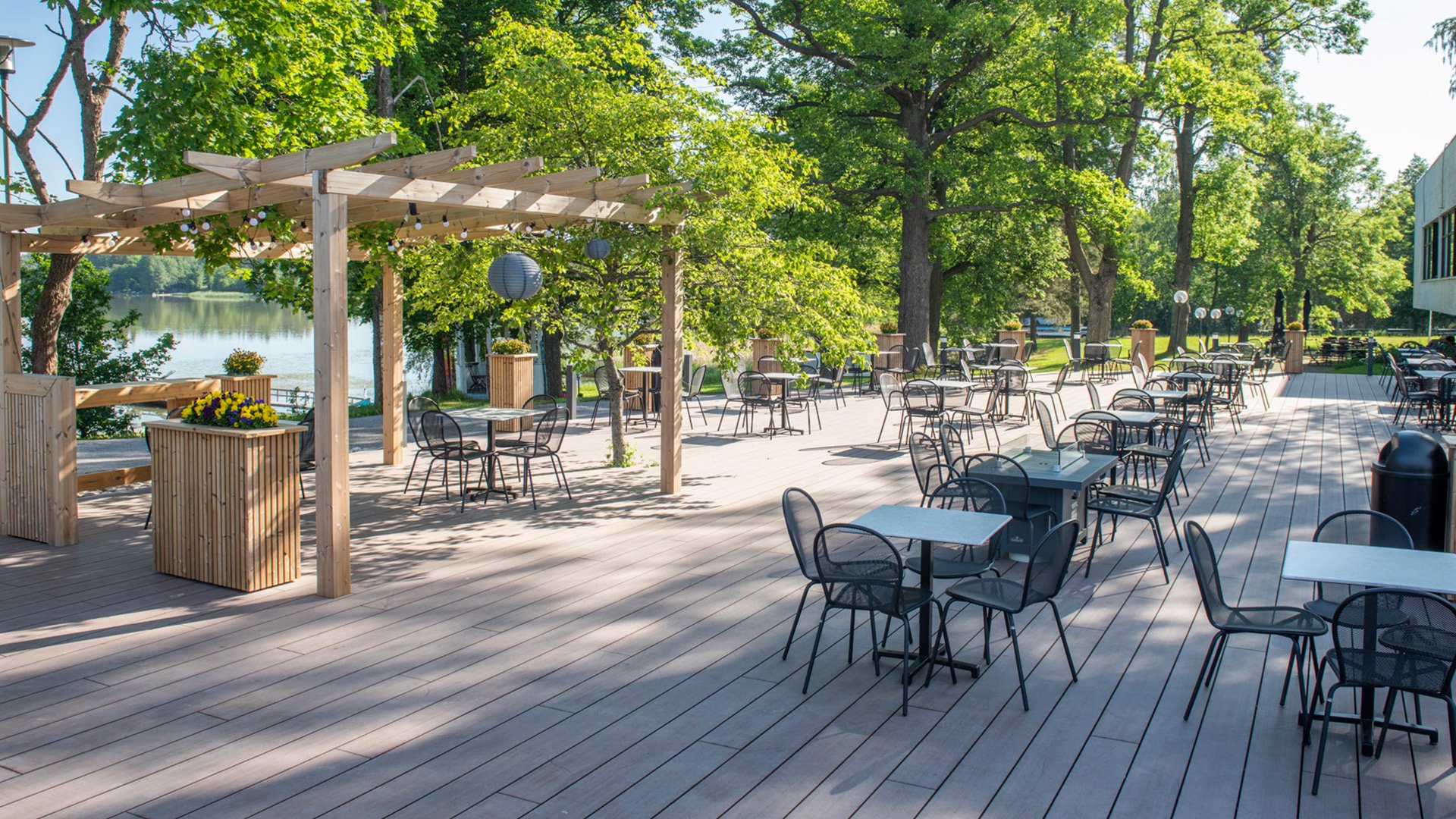 Hotel Gustavelund, in Tuusula, Finland. Product: Luna TWPC 42×200, Moccabrown
From Idea to Product
Composite materials were arousing considerable interest and discussion already in 2008. In those days, Lappeenranta University of Technology studied how the properties of wood composites could be further improved. The research eventually led to production being launched in early 2011 in collaboration with the Kärkkäinen brothers, Aulis and Olavi, who owned Lunawood back then. Thus, a new miracle of Iisalmi was born: Lunawood's Thermowood Plastic Composite. From the outset, the product specification has included a refined appearance, friendliness to the environment, a long service life, and high quality.
Thermowood Plastic Composite consists of 65% thermally treated fiber obtained as a by-product from planing Lunawood's eco-friendly and non-toxic thermally modified wood products. In the beginning, 20% of the product's mass consisted of virgin plastic granules added to the product. Development continued, and in 2016 the virgin plastic was replaced with recycled Fortum Circo® polypropylene from Finland. This is how the goal of environmentally sound activities set at the very beginning was reached. Fortum Circo® is a plastic recyclate produced from food-grade plastic waste from Finland, so it is a completely non-toxic and sustainable product.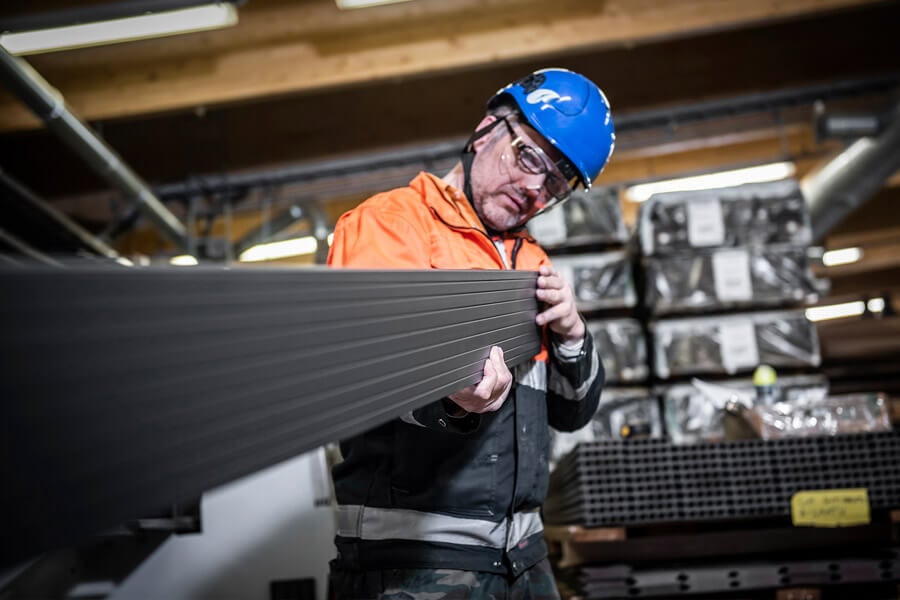 An elegant solution for many purposes
Today, Lunawood's Thermowood Plastic Composite is the only truly wood-based composite product designed and manufactured in Finland. Its raw materials make it the most dimensionally stable composite product on the market. This is an ecologically sound and elegant, high-quality solution for decks, jetties, stairs, balconies, and many other demanding outdoor applications that require a long service life, easy maintenance, and a modern appearance. Because the product contains no harmful substances, any leftover pieces from the construction project can be disposed of with no hassle as energy waste.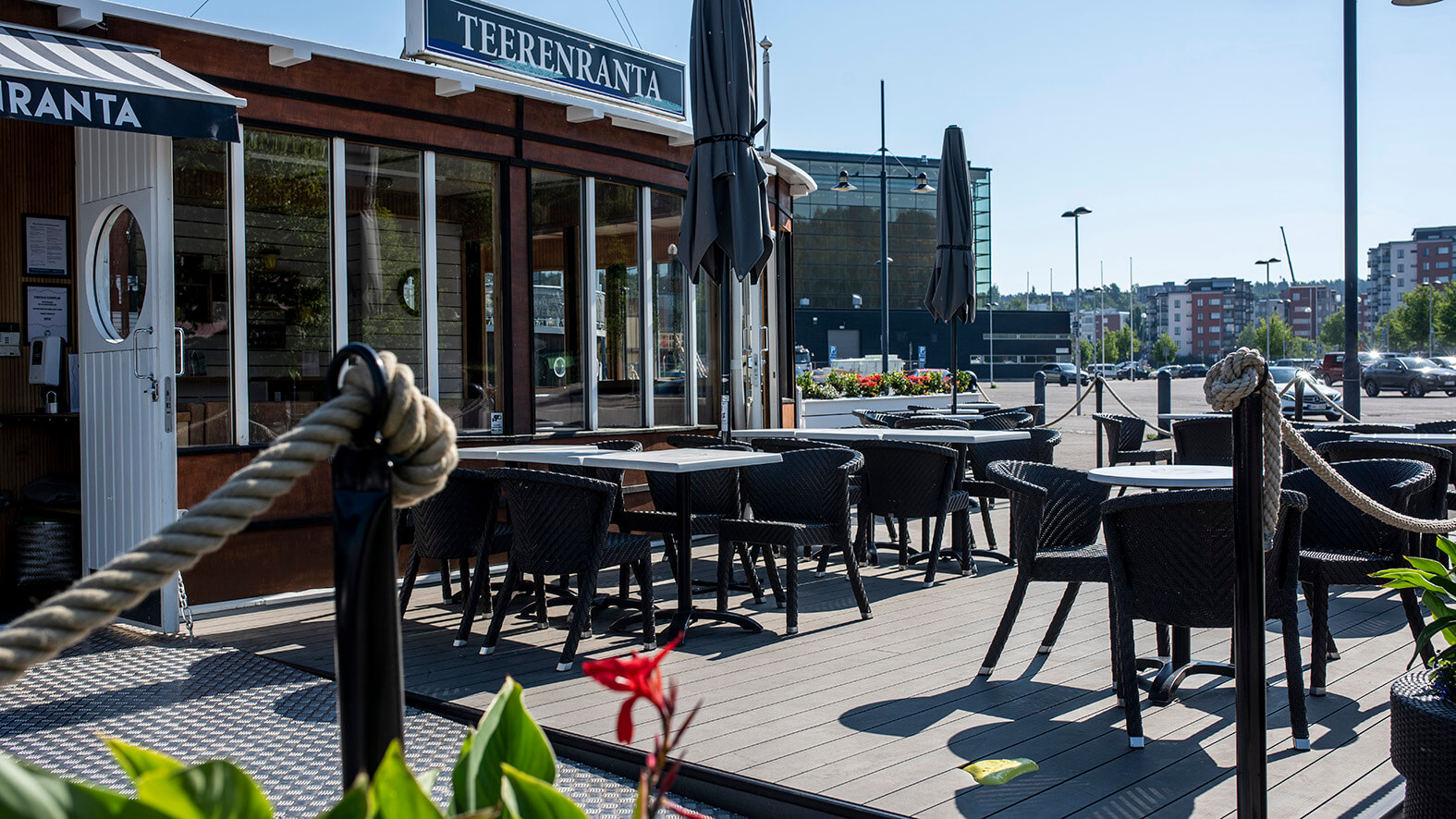 Restaurant Teerenranta, Lahti Finland. Product: Luna TWPC 26×140 Graphite Grey