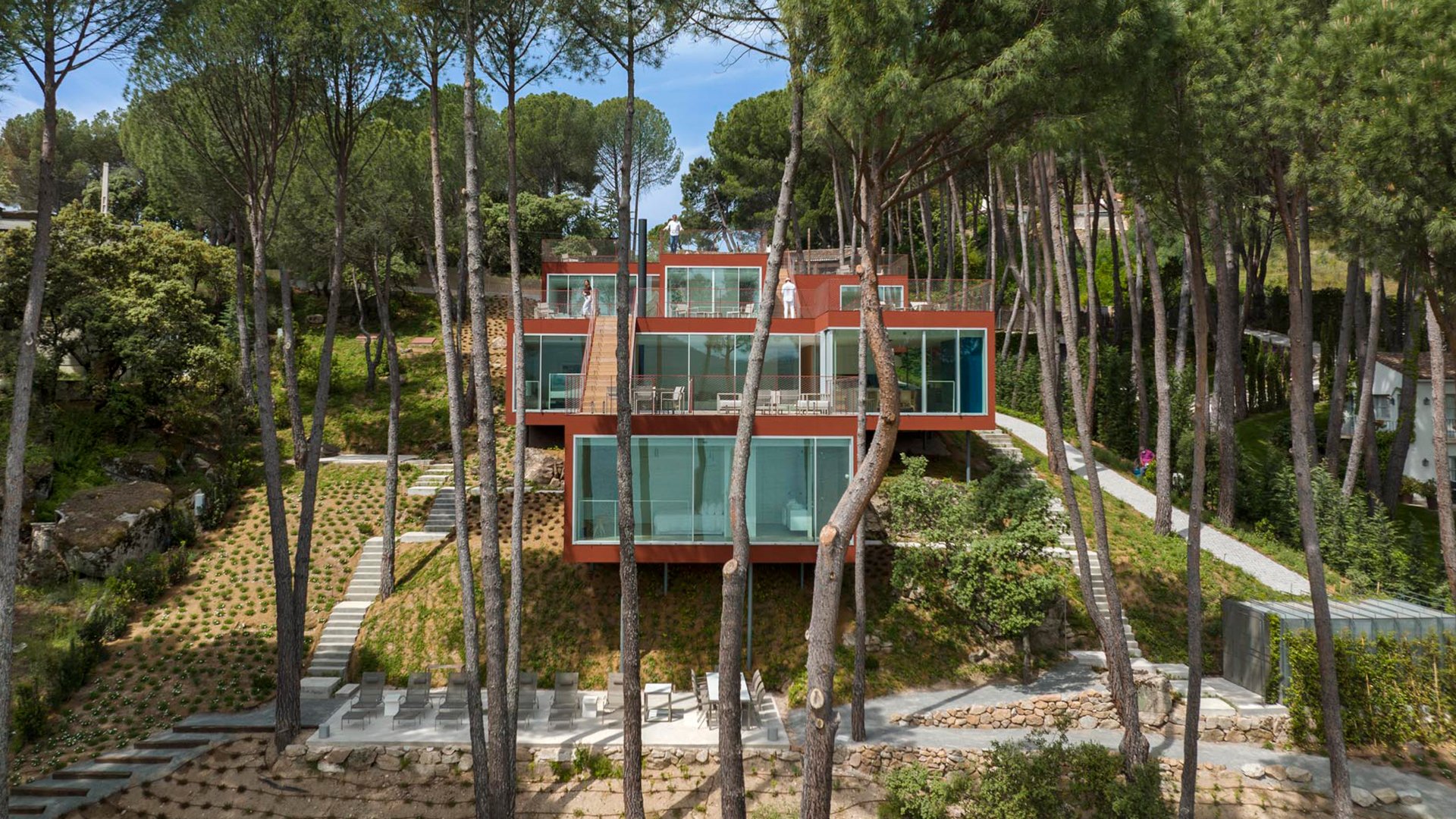 Architect
estudio_entresitio (María Hurtado de Mendoza Wahrolén, César Jiménez de Tejada Benavides y Alvar Ruiz Villanueva)
Location
Calas de Guisando, Ávila, Spain
The project is located in Calas de Guisando, Ávila, and stands out for its respect for the landscape and surrounding vegetation. The house in red blends harmoniously into the environment using a palaphytic architecture on stilts, barely touching the ground. The floor plan of the house adapts to the topography and existing trees, growing and shortening between them. The house connects with the environment through different intermediate levels and offers private spaces connected to the outside and the common area. The construction is carried out with cross-laminated boards and sustainability and energy efficiency are prioritized.
The material for the impressive façade is the dimensionally stable and sustainable Lunawood Thermowood cladding, Luna UTV 19×117 with fish-bone orientation. Lunawood Thermowood is an excellent base for various surface treatments. For this project was used  Original red paint, Falu Rödfärg to finalize the stunning outlook.
Lunawood Thermowood is a natural material that has been processed with heat and steam, resulting in improved stability, durability, and a distinctive aesthetic appearance. Thanks to the thermal modification process, Lunawood Thermowood is rot-resistant in all climates. Surface treatments can extend the life cycle of Lunawood Thermowood and enhance the wood's natural beauty, giving it a rich and attractive appearance. It also enables many different looks for Thermowood from translucent shades to fully covering painted surfaces, and everything in between.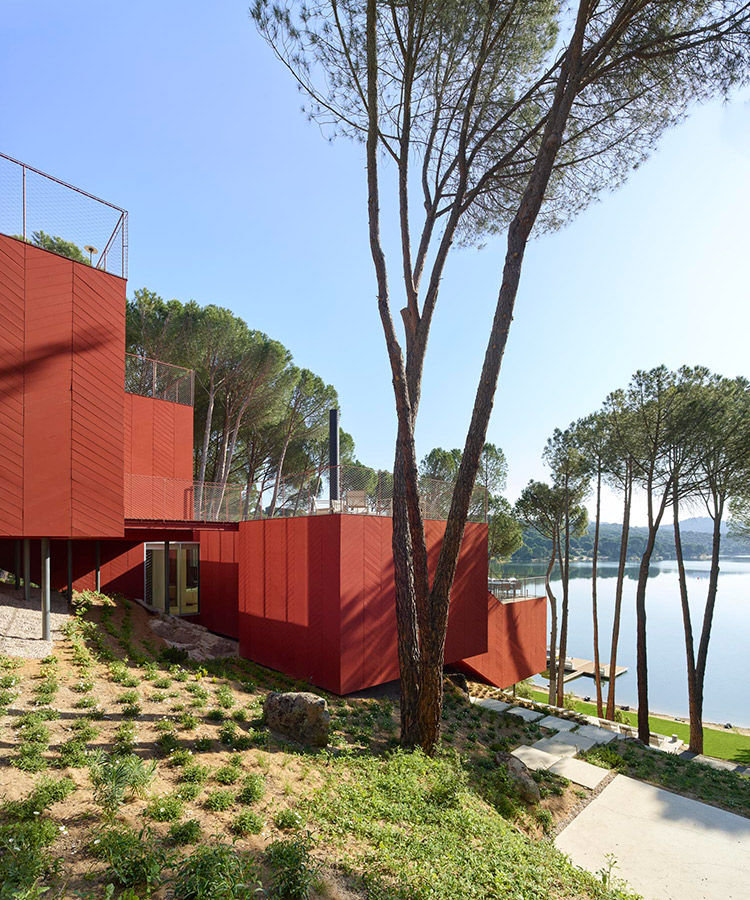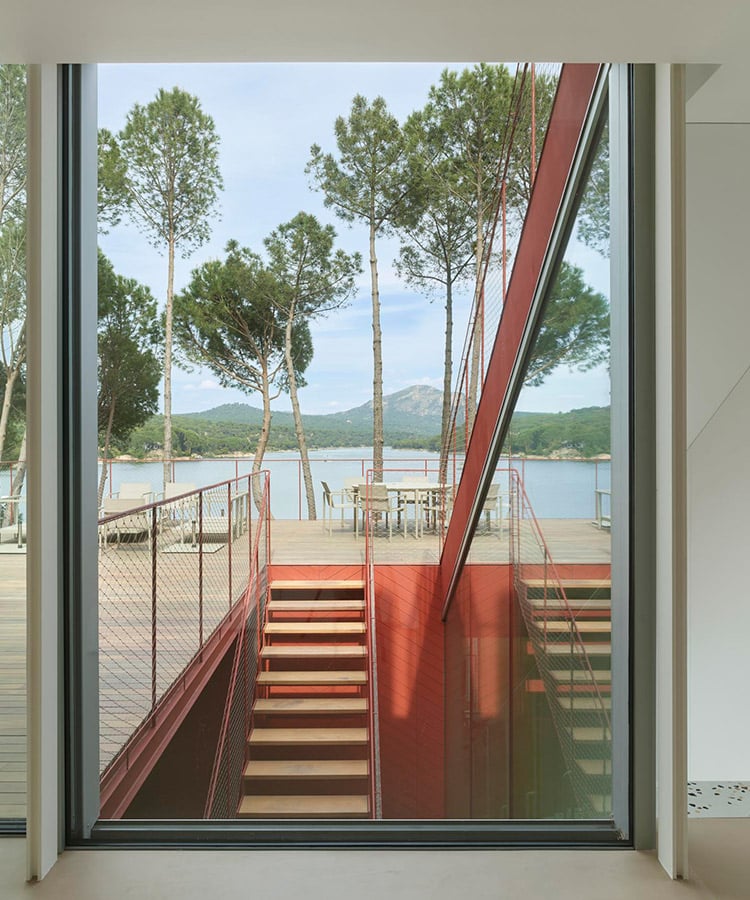 The Winner of Spanish Architecture Award (EX AEQUO) 2023
House in Red achieved SPANISH ARCHITECTURE AWARD (EX AEQUO) granted by CSCAE,  Consejo Superior de Colegios de Arquitectos de España in 2023.
According to the Grand Jury The House in Red stands out for its ability to travel on the slope of the plot at the edge of the swamp, generating its own shape as a precipitate in red wood and glass from the upper access, creating a succession of interior descents and openings to the spectacular views of the surroundings. Each exterior and interior slope serves as an occasion for an experience of perception and adaptation to the terrain".