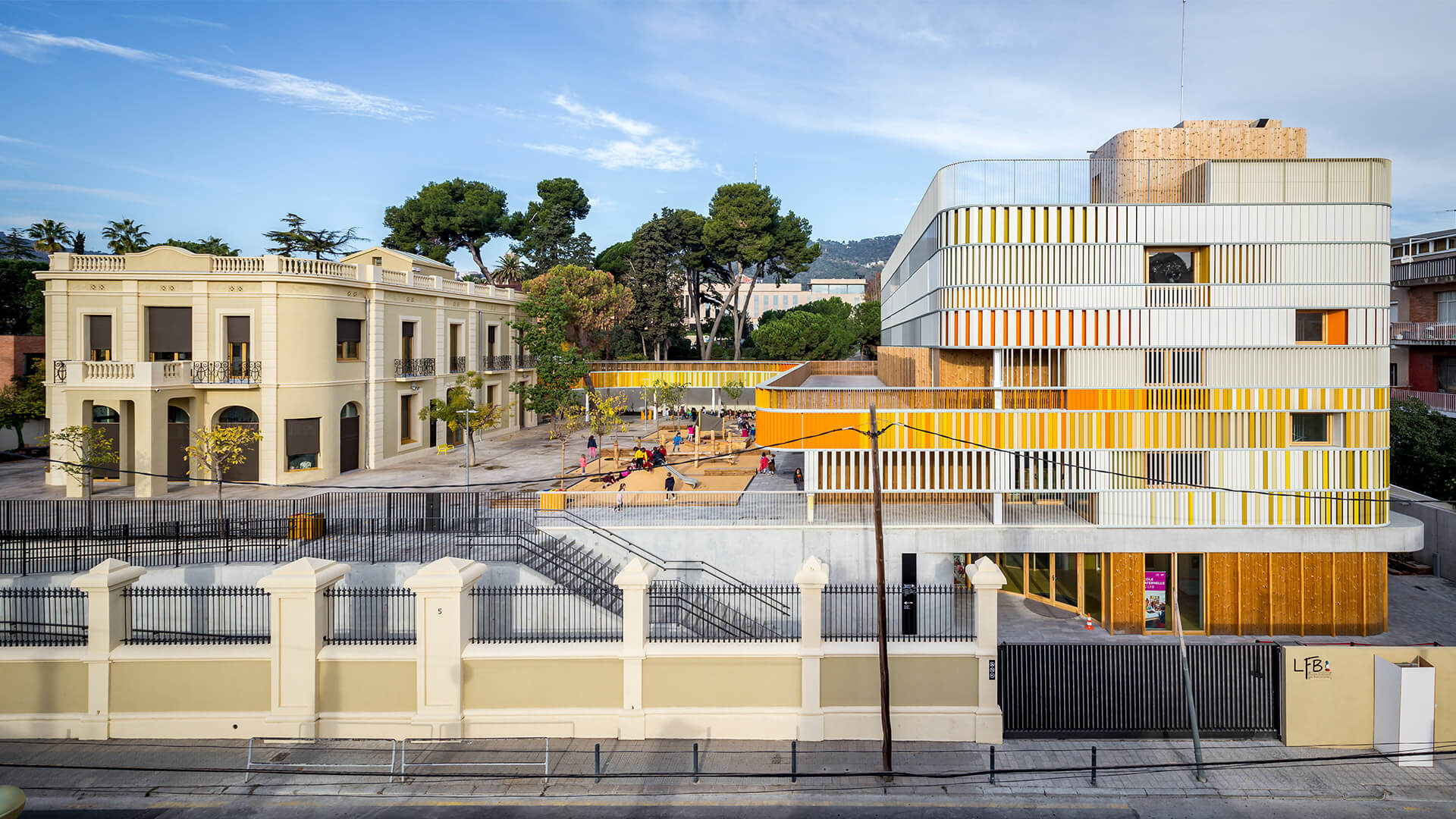 Wood offers several advantages, which are especially valuable in educational buildings, where the quality of the indoor air and the visual and sound environment can support children's well-being and learning. Studies show that using wood in buildings has clear psychological and health benefits, lowering stress levels and increasing creativity and positive social interactions. Due to all the benefits, wood is now being selected as a building material for more and more schools and kindergartens, including indoors.
The chemical-free thermal modification process eliminates the risk of harmful emissions such as formaldehydes. This makes Lunawood Thermowood a safe and hygienic solution for indoor use, even for people prone to wood-related reactions.
In these five modern educational buildings in Europe and Asia, Lunawood Thermowood has played a central role.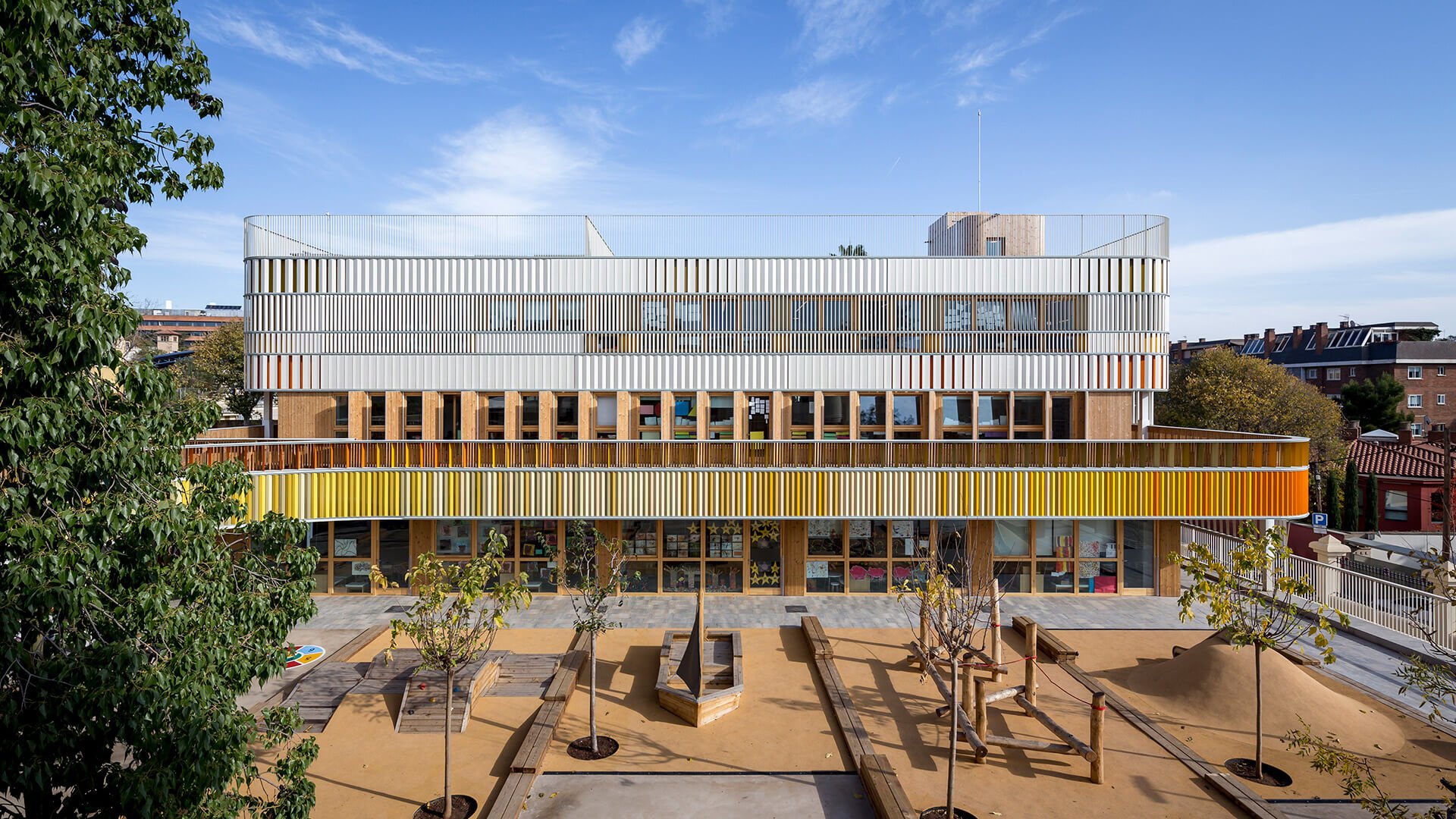 LYCÉE FRANÇAIS DE BARCELONA
PRE-SCHOOL, Spain
Lycée Français de Barcelona is a modern addition to a series of temporary buildings from the early twentieth century. Inspired by nature. This modern school nestling into a timber shell, revolutionizes the way we think about schools. The tangible evidence of the forest brought back to the young ones, promotes improved air quality and creativity.
"For this project we were looking for a sustainable and natural wood material. Lunawood has excellent technical characteristics, but in my opinion it is also the most beautiful wooden material", Pablo Garrido, Partner Architect and Technology Director, b720 Fermín Vázquez Arquitectos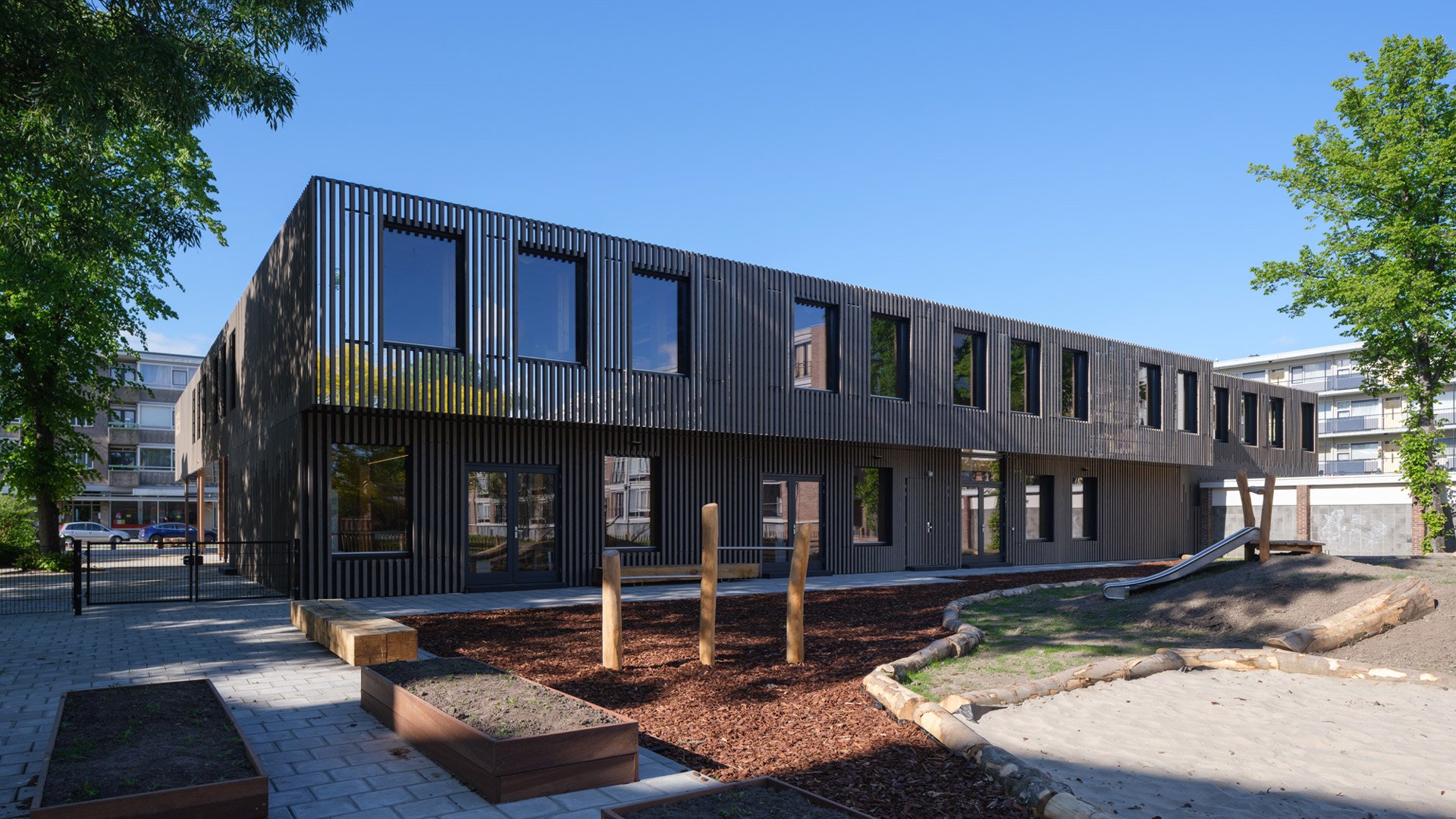 HET EPOS SCHOOL, Netherlands
Het Epos is the winner of the Netherlands national Houtbouwprijs 2021 in the category of best modular timber construction. The modern school building, with vertical Lunawood facade,  is built up of 75 prefabricated timber modules which if required can be relocated and stacked together on another location, future-proofing the school.
The surrounding area is socioeconomically disadvantaged so the new way of teaching is very innovative, and the teachers have more time to focus the students. The architectural firm SeArch and the contractor De Groot Vroomshoop developed a new way of building. The school is made out of wood but it can also be disassembled, moved, enlarged and expanded if needed.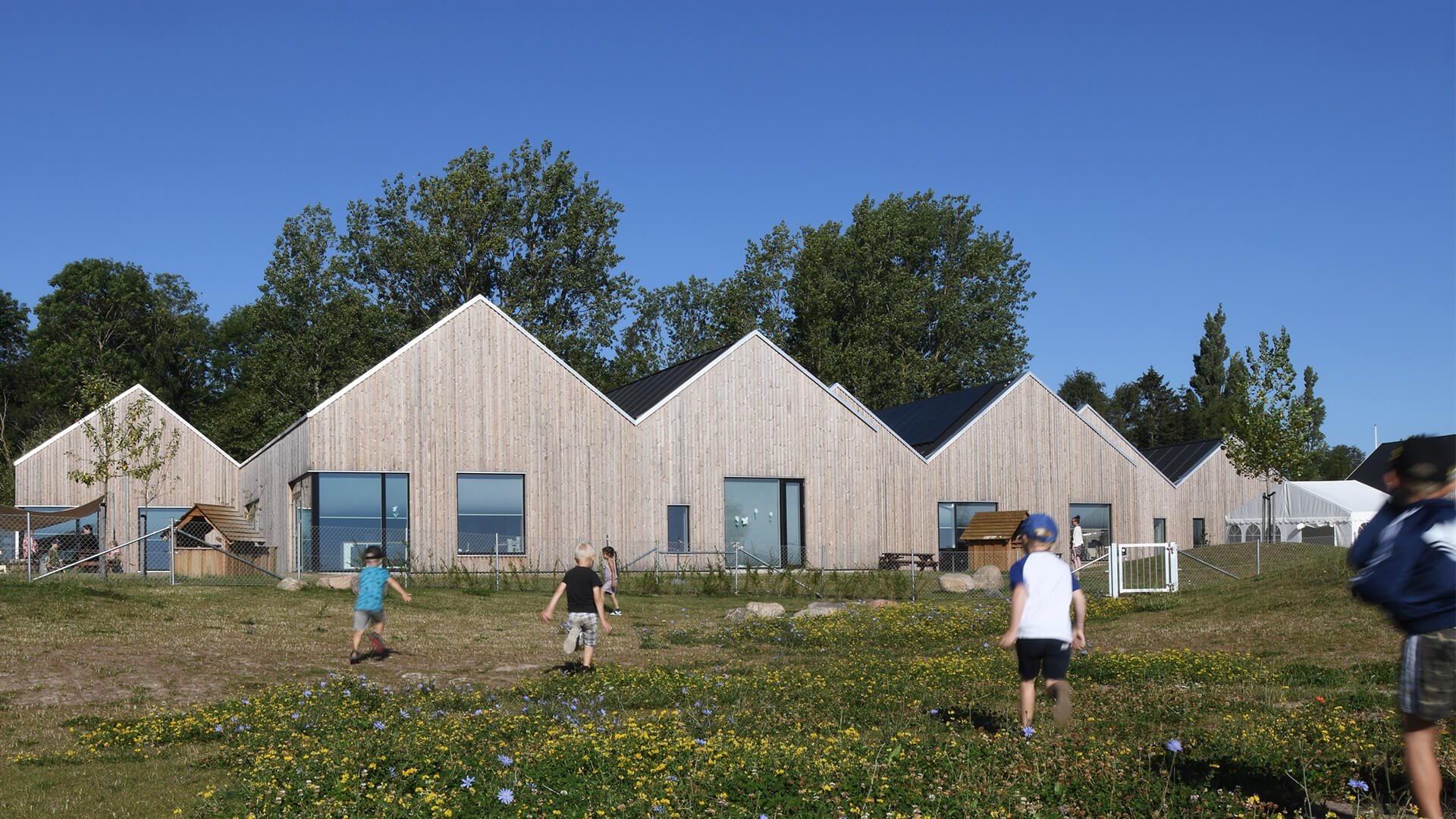 SAVANNEN NURSERY, Denmark
Savannen Nursery is a gathering of three kindergarten into one, featured with sustainable and toxic-free Lunawood Thermowood facade. There is room for playing and learning both inside as well as outside in the fantastic surroundings.
'We designed Savannen Nursery with high architectural aims. For the façades, we wanted a material that would yield a lovely patina and present minimal maintenance demands. We wanted warm, friendly, "touchable" façades for the little kids. In addition, we wanted to give each "house" – each nursery space – a distinct identity and scale. We achieved all of this by using well‑differentiated wood panelling with Lunawood Thermowood.' Sofie Peschardt, Architect, Partner, CEO of Nordic – Office of Architecture
Behind the Design video - Eaton Socon Preschool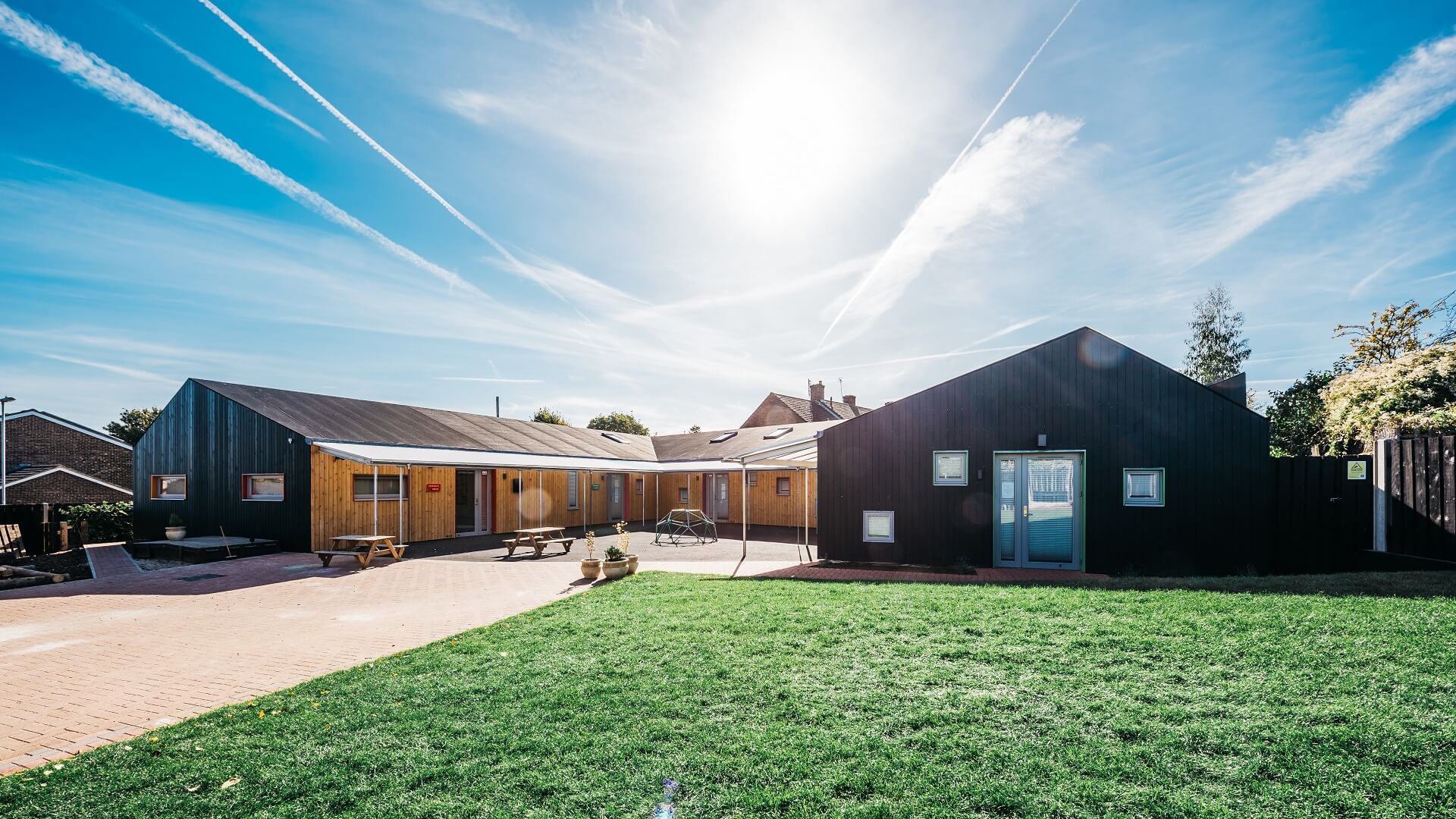 Play
EATON SOCON PRESCHOOL IN CAMBRIDGESHIRE, United Kingdom
The current state of this preschool in Cambridgeshire is the result of an ingenious father whose child was enrolled in this very same school. With the assistance of additional help and funding, Eaton Socon Preschool utilized Lunawood Thermowood and transformed into a natural environment, boosting the wellbeing, health and creativity of the pre-schoolers.
"Lunawood is stable and doesn't warp and move as natural cladding might do over time. We also wanted its rich colour because we wanted it to contrast against the black. We needed it to be of a good life cycle as well as durable and it needed to have that natural aesthetic that we wanted in this pre-school environment", Simon Devlin, Devlin Architects Ltd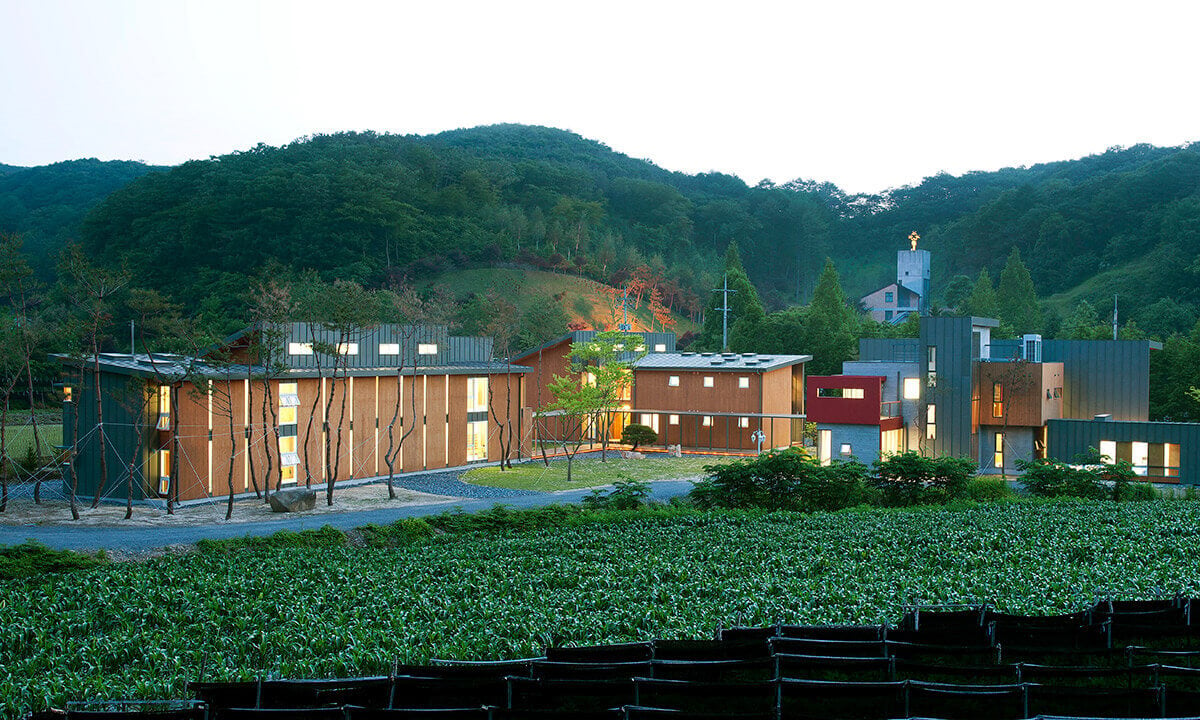 RED SCHOOL EDUCATION CENTER,
South Korea
Red School education center is a project by awarded South-Korean Architect Sam Young Choi. The purpose of the design was to create a friendly and safe space for children that encourages learning, curiosity that is in perfect harmony with the surrounding nature.
"The colour, texture and scent, along with the ability to withstand changes in humidity, make these products an excellent choice as both indoor and outdoor finishing materials," Sam Young Choi, Space Group, Japan Waseda University Dept. of Architecture