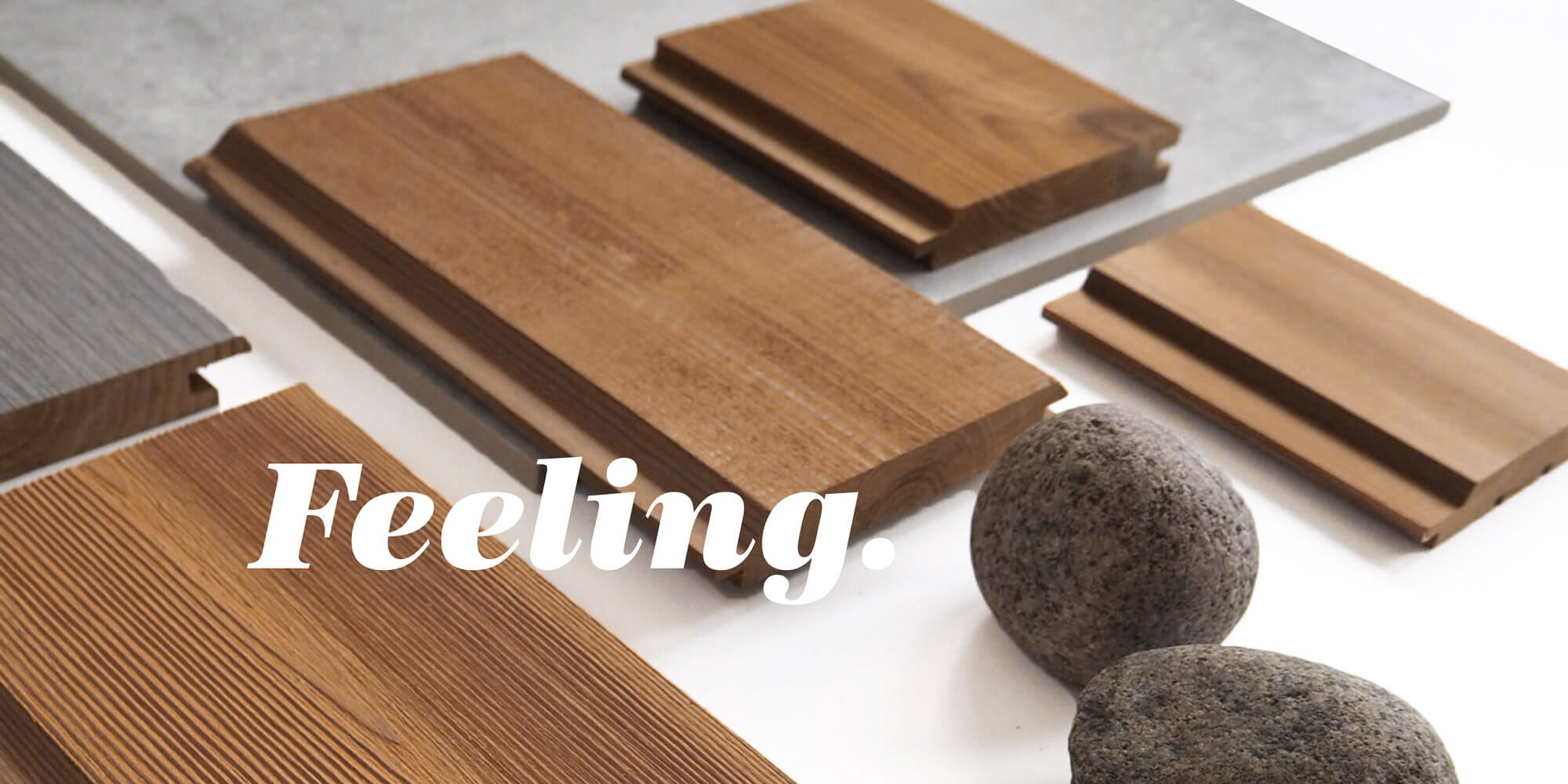 Once you've gotten a piece of Lunawood in your hands, you will know why it is so unique.

The modifying of our raw materials, Nordic Pine and Spruce, with just heat and steam makes Lunawood Thermowood a durable, stable, and chemical-free and naturally beautiful alternative to tropical hardwood on decorative surfaces in all climates. The touch, visuality, and scent of Lunawood Thermowood are sophisticated yet natural. It gives a lifelong delight for all the senses.
Silky and Authentic
Planed Lunawood Thermowood has a silky-smooth surface. Lunawood products contain knots and cracks of various sizes and numbers. They are part of a genuine look. The general appearance is impressive, rustic, and natural.
Vivid and Organic
Beautiful brown toned, Lunawood Thermowood with a unique glow brings nature into an urban space. Battens and panels with versatile surface textures, grains and round or butterfly-shaped knots create an organic feeling. Playing with different widths of the same profile, orientation and edges allow you to create a timeless spatial experience that tickles all the senses.
The Pure Scent of Nature
Non-toxic and resin-free Lunawood Thermowood also has the added value of providing an extra dimension indoors with its refreshing and subtle scent of wood. Lunawood Thermowood originates from Nordic wood that feels like and smells of authenticity. The thermal modification of wood eliminates the risk of harmful emissions such as formaldehydes. This makes the wood pure, safe, and hygienic for indoor use, even for those consumers prone to wood-related reactions.
Lunawood samples - A piece of Nordic Nature

Play
A piece of Nordic forest in a box
Our Samples department at Iisalmi Mill is a well-organized and efficient unit that delivers thousands of sample boxes around the world every year. In this way, architects and designers can feel and experience a real piece of the Northern Forest. Have you already ordered Lunawood Samples, i. e. a box full of Nordic Forest and years dedication to sustainable wood?