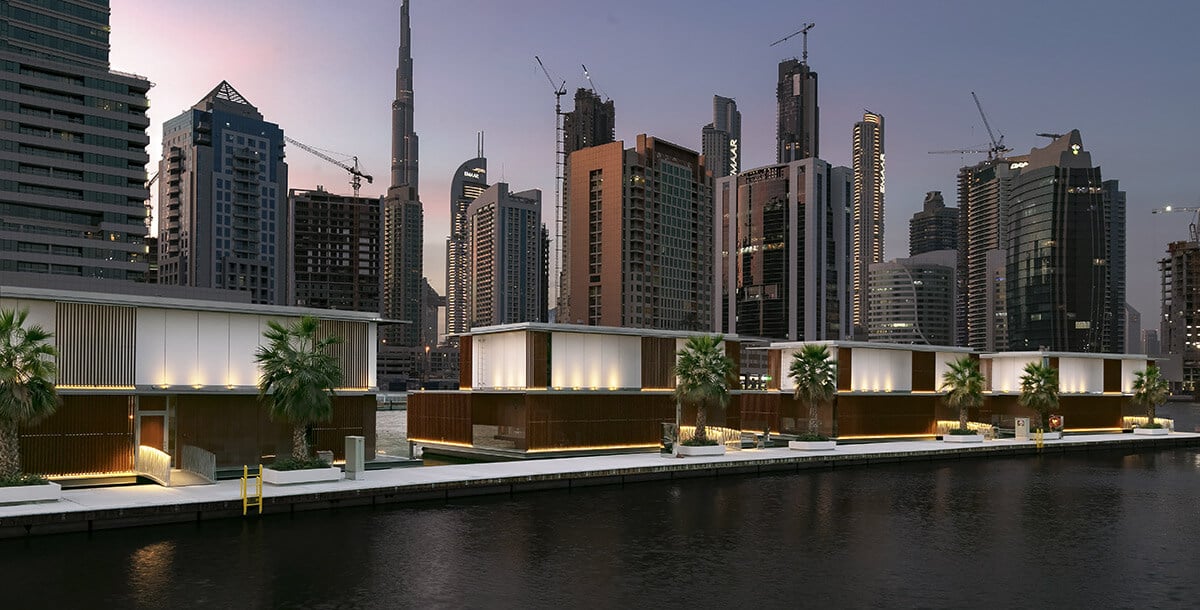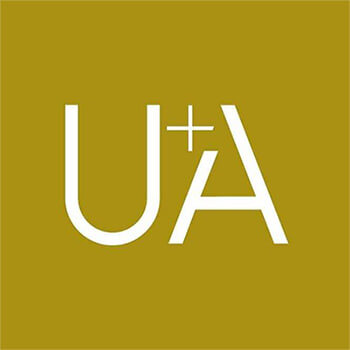 U+A
• U+A is an international multidisciplinary design practice
• Founded 2006 in Dubai by architects Pedram Rad and Pierre Martin Dufresne
• Offices in London, Montreal, Riyadh and Dubai 
In the heart of the vibrant Dubai are the Marasi Water Homes – a luxury waterfront development with floating villas, the first of their kind in the Middle East. While designed in Dubai, the striking project was manufactured in Finland by Admares, then shipped to Dubai and towed into place with an overall project duration of just over 12 months. In the urban setting adorned by the shiny skyscrapers, the advantages of the natural Lunawood Thermowood are more visible than anywhere else.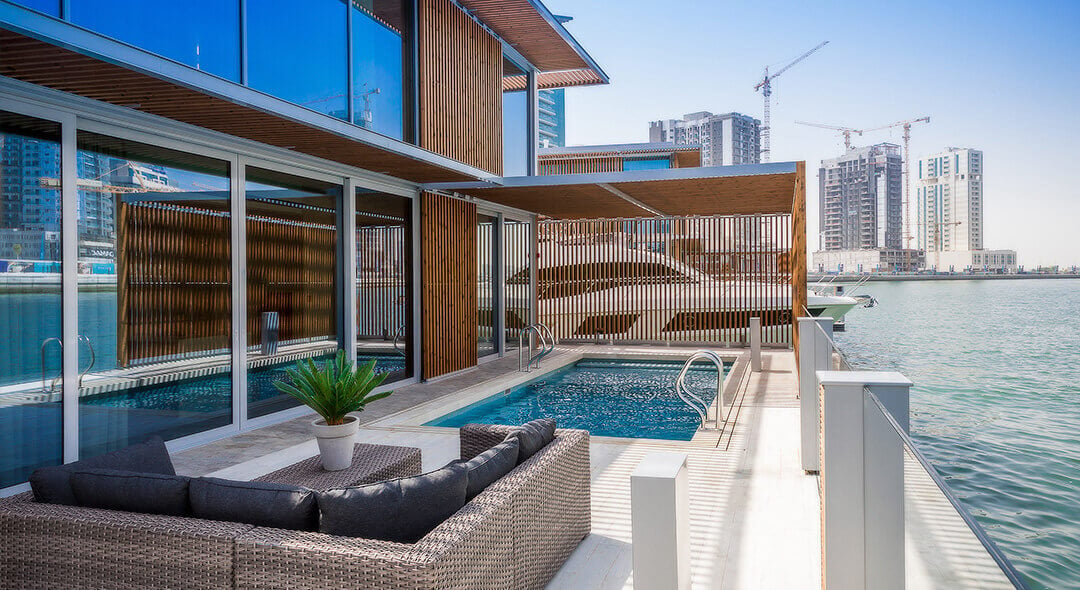 International Design practice accepted the challenge
Marasi Water Homes -concept is designed by U+A which is an international multidisciplinary design practice founded in 2006. Since its establishment, U+A has grown into an award-winning firm with offices in London, Montreal, and Riyadh with Dubai as its head office. U+A specializes in providing a contemporary design approach in architecture, interior design, master planning, landscape design and construction supervision for projects across all sectors.
As an innovative design-led practice not only does U+A create environments that respond to the client needs, its users and immediate context, but they also aspire on designing unique places through bespoke solutions rigorously applied to all the projects.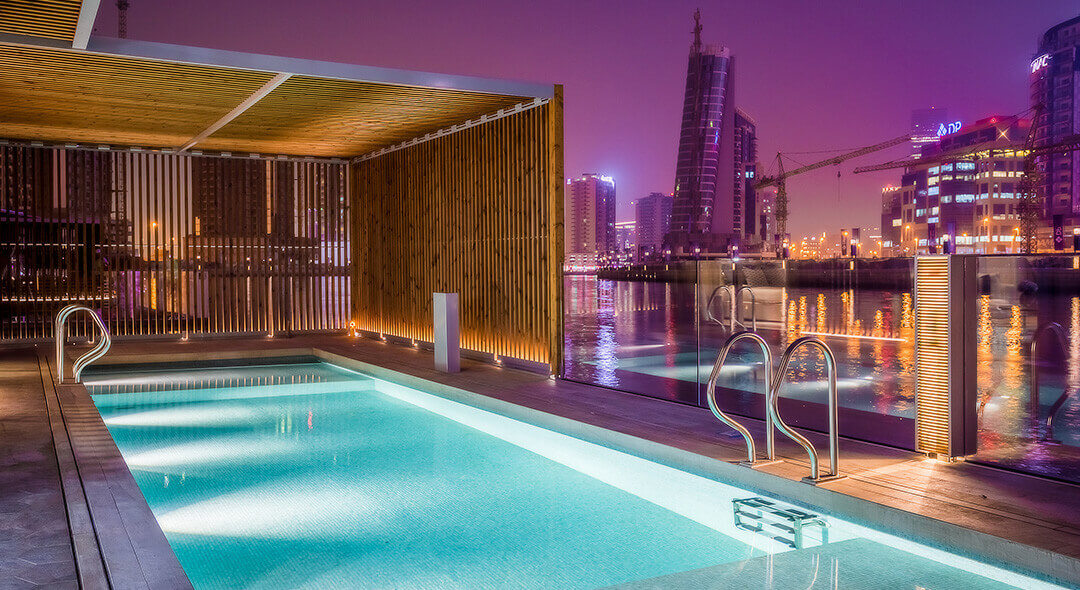 Floating luxury with Finnish expertise
Marasi Water Homes are built in the Business Bay Canal on floating pontoons which are anchored to the canal bed. Villas with two, three or four bedrooms are distinguished with luxury finish and modern design. The concept of the homes follows an open plan design where the openness and experience of the maritime atmosphere is made the key element. By sliding the glass doors open, the interior space expands onto a large deck with its own swimming pool.
Villas were planned in different phases. The first part of the master plan consists of over 160 berths with local palm tree planters floating on the pontoon walkways, 10 floating villas, one floating dining outlet, one floating yacht club and two onshore adjacent plots that hold the reception and lounge spaces. While the concept is designed in Dubai, the final architectural design was made in Finland by SIGGE Architects. The project was also manufactured in Finland by Admares, then shipped to Dubai and towed into place with an overall project duration of just over 12 months.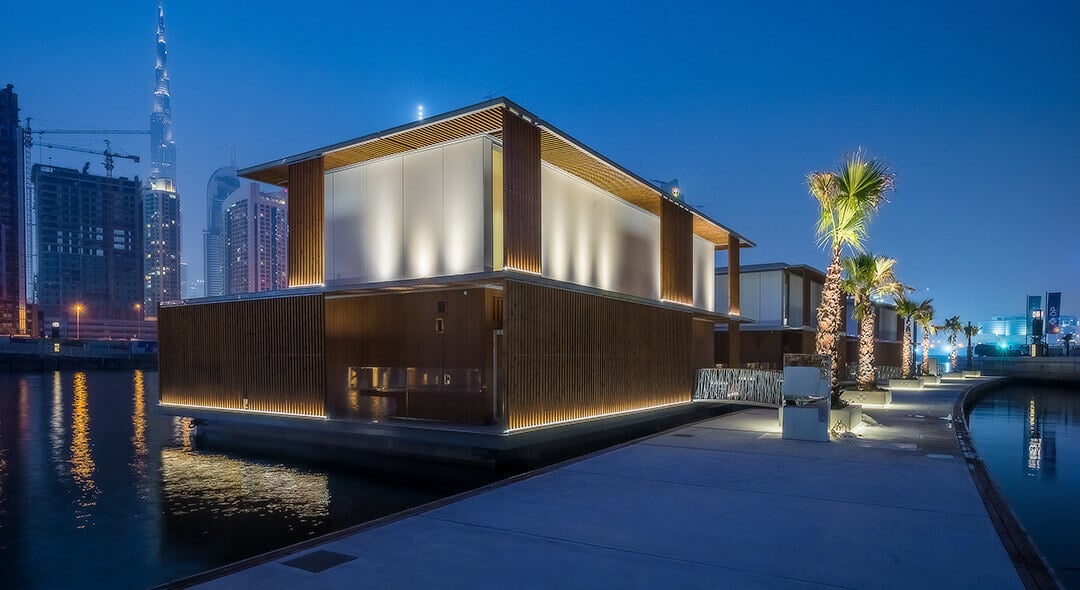 Only the most durable wood materials work in Dubai's climate
When choosing the building materials, U+A's design team is concerned about the architectural and environmental effects of material choices, in addition to the economic constraints. Moreover, the list of material options is vast and growing, making decisions more complex. However, as the choices increase, the decisions become more critical and influential
"For us as architects, it is important to choose materials that speak the same language as the architecture and its surroundings. Not only is wood durable and cost-efficient, awareness around sustainability has grown in all scopes, including architecture. Wood possesses the unique ability to store and remove CO2 from the atmosphere, making it particularly beneficial for the environment", explains Martin Dufresne from U+A.
In Marasi Water Homes project U+A took on a sustainable approach. Coupled with the prefabrication process and tight schedule, all external finishes required eco-friendly, heat resistant and easy to install materials. Lunawood Thermowood fits this description perfectly. 
According to Martin the structural stability, quality and resistance to humidity are all very important factors when selecting wooden materials for Dubai's hot climate. "In addition, the unique texture and color of Lunawood Thermowood makes it an excellent choice for architects in the region", Martin explains.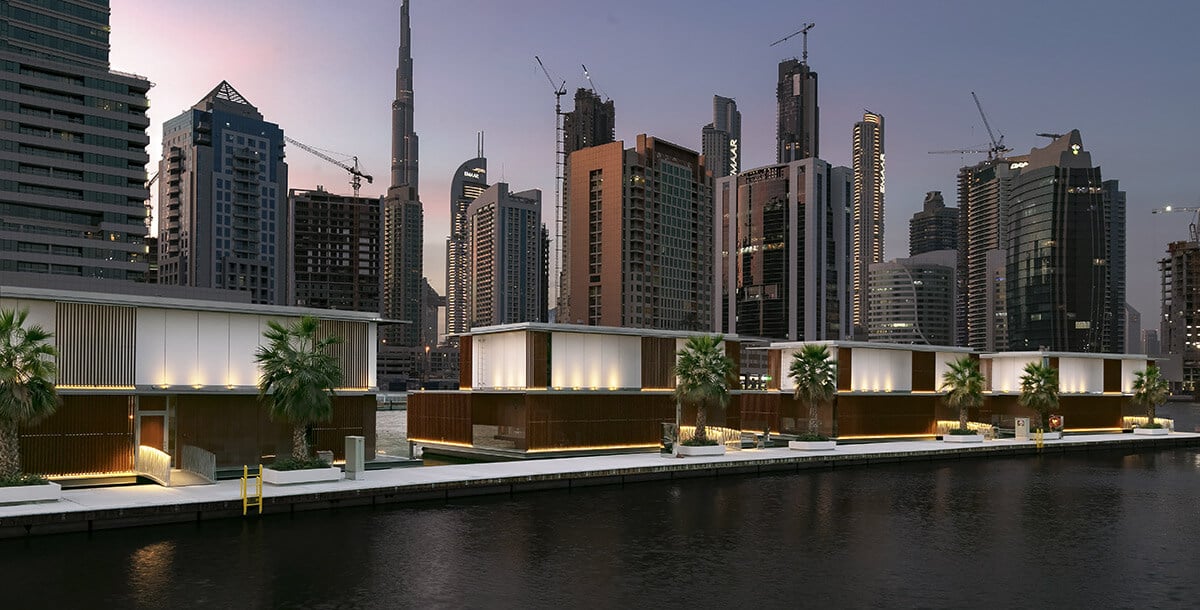 Towards more sustainable architecture
When talking about architecture in the future U+A has a very clear opinion. "Historically a city's very existence originated from waterways, and today cities still thrive around them. Architecture that activates waterfronts, creating dynamic urban spaces where public and private zones connect and converge, revitalizes the city. Architecture should engage nature that surrounds it, rather than interrupting it," Martin Dufresne tells.