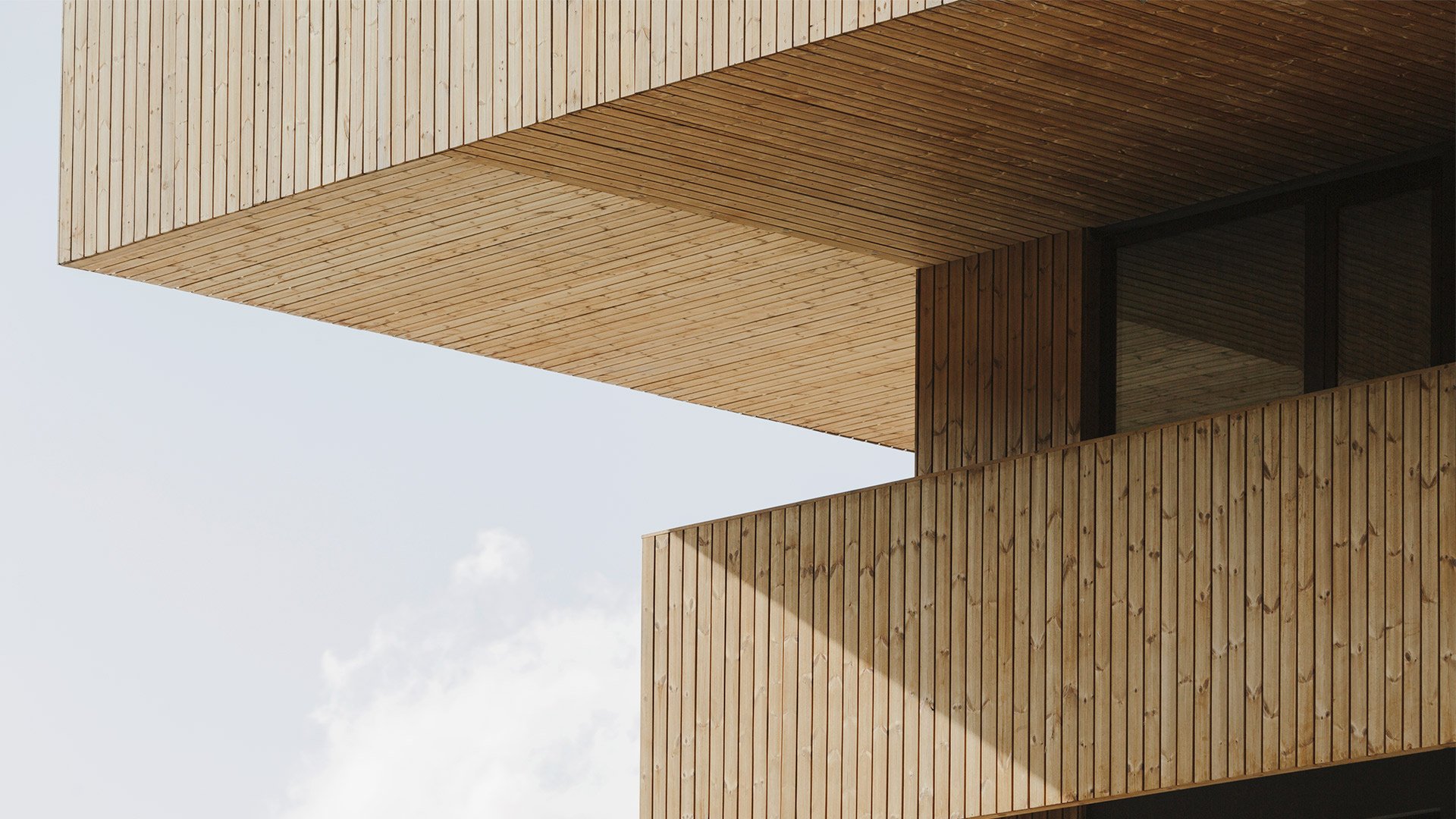 In the world of modified wood materials, both ThermoWood® and thermally modified timber have risen to prominence, offering solutions for modern architecture and design. Although they may seem similar at first glance, there are differences in the manufacturing, which has an impact on the technical properties. In this article we take a closer look at these two wood treatments to better understand their nuances.
Understanding the Basics – What separates ThermoWood® from Thermally Modified Timber?
The custom of charring the surface of wood to make it more resistant to moisture dates back to ancient Egypt. It could be said that charring the surface of wood on an open fire was the first step toward the thermal modification of timber.
Thermal modification refers to a method of altering the properties of wood using heat and steam with a minimum temperature of 160°C. The primary aim of the process is to enhance the wood's properties, including resistance to decay and improved stability. Both softwood and hardwood can be thermally modified, but the manufacturing process varies depending on the wood species. As the raw materials and manufacturing process of Thermally Modified Timber aren't overseen by a third party, the process and product quality may vary significantly between  manufacturers.
Conversely, ThermoWood® is a registered trademark owned by the International ThermoWood Association. This trademark signifies wood products made via a patented process developed in Finland in the 1990s.
The quality control of ThermoWood® was developed during the 90's collaboratively with Technical Research Center of Finland (VTT), member companies, and Finotrol Oy.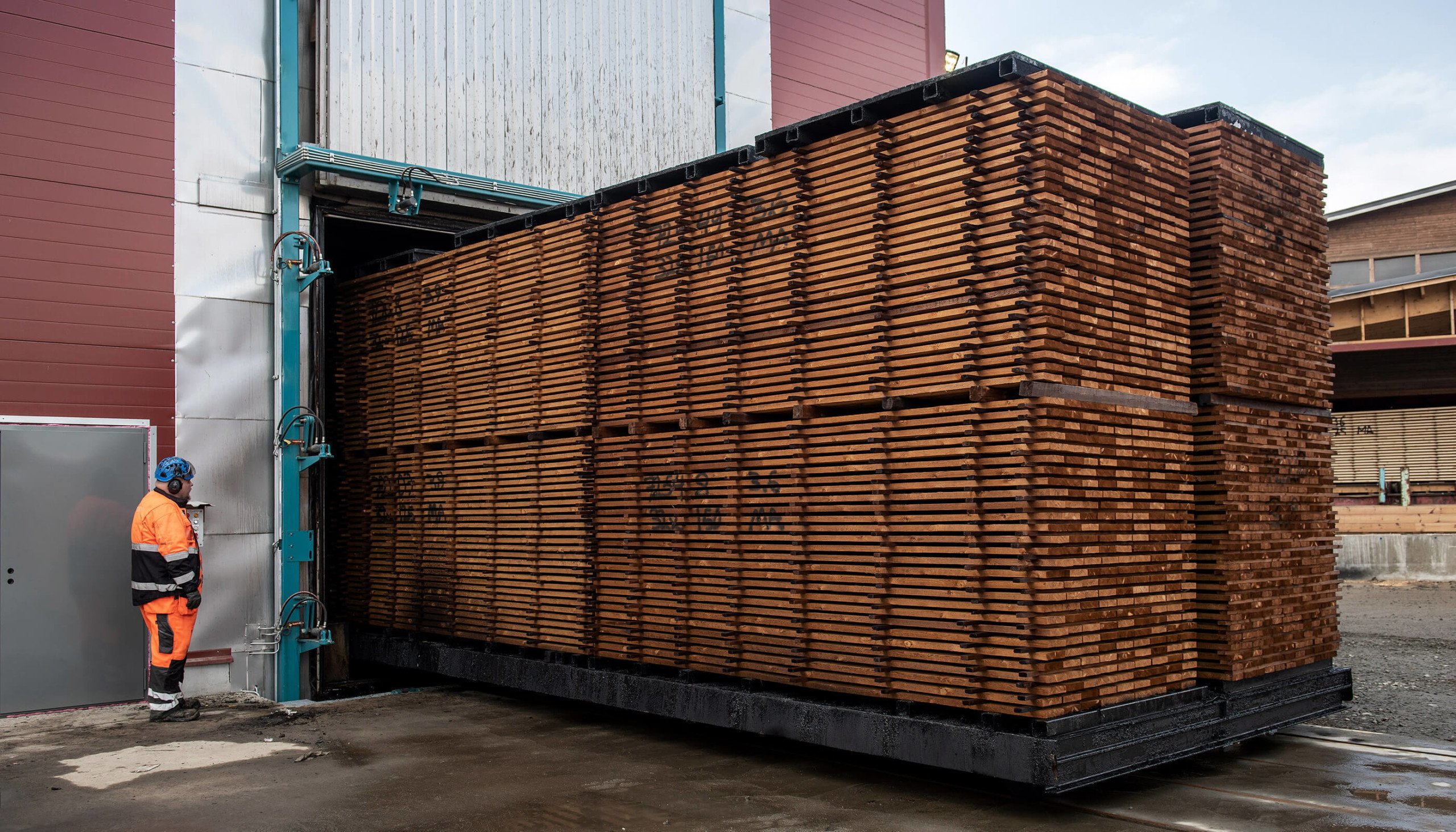 Patented ThermoWood® thermal modification process
In the 1990s, Finland, France, and the Netherlands were leaders in research into the industrial thermal modification of wood. A significant breakthrough in the field occurred in Finland in 1993 when VTT, collaborating with wood industry companies, developed the industrial-scale ThermoWood® process for improving the properties of timber with heat and steam. Today, ThermoWood® is an international brand with steadily increasing production volumes.
The ThermoWood® process is a specific patented production method that falls under the broader category of thermal modification of wood. This method uses high-temperature (between 180°C to 230°C) and steam for specific durations to achieve the desired wood properties. Like thermal modification, the ThermoWood® process aims to enhance wood properties using heat and water vapor. The process also darkens the wood, imparting a rich brown hue throughout. After treatment, the wood's moisture content decreases, and the softwood becomes resin-free. The chemical composition of the wood undergoes permanent changes during this process. Once treated, the ThermoWood® achieves a decay resistance class of 2 (equivalent to "durable"), making it suitable for applications like exterior cladding and landscaping. This procedure reduces the wood's moisture content to between 4-7%, making the wood dimensionally stable. Due to this reduced moisture content, the wood is approximately 15% lighter than its untreated counterpart. It is precisely these characteristics that make genuine ThermoWood® a reliable choice, as it really does meet the quality requirements of the various EN standards.
Thermally modified timber produced using the patented ThermoWood® process is manufactured worldwide, including in Europe, Asia, North America, and the Middle East. The range of applications has expanded rapidly, encompassing cladding, interior design products, patio and garden construction, and the carpentry industry.
ThermoWood® Properties:
Improved dimensional stability
Reduced equilibrium moisture content
Enhanced durability against decay
Lowered thermal conductivity
Resin is removed from softwood
Uniform color throughout the wood
Reduced tendency to split
Slightly diminished bending strength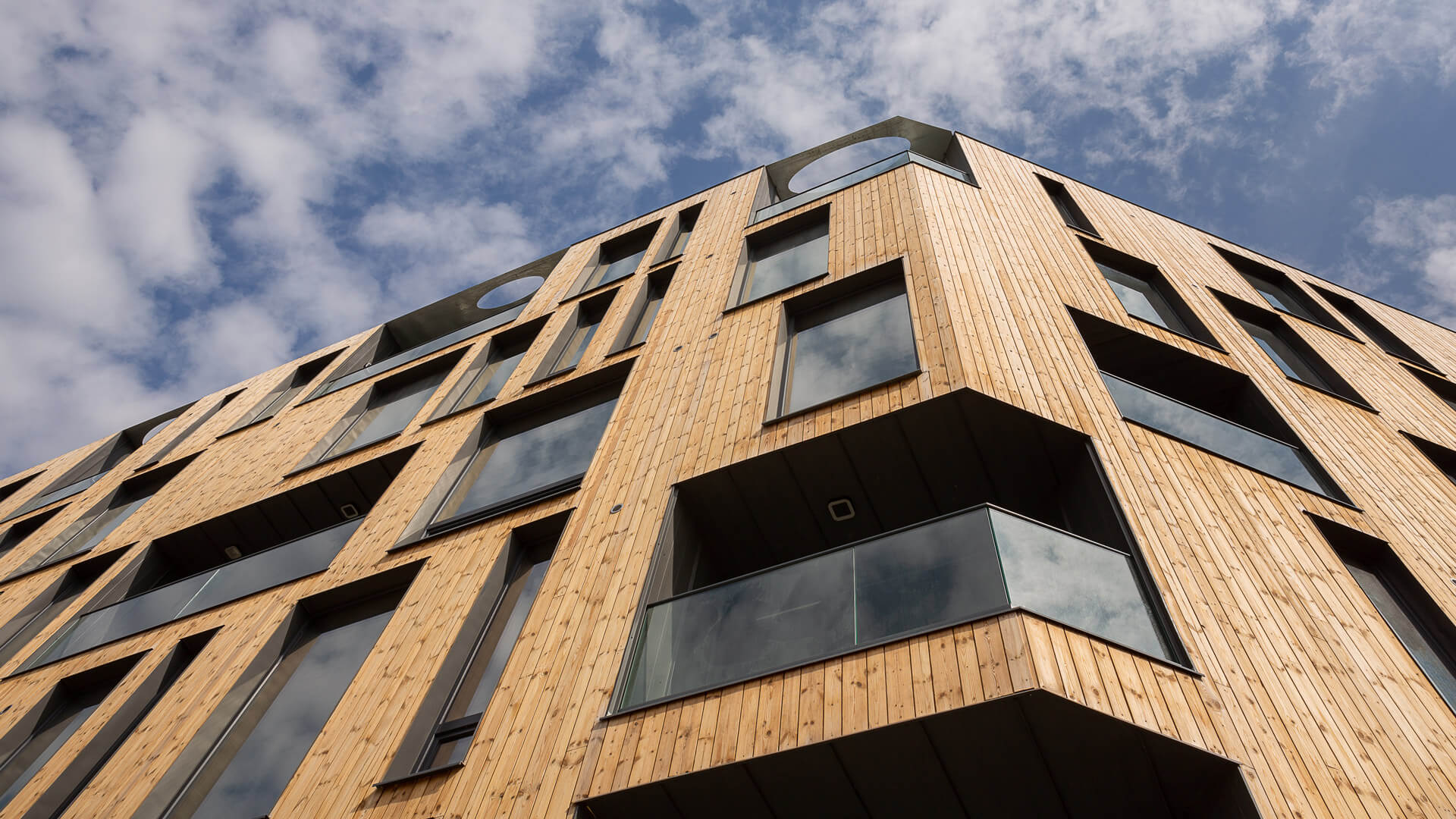 Thermowood's Strict Quality Control
Lunawood ThermoWood's quality control process is meticulously structured over three vital stages to maintain superior product quality.
1. Preliminary raw-material inspection:
Incoming sawn timber undergoes rigorous scrutiny to meet Lunawood's exacting standards. This dual-check system evaluates the timber both upon arrival and before it progresses to sticking and stacking. Detailed documentation, augmented by photographic evidence, ensures anomalies are promptly identified and addressed, emphasizing the timber's overall aesthetics.

2. Post-Thermal Modification Assessment:

After thermally modifying the timber, Lunawood begins a crucial quality validation step. Selected samples from each batch are meticulously evaluated in their specialized labs in Iisalmi and Kaskinen. This assessment ensures ThermoWood products meet the standards upheld by the International ThermoWood Association. Attributes such as final moisture content, dimensions, potential cracks, and color uniformity are scrutinized. The process's integrity is further reinforced with external audits three times a year, paired with biannual external reviews of in-house quality control results.

3. Planed Product Quality Control:

In the last stage of Lunawood's quality assurance, the focus is on the planed ThermoWood® products. Weekly random checks ensure these products are consistently sorted, showcasing Lunawood's strong commitment to premium product quality.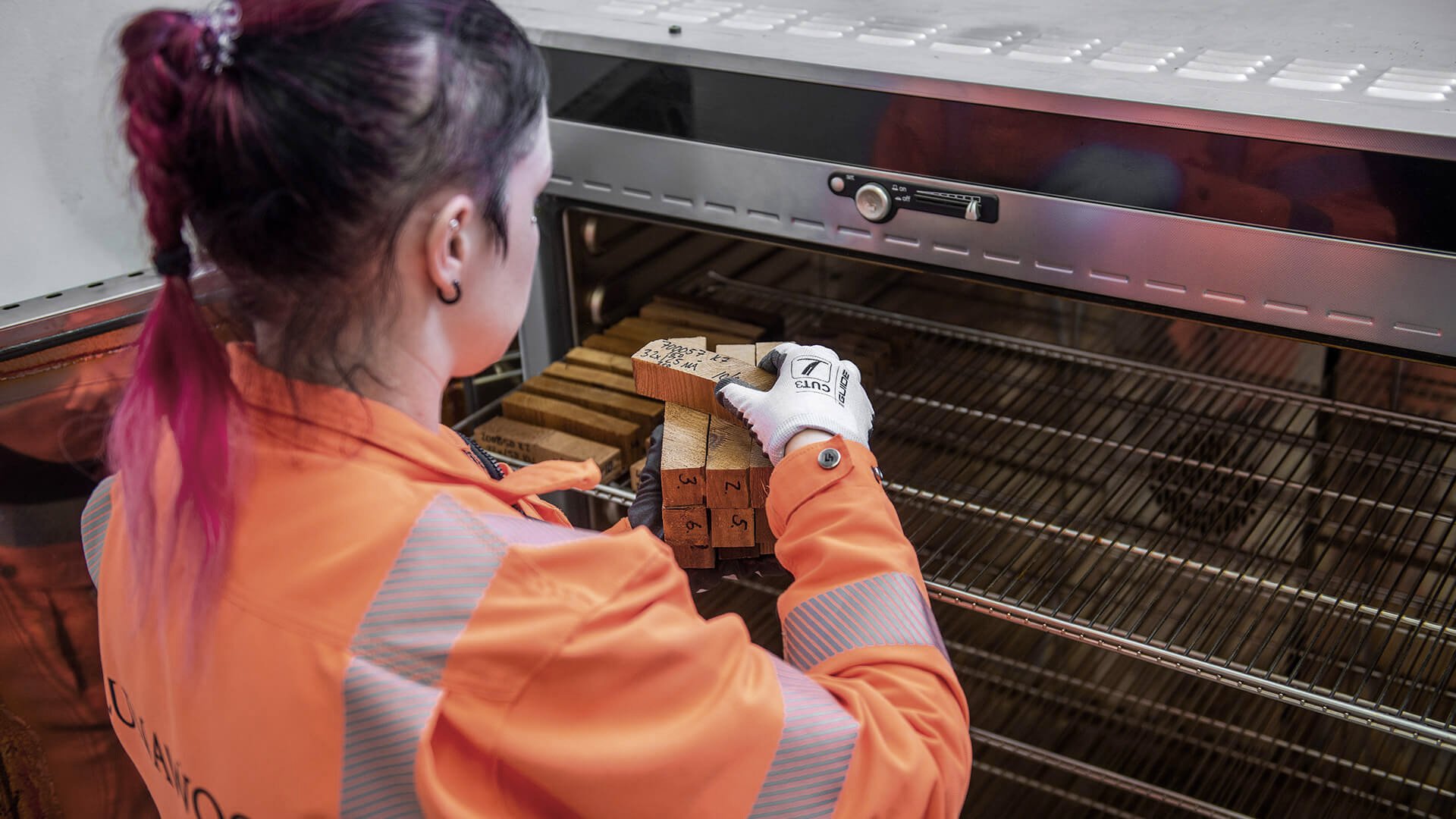 Conclusion
While ThermoWood® and thermally modified timber and wood both offer innovative solutions for modern architecture and design, their differences lie primarily in their manufacturing processes, quality controls, and development.
Lunawood ThermoWood® is the result of extensive research and rigorous quality assurance, alleviating the need for customers to delve into its manufacturing details. Conversely, without third-party oversight of the raw materials and manufacturing process for thermally modified timber, there can be significant variations in product quality among manufacturers. Therefore, it's essential for architects, designers, and consumers alike to understand these nuances, ensuring they make informed choices for their projects.
Lunawood Design Tools are available for architects and designers for Lunawood's Nordic thermally modified wood products. Lunawood Design Tools consist of 3D BIM objects for ArchiCAD and Revit and Rendering images. All these are free of charge.
Digital Design Tools
Create realistic visualizations with our BIM objects and rendering images

Contact us
Would you like more information about Lunawood products or design support? Contact us!