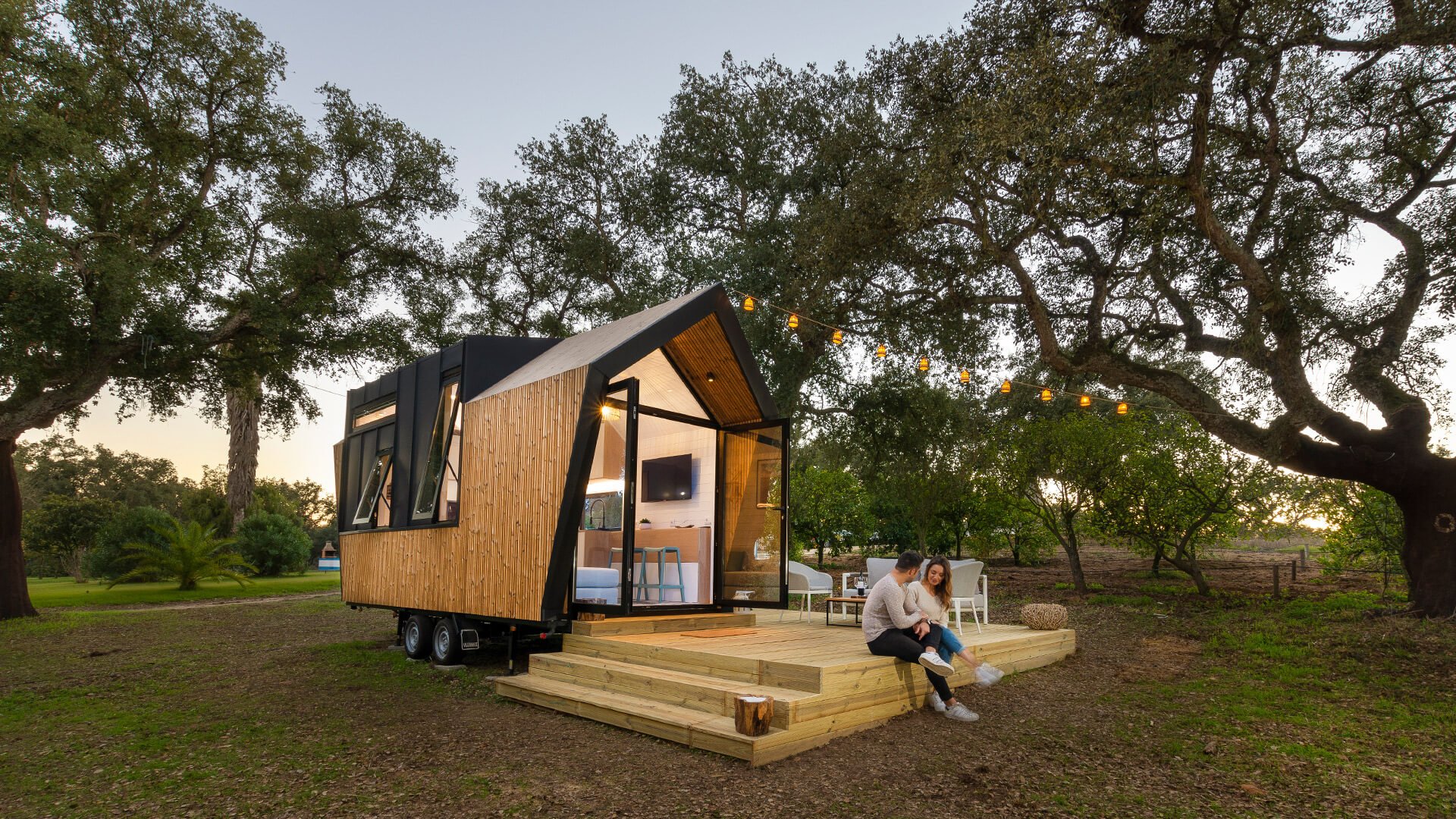 Bigger is always better? The tiny house movement represents a shift away from the idea that bigger is always better, and offers a new way of thinking about housing and lifestyle choices. The current global economic situation and densely populated residential areas have increased people's interest in small living quarters. Many people who choose to live in tiny houses are interested in reducing their environmental impact, to simplify their lives and save money on housing costs.
The tiny house movement, also known as Micro House or Mobile Home, is not just about the size of the house, but also about a lifestyle that emphasizes minimalism, sustainability, and flexibility. The use of responsible materials is often part of the tiny house movement. Because tiny houses are built on a smaller scale than traditional homes, they require fewer building materials, making it possible to also use higher-quality materials without significantly increasing the cost. Therefore, sustainable and easy-maintenance wood materials such as Lunawood Thermowood have become increasingly popular in tiny houses, especially in exterior cladding.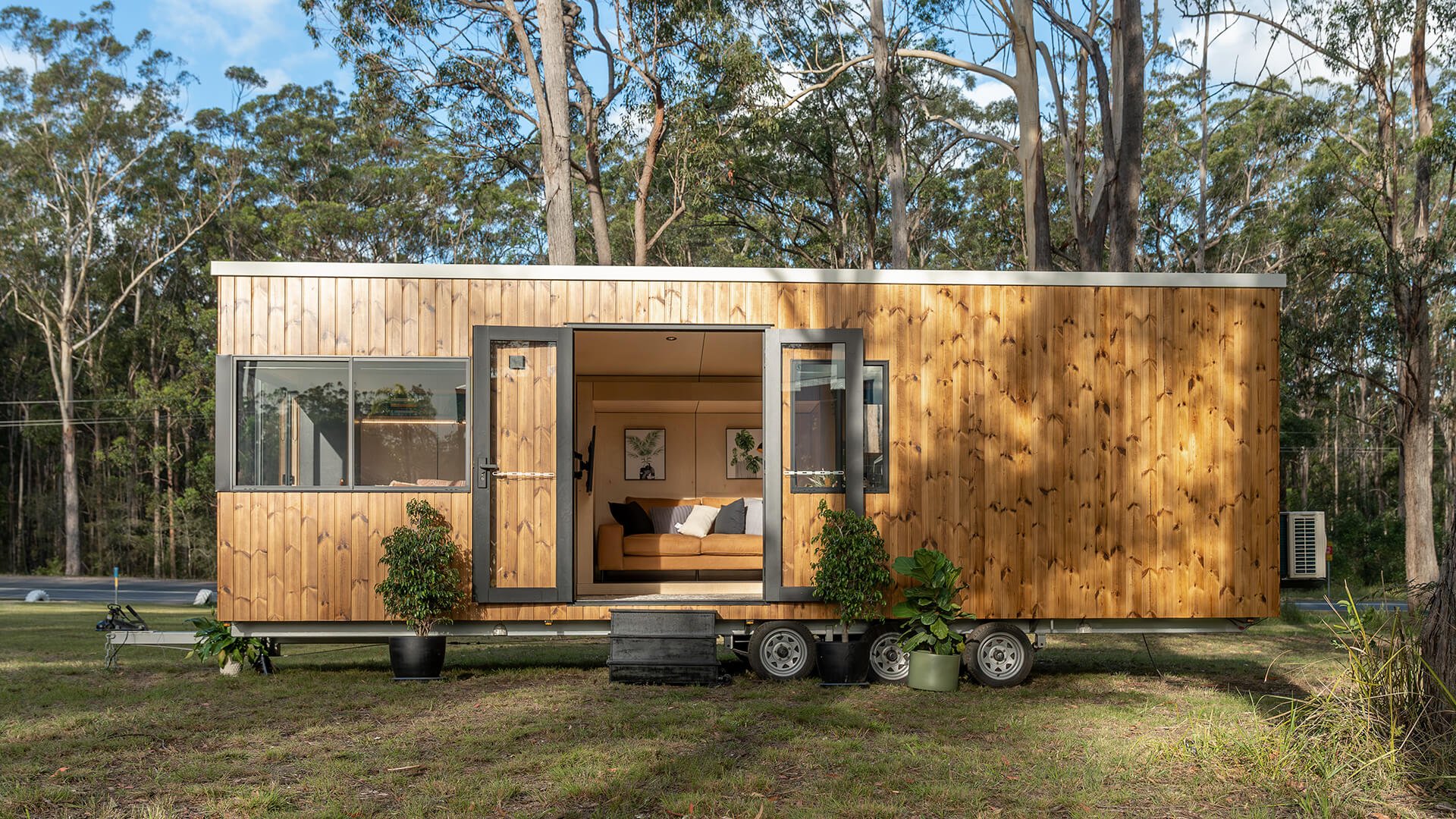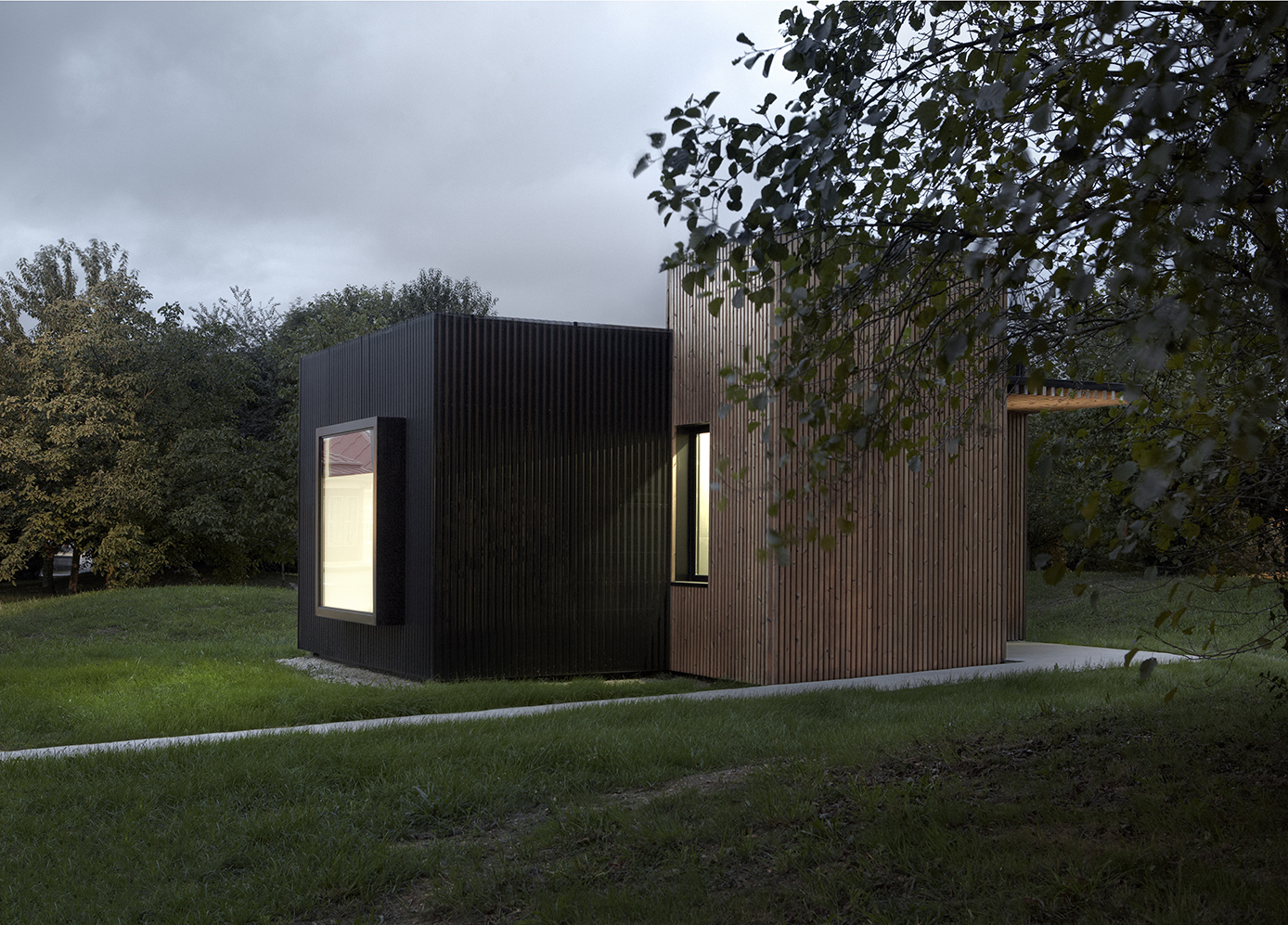 Lunawood battens gives the facade of B Home designed by [baragaño] arquitectos a modern and sleek look.
Tiny Houses – less but with higher quality materials
Part of the definition of a small home is that it is built from environmentally conscious and renewable materials. People who are interested in purchasing a tiny house are often aware of climate change and want to reduce their carbon footprint.
Lunawood's chemical-free Thermowood products are a great choice whenever you want to invest in ecological living. Building a tiny house is relatively affordable and fast to build compared to a normal house. It allows to invest a little more in the quality and durability of the used materials.
Tiny house challenges its users to minimalism. When you live in small spaces, you need to purchase each item carefully and at the same time think about its storage possibilities. The stronghold of Scandinavian design has always been minimalist thinking, how small things can make a big impact.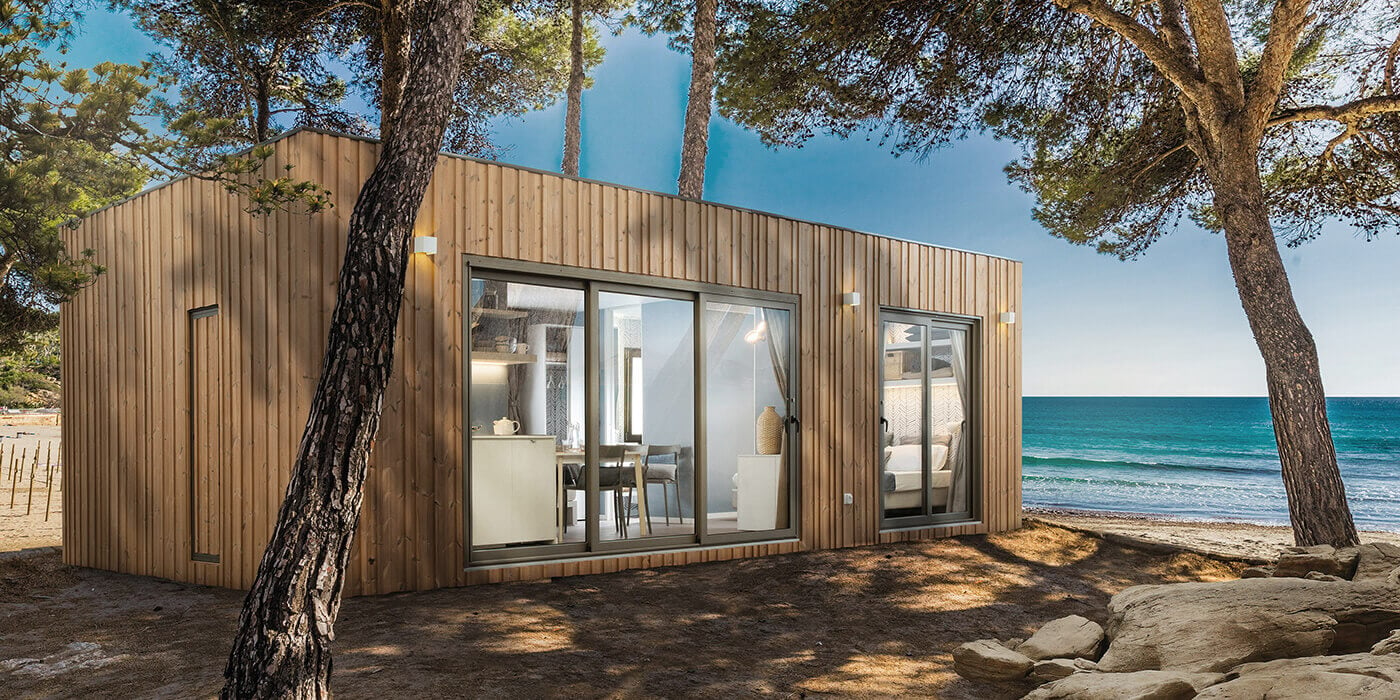 The mobile homes, by CrippaConcept, aim to offer the best holiday experience, within a relaxed, modern setting. Lunawood Thermowood was chosen as the facade of material due it's appearance and durability in the Mediterranean climate.
Thermowood is a responsible and long-lasting alternative for Tiny Houses
Sustainable living requires long-lasting and responsibly produced materials, which makes ecological wood materials increasingly popular in tiny house projects. In addition to being environment friendly, high-quality Thermowood products are technically an excellent choice for mobile homes.
The estimated lifetime of Lunawood Thermowood products is 30 years, meaning the surfaces made of Lunawood will serve as a carbon storage for decades. The remarkably small carbon footprint (117 kg CO2 eq/m3) of Lunawood Thermowood differs significantly from the carbon footprint of non-renewable materials and tropical hardwood. Each Lunawood product absorbs five times more (5/1) carbon, than is released during their production.
The manufacturing process of Lunawood Thermowood is completely transparent and the production method is patented. All Lunawood products are long-lasting, dimensionally stable and resistant to decay, and completely chemical-free. The products can be used inside or outdoors, in any climate.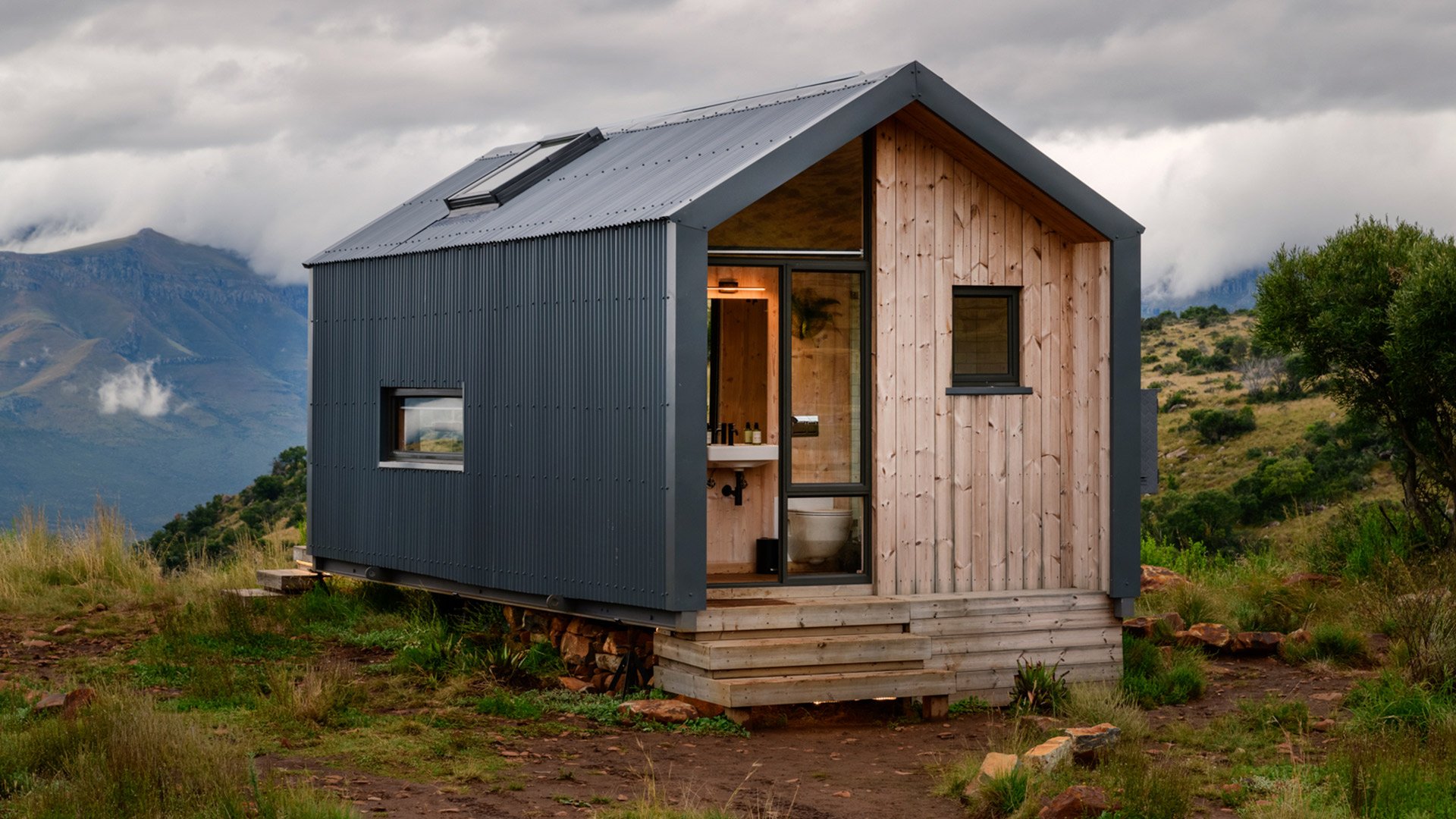 Why Lunawood Thermowood is an excellent choice for Tiny Houses?
1. Low maintenance & long service life
Lunawood does not necessarily require surface treatment in any climate. When left untreated, it gradually develops a beautiful silver colour. Building Research Establishment Limited (BRE) has concluded that the expected service life of LunaThermo-D products used for exterior cladding is 30 years. Exterior cladding made of Lunawood Thermowood is a cost-effective choice over the years, because surface treatment is not required.

2. Light and easy to work with

Tiny house construction requires lightness from building materials, because the structures are usually movable. Because the moisture content of Lunawood Thermowood is very low, the products are light and easy to work with. These are features that distinguish Thermowood from many other wood materials and are praised by builders.
3. Significantly improved dimensional stability
The thermal modification process makes the wood dimensionally stable and weatherproof completely without chemicals. These unique features inspire architects and designers to create stunning projects around the world. Excellent dimensional stability enables demanding and creative designs, because the size of the wood is very minimally affected by weather and temperature. Even precise miter corners are possible when building with Lunawood Thermowood.
4. High-quality products for outdoors and indoors
Lunawood offers a wide selection of tongue & grooved exterior and interior panels  and battens to create beautiful wood surfaces. Lunawood products can be used in facades, interiors and landscaping in all climatic conditions. The same product can be used, for example, in exterior cladding and interior surfaces to achieve a uniform appearance.
Lunawood is also a safe and healthy choice for people prone to wood-related reactions.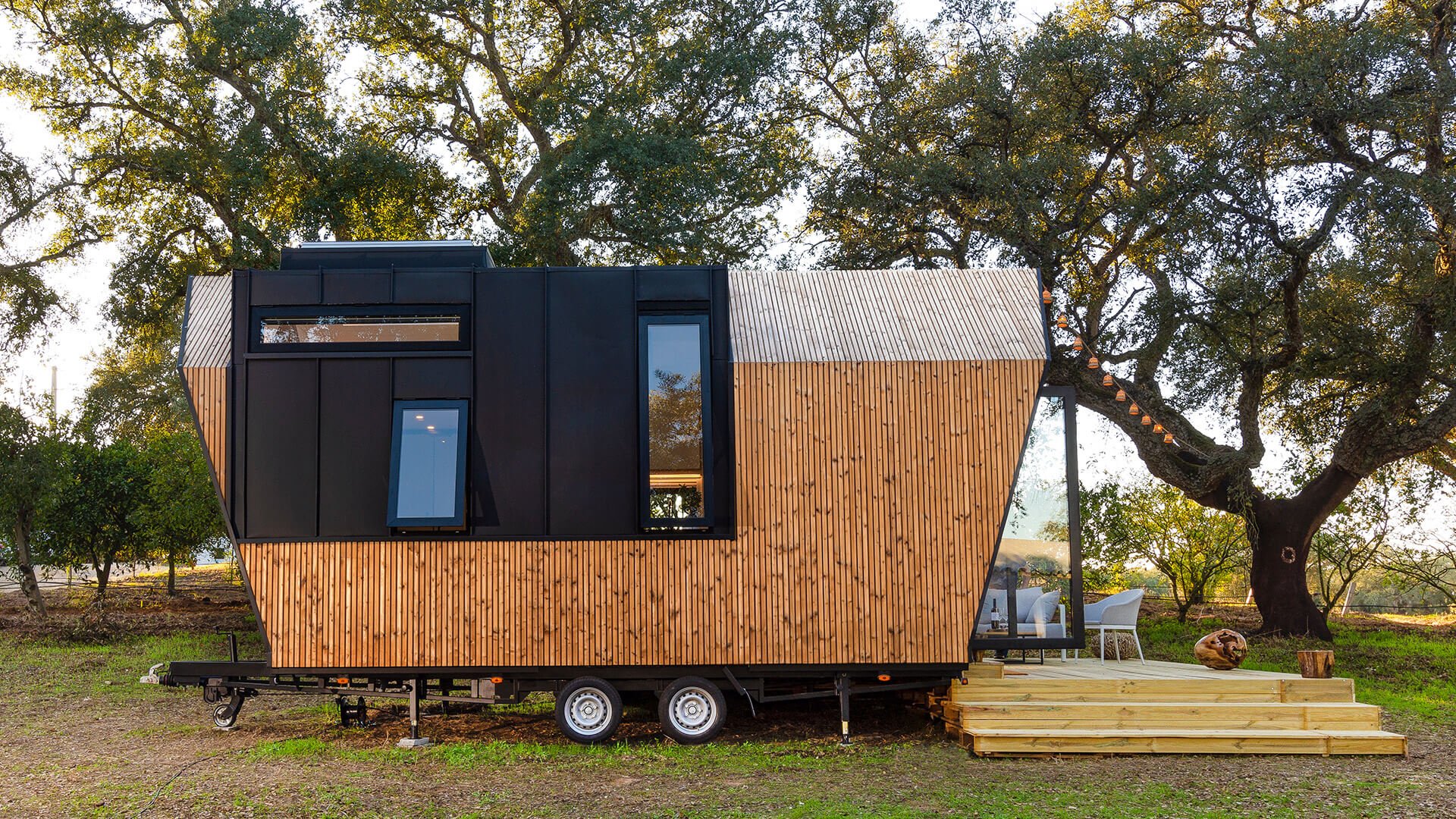 Lightness is paramount in the exterior cladding of a mobile home. The Ericeira is a modern tiny house designed by a Portuguese design-practice Tinylar. The awarded Luna Triple 3D panel was chosen for the exterior cladding.